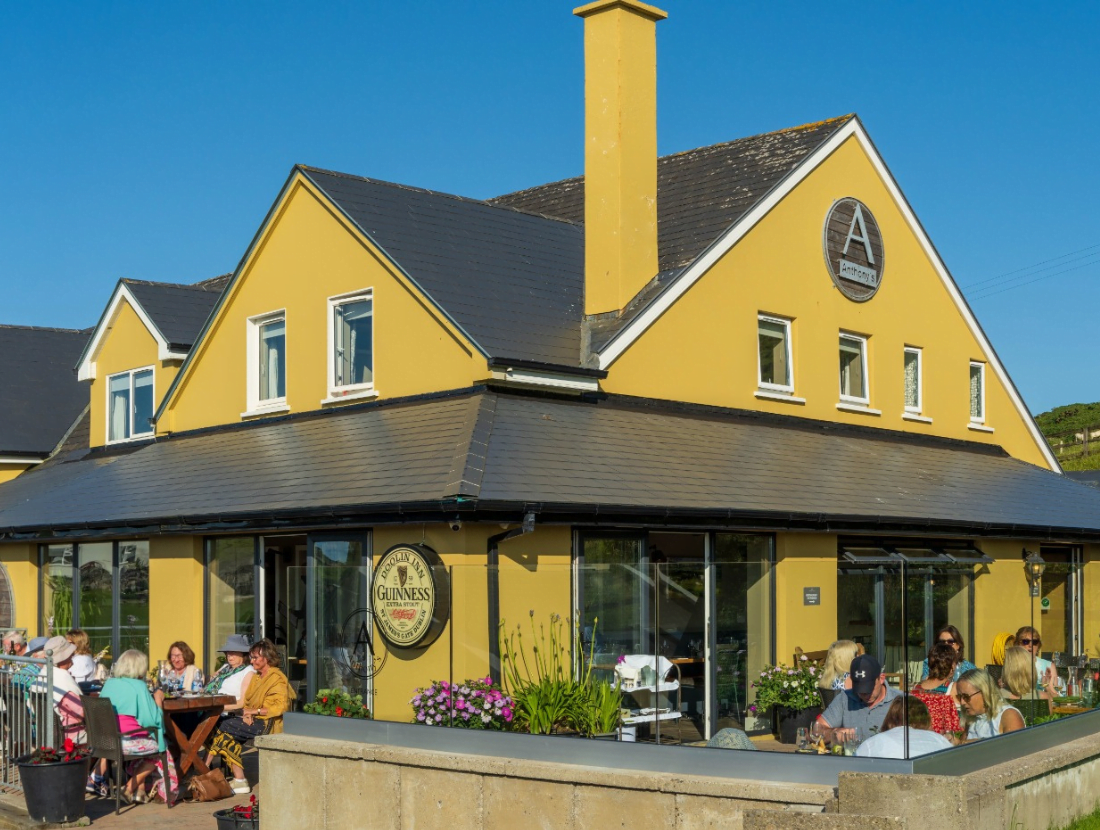 Doolin Inn is your home in the heart of Doolin. They offer the warmth, personal attention, and homely charm of a 4-star modern country house and restaurant, combined with the seamless service of a hotel.
Enjoy a hearty healthy breakfast or brunch to set you up for the day, a delicious meal in Anthony's evening restaurant, a beautifully-appointed bedroom with everything you need, and the friendly advice of people who truly know Doolin.
The rooms are designed with you in mind with modern-day comforts. Their room ethos is simple: the modern rooms are a base from which to work and play in this lively part of the village. They are stylish, intentionally fuss-free, and functional, but always with a canny and playful eye for detail.
They offer:
– 22 bedrooms to a high-quality hotel standard.
– Free WiFi, SMART TV, digital tablets, in-room safe, ironing, and tea and coffee facilities.
– Cosy double, double and deluxe double or twin rooms.
– A great breakfast included.
– Accommodation for small groups and private rental available.
Facilities and relaxation:
– There is a 70-seater restaurant with an outdoor terrace for 70 more and a focus on local produce from the Burren and West of Ireland Region.
– Conference and private dining facilities are available where they focus on one group and their goals.
– There is a coffee dock with sweet treats and snacks.
– Views of sunsets setting on the ocean horizon behind the village.
Taste the Burren!
A major part of your stay at Doolin Inn should be the food. They are inspired by The Burren's natural produce and scenery to deliver exceptional dining with great flavour.
At the heart of the inn, is a modern and intimate restaurant that overlooks Fisherstreet with spectacular views of the village and beyond as far as the wild Atlantic. Anthony's is a haven for local, creative food, handcrafted cocktails and impeccable Burren coffee. Championing all the best the Burren has to offer, Anthony's is partnered with a multitude of local food purveyors. These are the foods and flavours of the Burren – and they are reflected in the dishes they place on your table at Anthony's, celebrating sustainability along Ireland's Wild Atlantic Way.
Food Highlights:
Picnic and packed lunches:
There is no better way to understand and feel the local terroir than an artisan picnic while enjoying the views of the Cliffs of Moher, on an Aran Island beach, or on a limestone slab in the Burren.
Enjoy Anam Coffee from a fantastic local coffee roaster. Catch up with friends and family over brunch or bottomless brunch, as they dish up all your favourites with a local feel and great cocktails.
Dinner is set in a relaxed atmosphere, featuring delicious local seafood, Burren beef and local cheeses. They cater for all dietary requirements.
Devour village scenes, bountiful brunch, dinner, cocktails and more.
Awards:
Doolin Inn was recommended in Georgina Campbell's Guides 2022. It was named #10 Best Inn in Ireland in Tripadvisor Travellers' Choice Awards 2021. It was also named One of the Best Places to Stay in Ireland in 2022, in Independent.ie Travel "The Fab 50: The best places to stay in Ireland in 2022.
Food and drink:
Anthony's welcomes both residents and non-residents for brunch, dinner, drinks and coffee. All are welcome!
Good to Know
Free on-site car parking. Free WiFi is available throughout the property.