Ennis and Nearby Highlights
Everybody loves Ennis as a town and a base to explore Clare!
Ennis is Clare's main town – a picturesque and historic market-town, with lots to do. It's also the centre of County Clare, which makes it a superb holiday base to explore the county's top attractions and activities. Here is some of what you can experience in Ennis and nearby.
Experience the medieval town of Ennis – officially Ireland's friendliest place
Great shopping, attractions, activities and entertainment options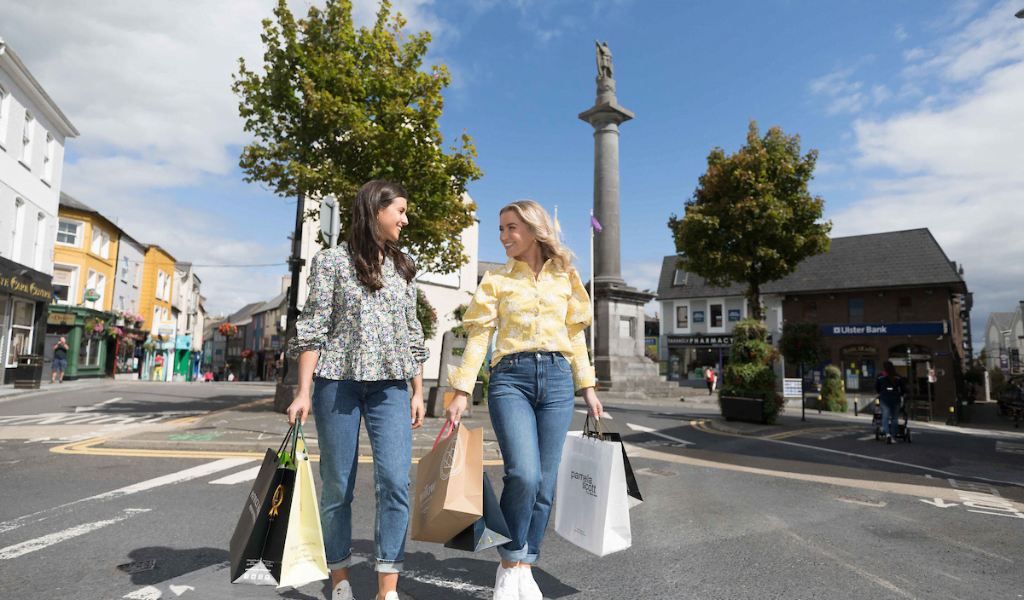 Ennis is County Clare's capital town. Its narrow streetscapes, quaint shops, monuments, buildings, markets, music pubs, entertainment venues, attractions, activities, culture and festivals all combine to make it a special place to stay. It's also officially "Ireland's friendliest place"! It was awarded this accolade at Retail Ireland's Excellence Awards 2022. The town is right in the centre of the county, making it an ideal base to explore all of County Clare – one of Ireland's premier tourist destinations. 
Ennis – a colourful past, dating back to the 13th century
Time travel around Ennis!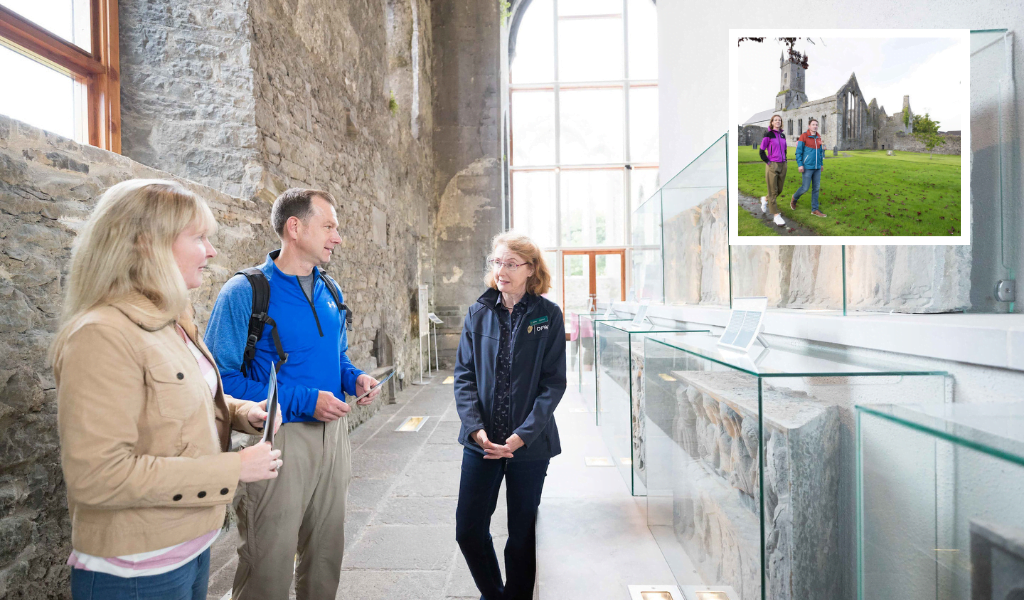 Ennis has a colourful past and takes its name from "Inis", which is the Gaelic name for Island. The town dates back to the 13th century and was formed between two streams on the River Fergus when the O'Briens, Kings of Thomond invited the Franciscans to establish a settlement there in 1240. Ennis Friary can still be visited today. The building contains a wealth of fifteenth- and sixteenth-century sculptures carved in the local hard limestone.
Over the centuries, Ennis became a thriving market town, which it continues to be today.
Enjoy Ennis – a river flows through it
The River Fergus on its journey to the Shannon Estuary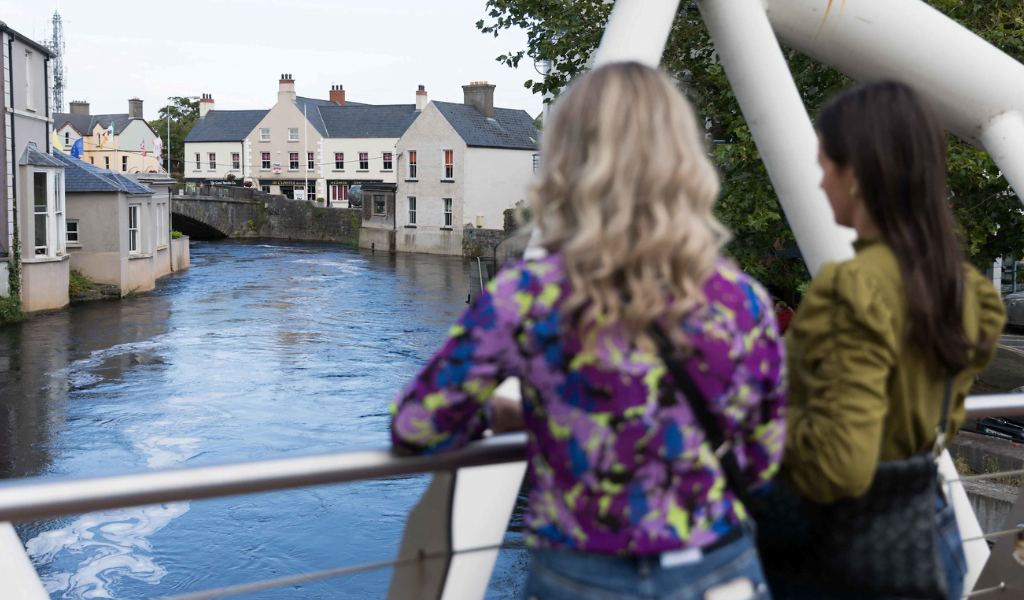 The River Fergus flows through Ennis and is a wonderful feature of the town. The River begins at Lough Fergus in north Clare and flows through Ennis and nearby Clarecastle before joining the Shannon Estuary.
Explore its famous narrow streets and bow ways
One of Ireland's most pictureque towns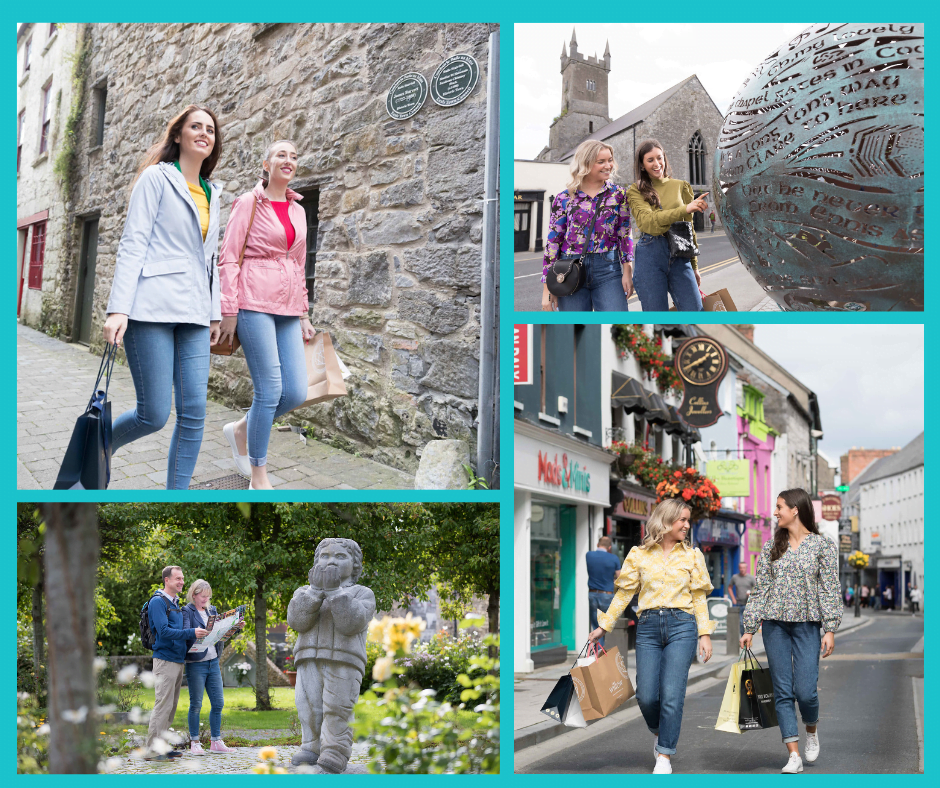 Ennis is famous for its narrow streets and for the rich tapestry of laneways and bow-ways which date back to mediaeval times and lead off the main streets – typically toward the River Fergus which flows through the town.
Shop the boutique capital of Ireland
Ennis is home to small independent boutiques and craft outlets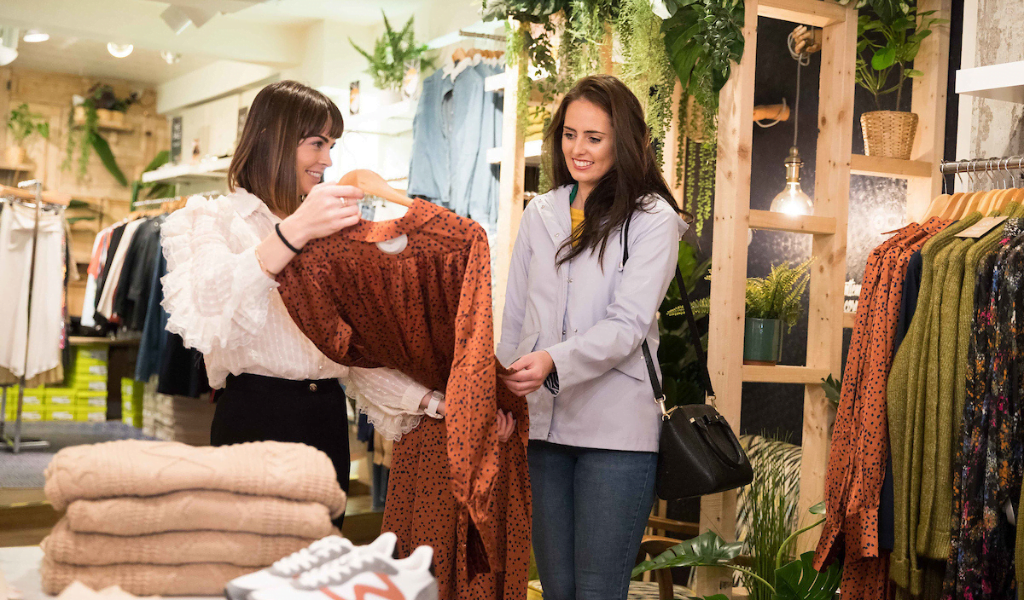 Ennis began as a market town, and it continues its great shopping tradition. It is considered to be the 'Boutique Capital of Ireland'. This reputation is primarily because Ennis is home to an impressive range of small independent fashion and gift shops that you won't find in high streets around the cities of Europe. It means you can shop and pick up something unique – which is another reason why so many visit and shop Ennis.
Enjoy eats and treats
Ennis – great casual and formal dining options
Ennis and nearby, County Clare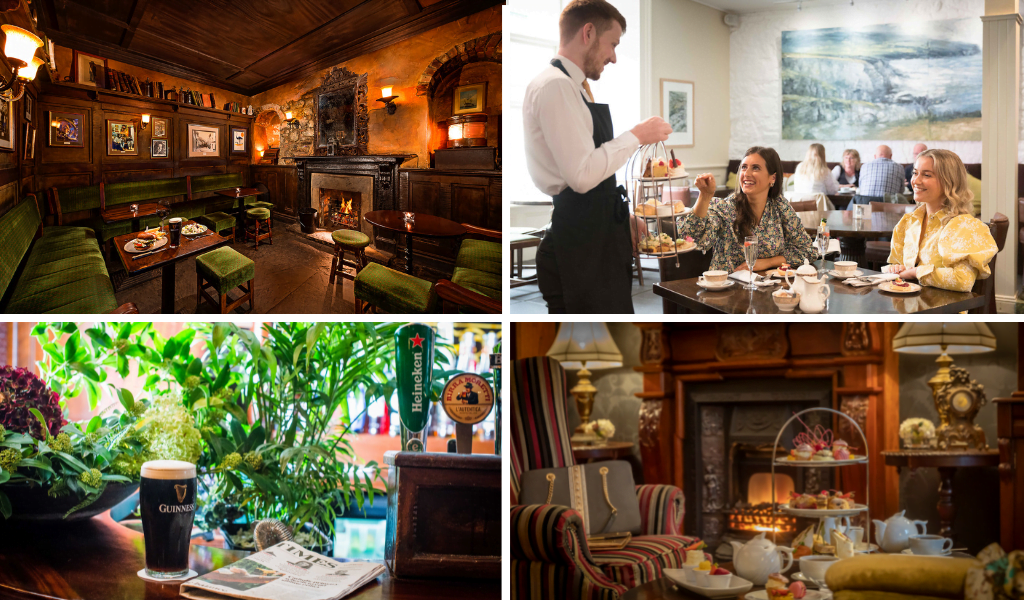 Ennis boasts a great section of casual and formal dining restaurants, and the cuisine styles range from Irish and European to Asian. Good food is also available in many of the town's character pubs where you can enjoy fine food and refreshing drinks in informal surrounds. Cafés in Ennis are great places to relax, catch up, and to plan your day's activities. You can check out where to eat here – just filter by "Ennis and Nearby" to see some options.
Ennis – always entertaining and eventful
Theatre, Irish music sessions and more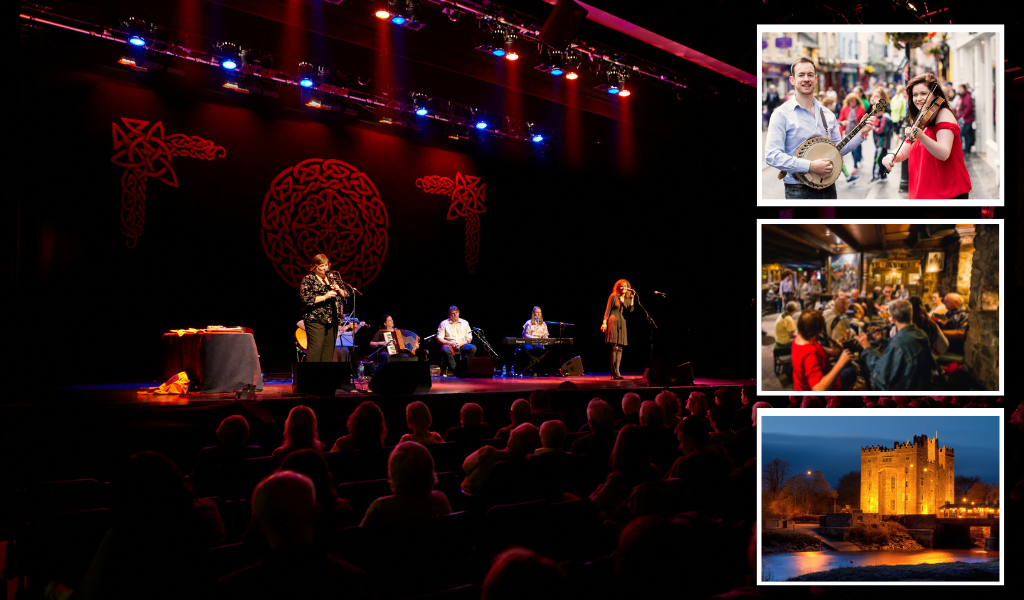 Entertaining and being entertained is part of the culture of Ennis. glór, County Clare's flagship arts and entertainment venue, offers a vibrant programme of events throughout the year and features local, national and international artists. Cois na hAbhna is another popular venue for Irish céilí dances, concerts, and lively music sessions. The character pubs in Ennis are centres of entertainment, music, conversation, and friendly faces. They feature great Irish music 'seisiuns' – some are organised, while others are spontaneous by musicians meeting up to share their latest music. The Bunratty Castle Medieval Banquets are just a 20-minute drive from Ennis.
Get active in Ennis
Enjoy the great outdoors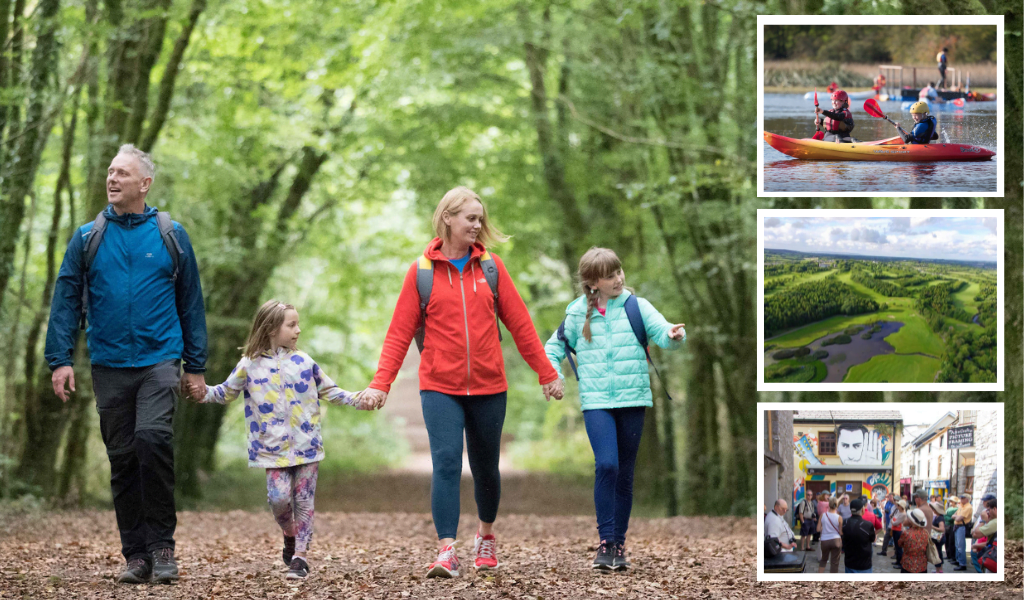 Based in Ennis, you can enjoy activities in the town, nearby, or throughout County Clare. Ennis has self-guided walking trails and guided town walks, two golf courses (Ennis and Woodstock), horse riding centres, children's playgrounds, indoor leisures centres, and John O'Sullivan Park which is set in 54 hectares of rich, biodiverse woodland and parkland. You can also enjoy water activities at nearby Ballyalla lake with Clare Water Sports – including canoeing, stand-up paddle boarding and kayaking. Because Ennis is at the centre of Clare all of Clare's attractions and activities are never too far away. You can check out Clare's activities here and can filter by the activities of interest.
Take all of Clare in
Ennis a great touring base too!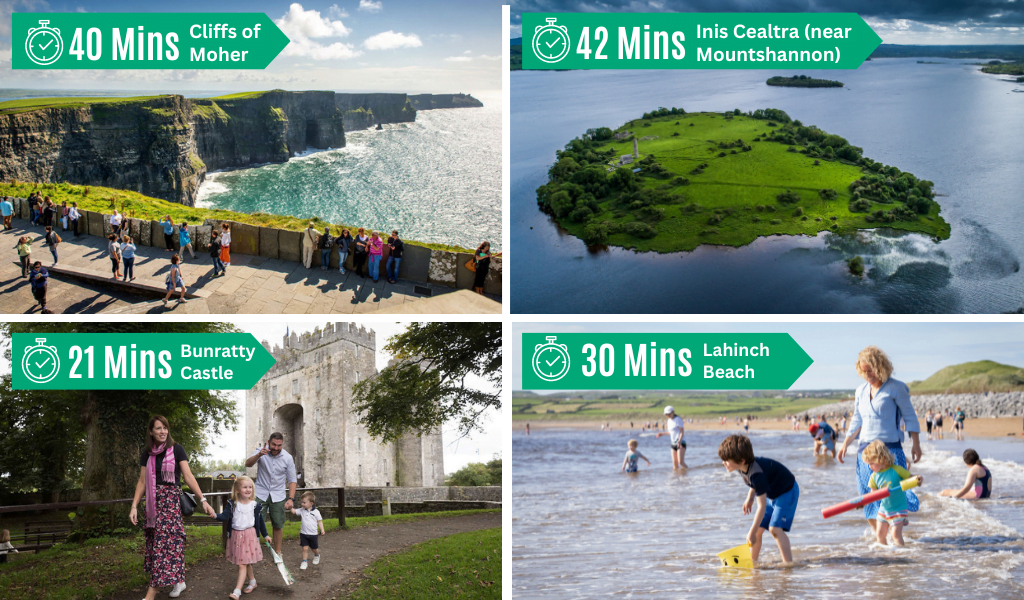 Ennis, the county capital, and Ireland's friendliest place is located at the the centre of Clare. It means it is an ideal base to stay and for touring Clare. Driving from Ennis, you can be on the Atlantic Coast within 30 minutes, Bunratty Castle and Folk Park with 21 minutes, and Mountshannon, Lough Derg within 42 minutes. You can check out driving distances and times within Clare here.
Stay awhile in Ennis or nearby.
From castles to top hotels and B&Bs
Ennis and nearby, County Clare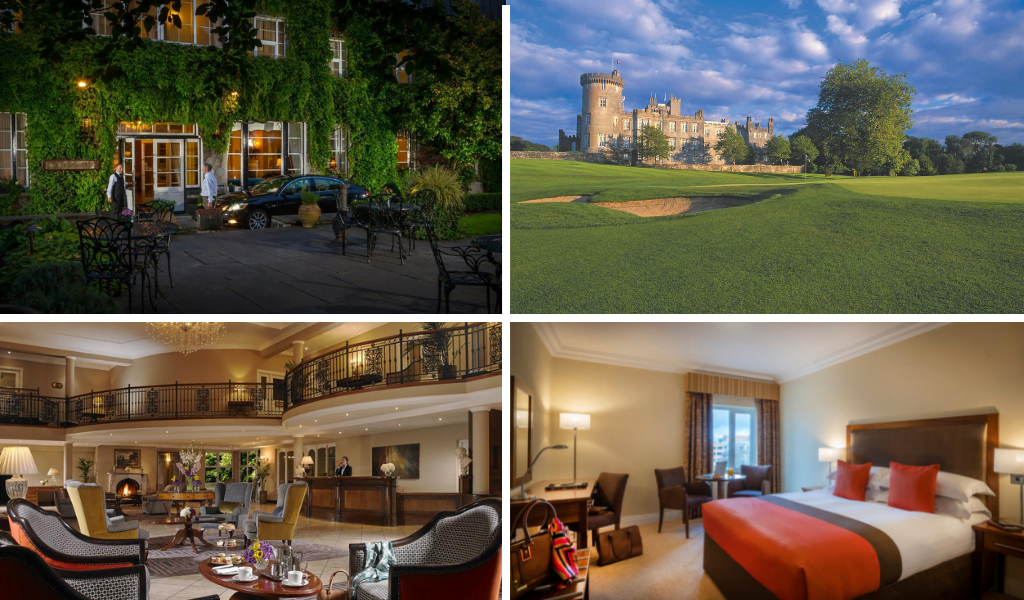 The range of accommodation in and around Ennis is excellent, from a luxury 5-star castle and modern hotels to self catering and B&B options. You can see some accommodation options here. Tip: filter by 'Ennis and Nearby".