West Clare Highlights
Unspoilt natural beauty
West Clare is an area of unspoilt, natural beauty. It lies between the Shannon Estuary and the Atlantic Ocean which has carved giant natural sculptured cliff formations from the stone-faced coastline, and trimmed them with fine-grained beaches. West Clare provides days filled with activities and means and nights of lively entertainment and fabulous foods.
Visit the Loop Head Peninsula
Heaven – at the world's end!
Loop Head Peninsula,West Clare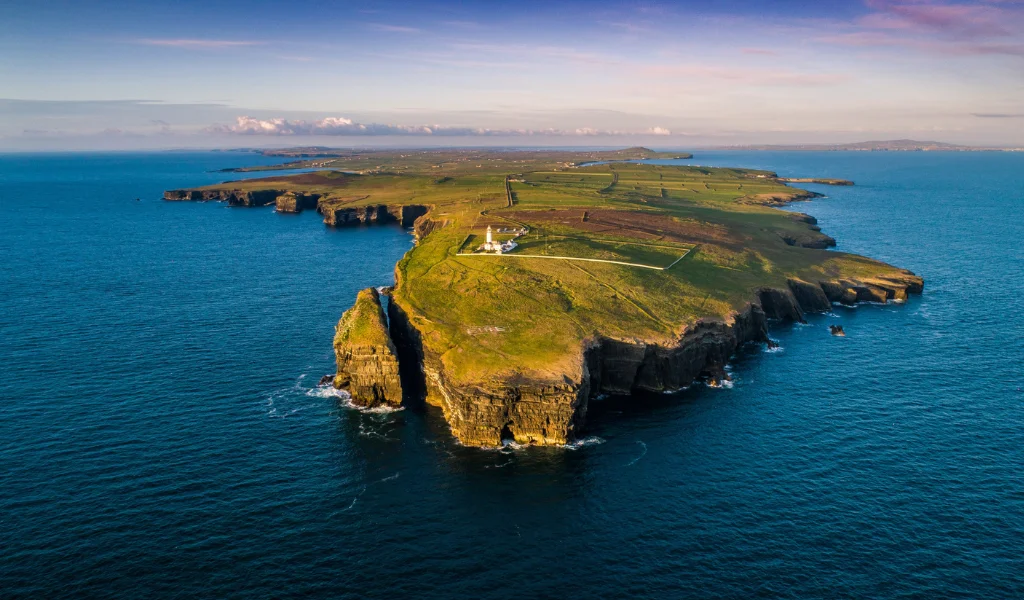 Loop Head is spectacular. This slender finger of land points out to sea from the most westerly point of County Clare, on the Wild Atlantic Way. Sitting between the ocean on one side and the Shannon Estuary on the other, it epitomises what the Wild Atlantic Way is about: panoramic cliff views, great aquatic activities, quiet beauty spots where you can pause and reflect on the wonders of this unique area, and local seafood. Loop Head Lighthouse, perched at the very tip of the Peninsula, is a Signature Discover Point on the Wild Atlantic Way and is well worth a visit. The next landmass to the west of Loop Head is North America!
Enjoy Spectacular Atlantic Coastal Scenery
It really is stunningly beautiful – all year round!
West Clare coastal cycle and drive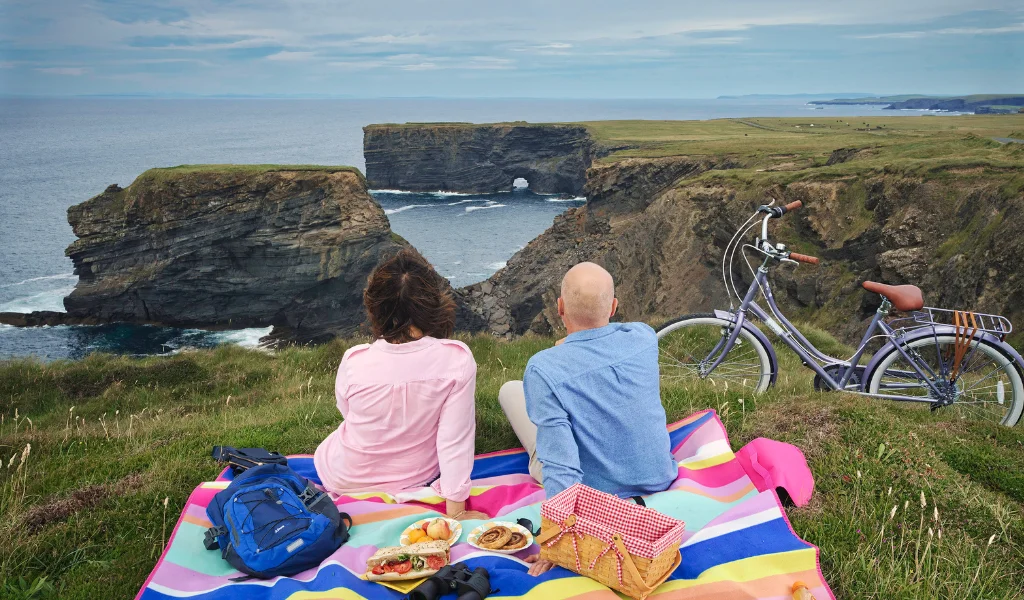 The West Clare coast road leading southwards from the bay at Kilkee to Loop Head Lighthouse is one of the most spectacular cycles or drives in Europe. Marvel at the cliffs, castles, lighthouses and scenery that has attracted visitors here for over 200 years. Highlights include Kilkee Victorian Town, Bishop's Island, the Bridges of Ross, and Loop Head Lighthouse.
Drive or cycle the Shannon Estuary Way
Where the River Shannon meets the wild Atlantic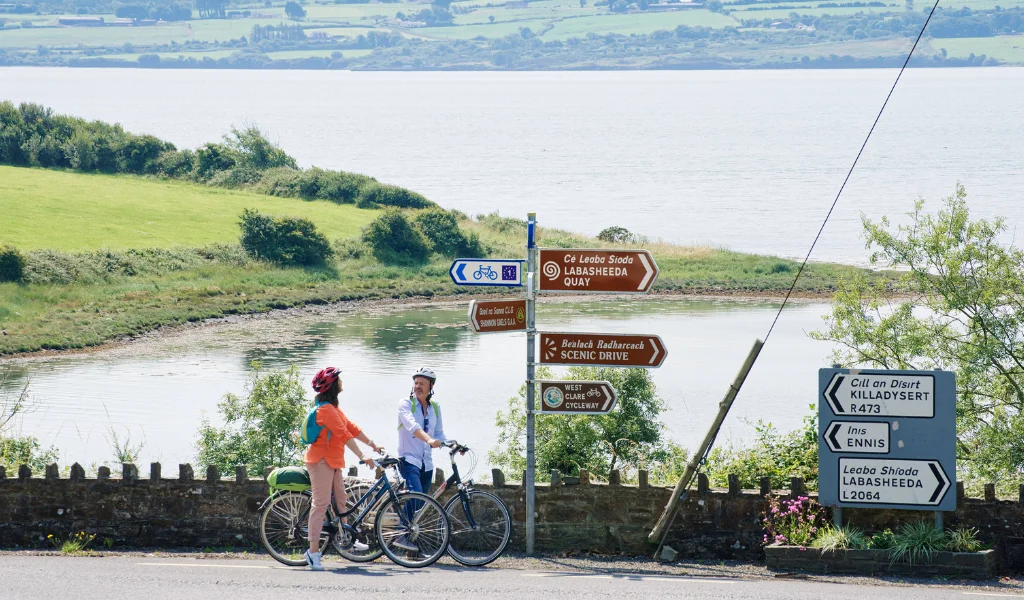 The Shannon Estuary, an area of natural beauty, is where the River Shannon flows into the Atlantic. On your drive or cycle around the Estuary, expect to find delightful towns, pretty villages and piers, excellent shore-fishing sites, and lots of stop-off places to explore. Clare's towns and villages along the route include Killimer, Labasheeda, Killadysert, Ballynacally, Ennis, Clarecastle, Shannon, and Bunratty. The Shannon Car Ferry can take you across the Estuary in 20 minutes, connecting Tarbert in Co. Kerry and Killimer in Co. Clare. Watch out for the famous Shannon Dolphins!
Take a boat trip to meet the famous Shannon Dolphins
One of Europe's largest resident dolphin populations
Kilrush and Carrigaholt, West Clare
Clare has a resident population of bottlenose dolphins living in the Shannon Estuary. Over 140 of these magnificent mammals can be observed, on most days, feeding, travelling or playing in the Estuary. The dolphins can be best viewed from the licensed boats that undertake special tours. Each encounter with the dolphins is different and special, with the engagement determined by the dolphins themselves.
You can take a boat trip out to see them with Dolphin Discovery Kilrush or with Dolphinwatch Carrigaholt. You can also learn more about the dolphins at the Shannon Dolphin and Wildlife Centre, opposite Kilrush Marina.
Enjoy West Clare's four Blue Flag beaches
These beaches are family favourites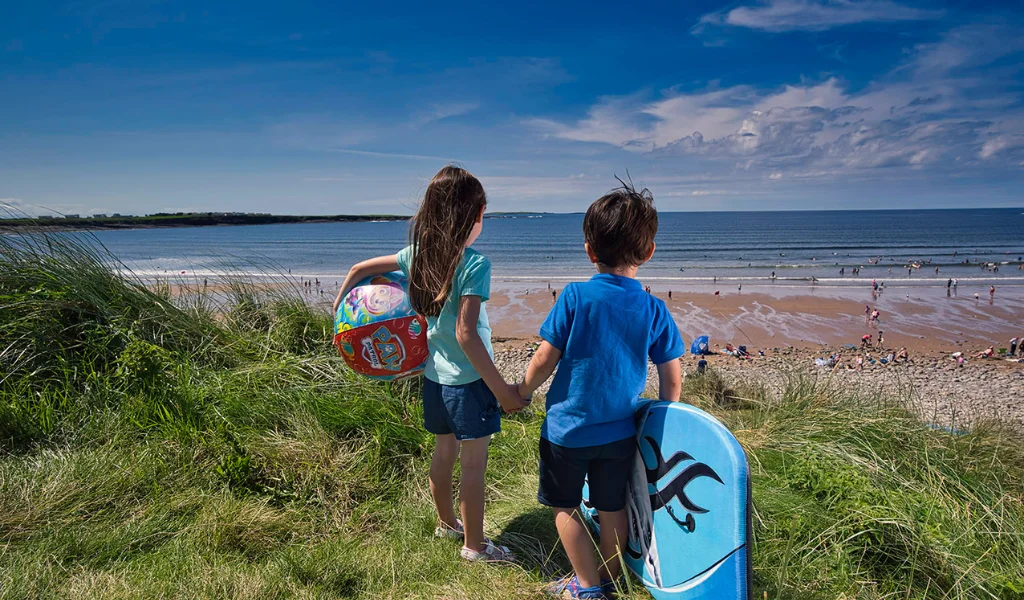 West Clare has four Blue Flag beaches. The Blue Flag is one of the world's most recognised eco-labels. It's awarded annually recognising adherence to a strict criteria including water quality, safety and services, and environmental considerations. West Clare's five beaches are:
Kilkee Beach is a sandy crescent-shaped beach and a really family favourite. It's one of Ireland's most popular beaches, and Kilkee is a lively resort town.
Spanish Point Beach is a wonderful sandy beach and is very popular with swimmers and surfers.
White Strand Beach, Miltown Malbay, is a lovely, small, sandy beach with a rocky shoreline.
White Strand Beach, Doonbeg is famous for its white sand that frames magnificent coastal scenery. It is very popular for surfing and swimming.
Kilrush Marina a hub of water activity also carries the important Blue Flag status.
Enjoy great water activities
From kayaking to windsurfing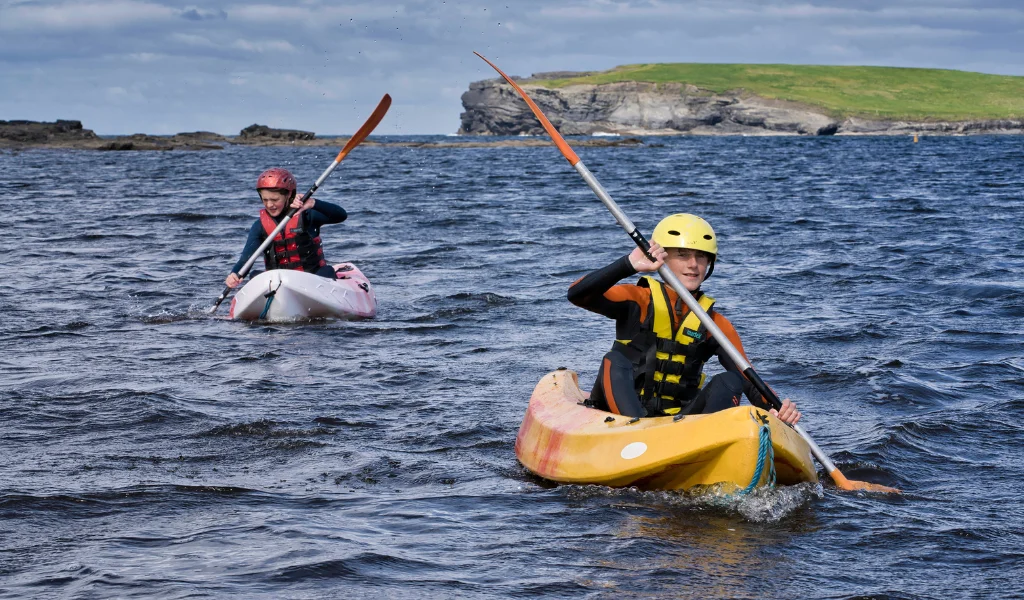 West Clare can mean days filled with your choice of water activities including swimming at any of five blue flag beaches, windsurfing, kayaking, diving, and sea angling. Nevsail Watersports & Adventures in Kilkee offer a wide range of water- based activities including kayaking, stand up paddle boarding and surfing for all ages, abilities and group size. You can check all activity options here – and can filter by "West Clare:
Experience exhilarating land activities
including walking, golfing, and horse riding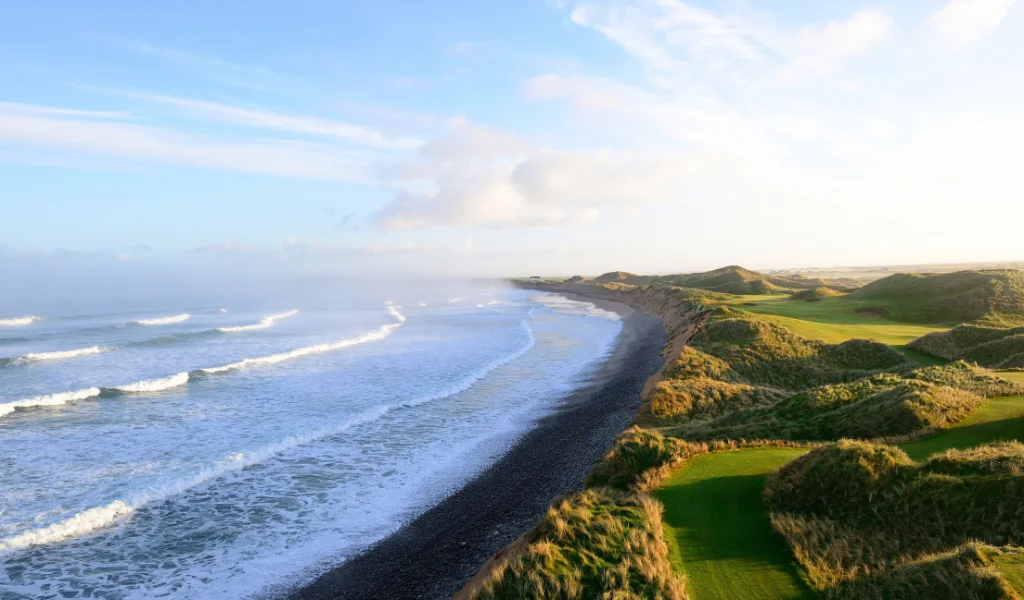 The best way of taking in West Clare is to walk it. Take in the Kilkee Cliff Walk and experience some of the best cliff-top scenery in Ireland – you can choose from a brisk 5 km or more challenging 8 km walk. The Doonbeg Loop Walk, which starts in the village of Doonbeg, is an 8 km walk and is a great opportunity to explore the local area. The Kilbaha Loop Walk on Loop Head is a bit more challenging, and it takes four to five hours to hike its 15 km trail.
Golfers are spoiled for choice. Trump International Golf Links at Doonbeg, spans over 2 km of crescent shaped beach and sand dunes, and offers stunning views of the Atlantic. Kilkee Coastal Golf Course includes dramatic cliff top holes. Spanish Point links golf course is one of Ireland's oldest golf courses, while the 18-hole parkland course at Kilrush uses natural terrain combined with water, trees and sand bunkers and is a pleasure to play.
The horse riding school at West Clare Equestrian Centre near Kilrush caters for all levels from beginner, novice and intermediate through to advanced level and for both children and adults. It also organises local treks.
Take a short boat trip to Scattery Island
A 6th century monastic settlement, invaded by Vikings many times
Scattery Island, off the coast of Kilrush, West Clare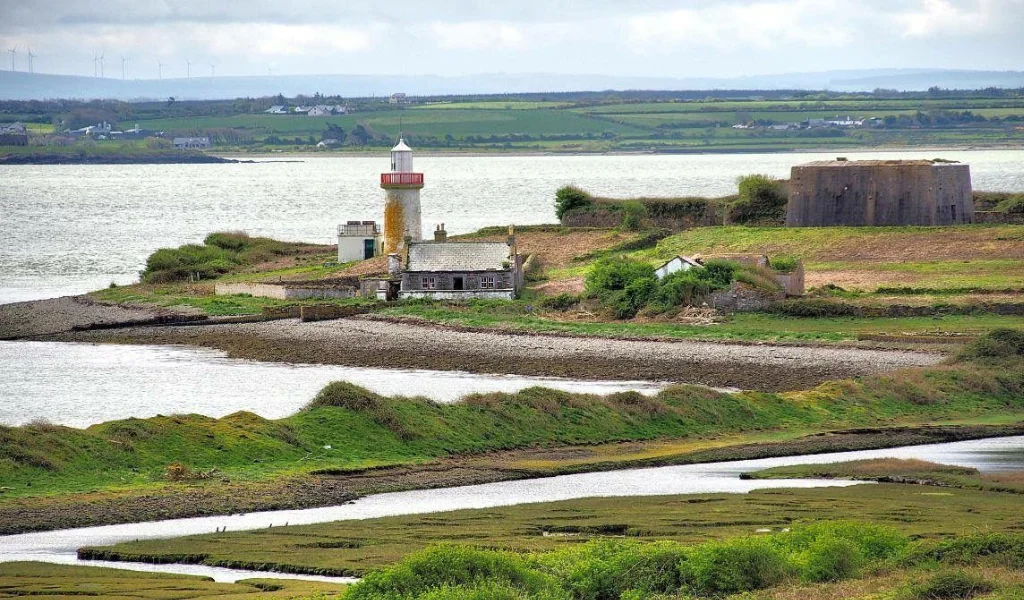 Scattery Island, just off the northern bank of the Shannon Estuary, is the site of an early Christian settlement founded by an extraordinary man. St Senan, who was born in the area, built his monastery in the early sixth century. It included a mighty round tower, which at 36 metres is one of the tallest in Ireland. There are six ruined churches on the site too. It is believed that Senan is buried beside another of the medieval churches.
Scattery was invaded many times over the centuries. The Vikings in particular believed that the monastery held many riches and returned several times to ravage it. A short boat trip will take you to the island, where you can explore its multi-layered, 1,500-year history. You can book a boat trip and guided tour with Scattery Island Tours. The boat trip from Kilrush Marina to the island is circa 30 minutes (15 minutes to exit the Marina Locke gates and 15 minutes sailing time).
Kilrush, Kilkee and other wonderful places
Great bases in West Clare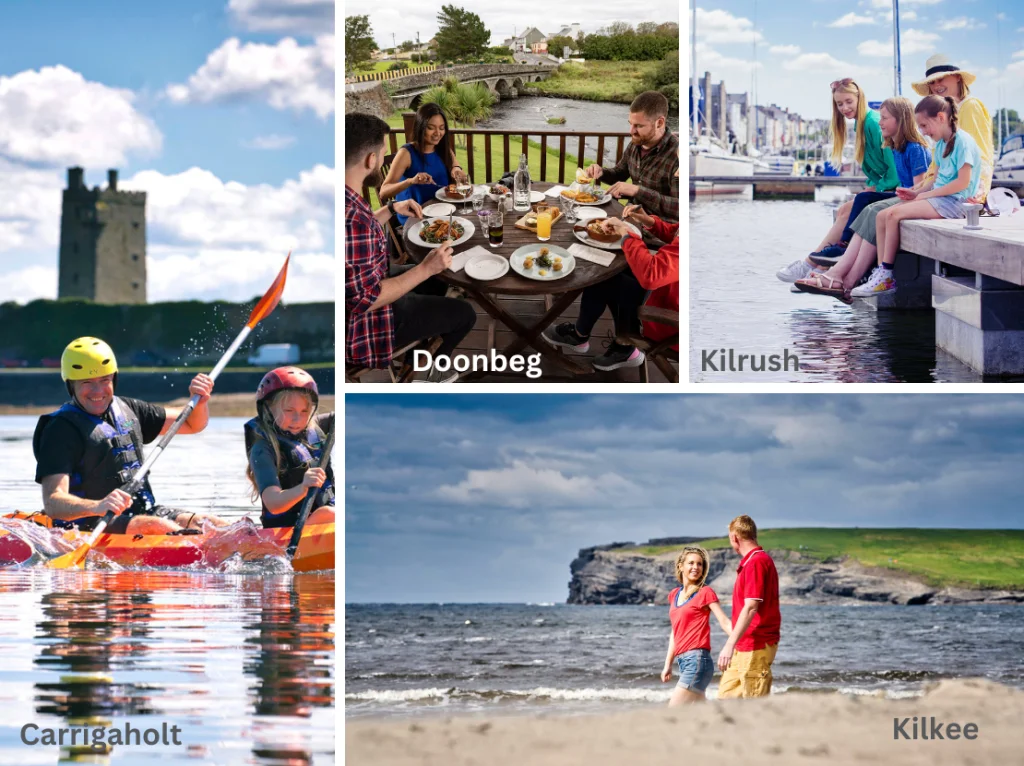 West Clare towns and villages are a joy to visit. You can expect to experience a great welcome and real Irish hospitality. Here are a few of the towns.
Carrigaholt: The picturesque fishing village of Carrigaholt is the largest village on the Loop Head Peninsula and is renowned for its seafood restaurants, its pier and a 15th century castle that stands guard over the mouth of the River Shannon.
Doonbeg: Lying within a landscape of Atlantic dunes and rich farmland, the picturesque village of Doonbeg is famed for its White Strand Doonbeg Blue Flag beach, great restaurants, and the Trump International Golf Links.
Kilkee: The popular seaside resort of Kilkee is the largest town on County Clare's Atlantic coastline. Kilkee's Blue Flag beach is regarded as one of the best swimming locations in Ireland, while the magnificent Kilkee Cliffs provide some of the best scenery and walking trails.
Kilrush: Located at the mouth of the River Shannon on the Wild Atlantic Way. The heritage market town boasts a rich maritime tradition – with a wealth of attractions and activity options available to visitors.
Miltown Malbay: Tucked along the rugged West Clare coastline is the historic market town of Miltown Malbay, home to a famous music festival named after local Uilleann piper Willie Clancy
Spanish Point: The village of Spanish Point is a popular seaside resort that is nestled in the horseshoe-shaped Mal Bay. The lengthy Blue Flag sandy beach is a popular bathing and surfing area.