Discover Dolphins from Kilrush Marina
Boat Trips
Visitor Farms / Wildlife
Cool For Kids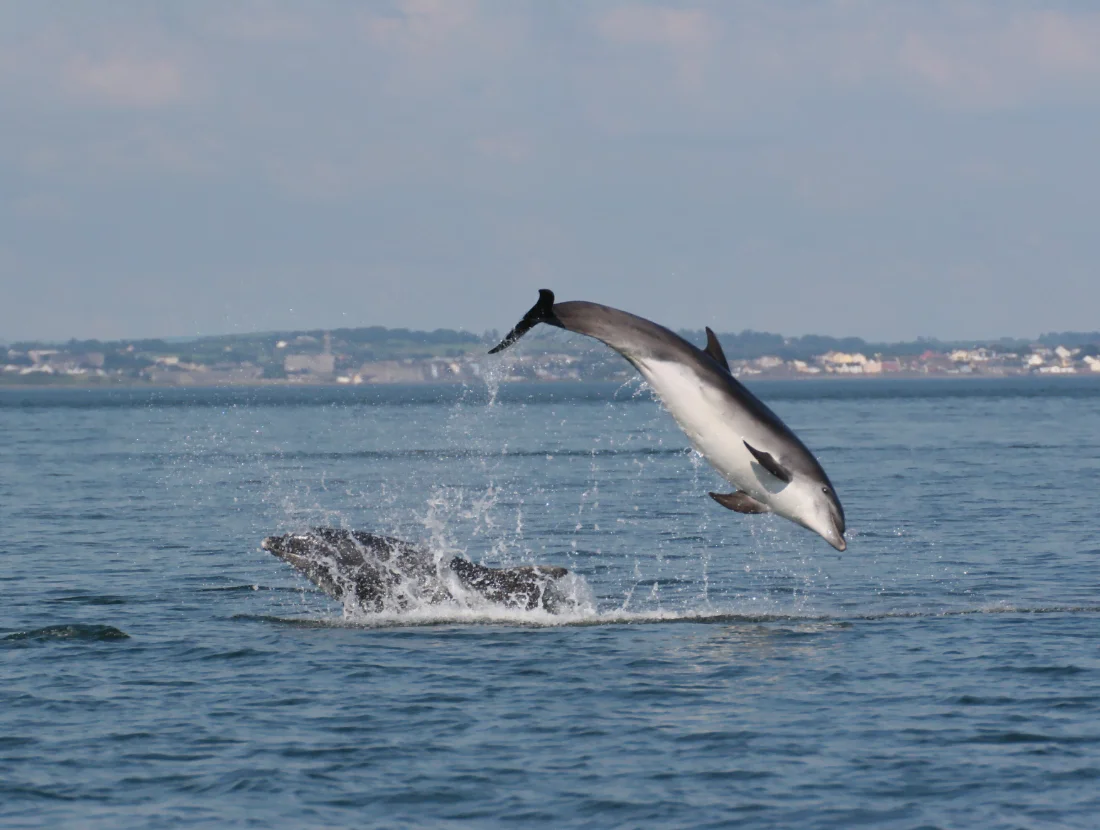 Dolphin Discovery provides a unique visitor experience and one of the most thrilling wildlife experiences on the Wild Atlantic Way. With over 30 years of experience in marine tourism and with thousands of happy passengers, a dolphin-watching trip from Kilrush is not to be missed.
Your cruise will depart from Kilrush Marina, going out through the lock gates, the only lock on the lower Shannon and out onto the majestic Shannon Estuary – home to Europe's largest group of bottlenose dolphins. The trip takes about two to two and a half hours and is a fantastic opportunity to enjoy close-up encounters with the dolphins in their natural environment.
The West Clare Peninsula is an area of unspoilt natural beauty, wedged between the roaring Atlantic to the north and the more tranquil Shannon estuary to the south. Kilrush Marina is perfectly located for exploring the panoramic views of the Shannon Estuary, which is Ireland's first marine special area of conservation and home to Ireland's only resident group of bottlenose dolphins.
Dolphin Discovery are dedicated to protecting the dolphins and their habitat and work closely with the Shannon Dolphin Project to ensure our trips are carried out in a dolphin-friendly manner. On many of our trips, we are fortunate to be joined on board by researchers from the Shannon Dolphin Project.
Kilrush is a lively maritime and heritage town and is an ideal location to take a dolphin-watching trip from. The town is situated at the edge of the estuary and as sailings depart from a marina getting on and off the boat is safe and easy – even for those with limited mobility or whose sea legs may not be great.
Highlights
Premier marine wildlife tourism attraction.
Two-hour sightseeing cruise on the Shannon Estuary.
An opportunity to see dolphins in their natural habitat.
Family-friendly day out
All our crew are locals and have a wealth of knowledge of the locality and the dolphins.
Good to Know
Admission: Tour fees apply.
Open months: Tours operate from May to September. Departure times change each day depending on tides, weather, and sea conditions. Therefore, please phone in advance for their schedule and reservations.
Tour duration: Two hours to two hours and 30 minutes
Suitability for younger children: Ideally suited
Cool for kids: Children aged six to 12 would describe it as cool.
Rainy days: All outdoor.
Wifi: Free WiFi at the Marina.
Toilet facilities.
Accessibility: Not wheelchair accessible.
Groups: Special rates for groups of 20+ people.
Parking: Free car and coach parking at the Marina.
Important Note: Details are subject to change. It is always advisable to check the tour dates, times and prices on their website or directly with them before visiting or booking.