North Clare Highlights
North Clare is an activies playground, carved out by nature
The magical appeal of North Clare includes the wondrous Burren and Cliffs of Moher UNESCO Global Geopark and the spectacular Wild Atlantic Way coastline. Here are just some of North Clare's highlights.
Visit the Burren and Cliffs of Moher UNESCO Global Geopark
One of the world's unique landscapes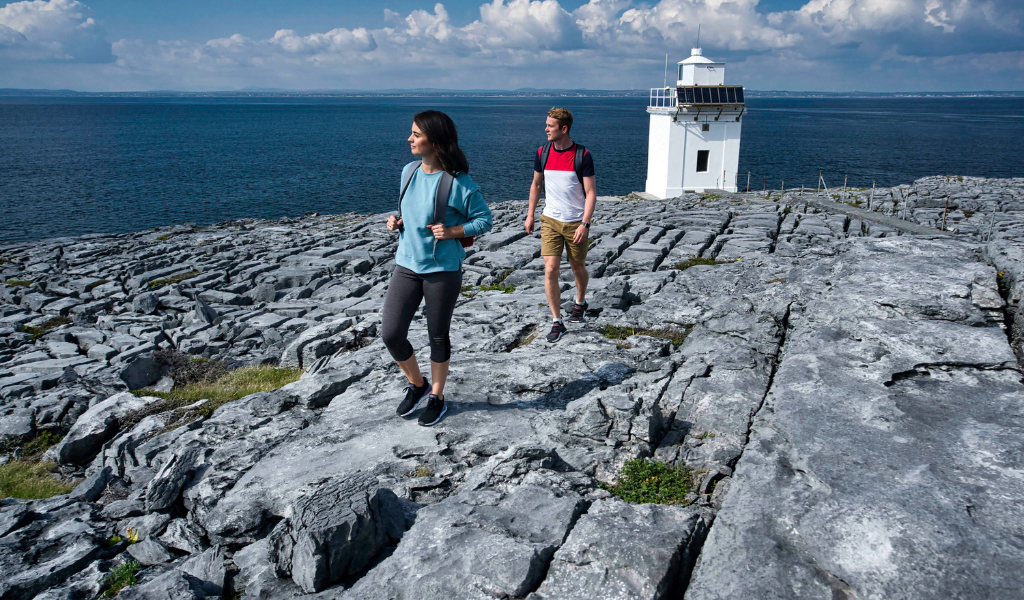 The Burren and Cliffs of Moher were formed over millions of years, and have been awarded the prestigious UNESCO Global Geopark Status. It is a compact area of enigmatic contrasts –  you can stand on the Burren's limestone pavement, hear the crashing of the Wild Atlantic waves and then look toward the spectacular 214-meter high Cliffs of Moher, standing guard against the ocean.
Visit the Burren and you can discover neolithic tombs, brooding castles, disappearing lakes, great caves, towering cliffs, golden beaches, ice age valleys, rock mountains, fascinating flowers, wonderful green road walks – and everywhere relics of Clare's ancient past. 
Experience the spectacular Cliffs of Moher
Ireland's most visited natural attraction
The Cliffs of Moher, North Clare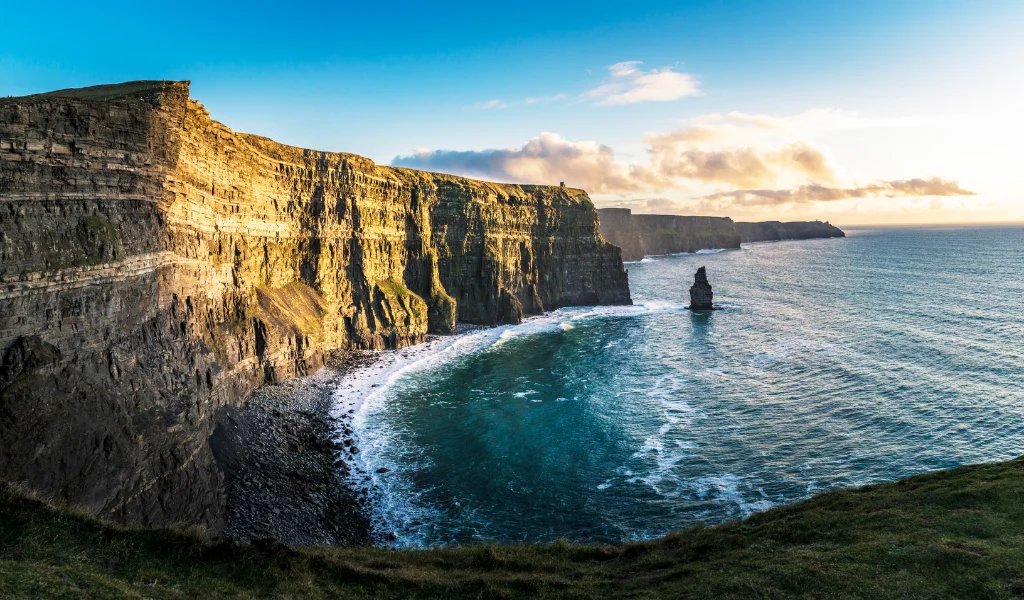 While the world-famous Cliffs of Moher are part of the UNESCO Geopark, they merit special mention as Ireland's #1 natural visitor attraction. The Cliffs have featured in almost every pictorial guide to Ireland. However, no re-creation can substitute for the direct experience of their grandeur and sheer visual force. 
Formed over 320 million years ago, they stretch for eight km as the crow flies and reach 214m at their highest point. O'Brien's Tower (built in 1835), located on the highest cliff, is an exceptional viewing point.
The Cliffs of Moher Experience, which includes an indoor exhibition, offers the perfect day out in a stunning natural environment, with free entry for children. The 800 metres of safe, paved pathways lead to viewing areas where you can see the Aran Islands, Galway Bay, and even faraway Kerry on fine days.
Go deep into the Burren's underworld
Visit wonderful show caves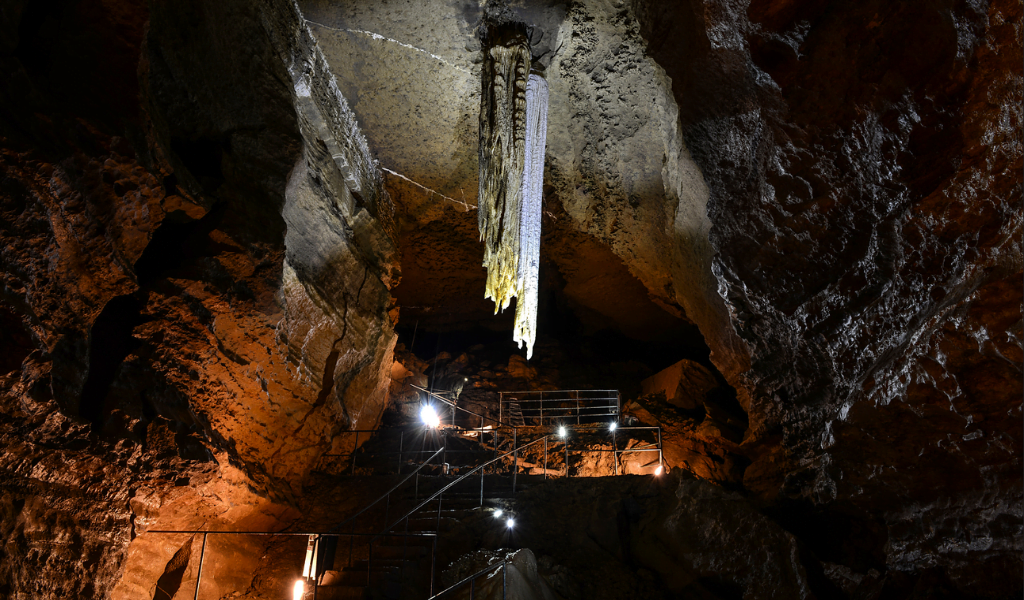 The Burren is Ireland's most important cave area and over 56 kilometres of cave passages have been surveyed. There are two wonderful show caves that are open to the public and take you into the Burren's underworld. At Aillwee Cave, at Aillwee Burren Experience, expert guides will accompany and inform you during a leisurely cave tour. The tour consists of a 45-minute stroll through the beautiful caverns – over bridged chasms, under weird formations and alongside a waterfall which sometimes gently sprays the unsuspecting visitor! 
The award-winning Doolin Cave and visitor centre is home to the Great Stalactite. At 7.3 metres (23 feet), it is the longest free-hanging stalactite in Europe and suspends from the Cave's ceiling like a gigantic chandelier. Visitors can experience a fully-guided tour of the Cave.
Enjoy a golden Blue Flag beach
On Clare's Wild Atlantic Way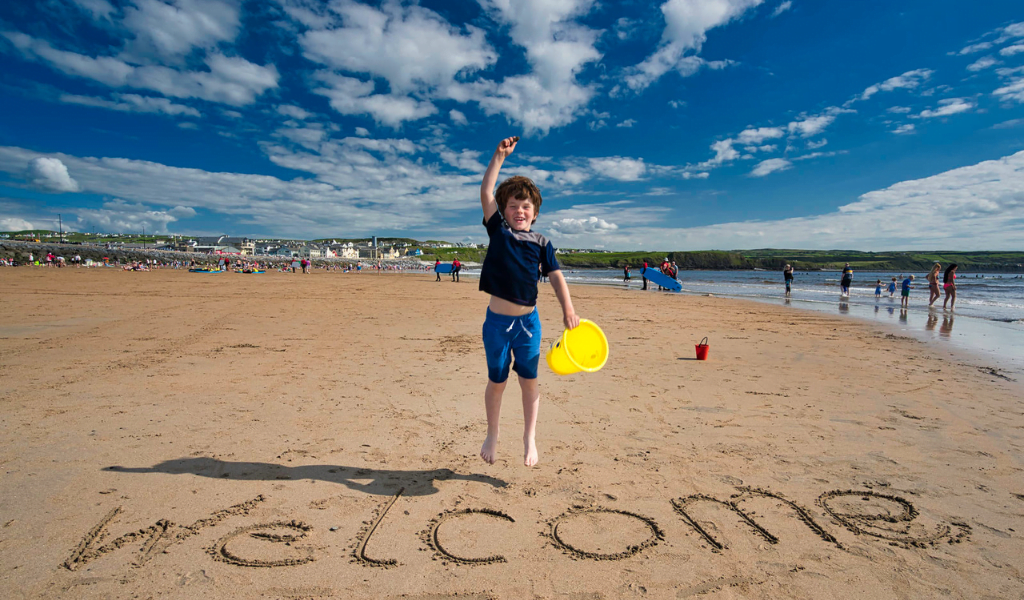 North Clare features two wonderful blue-flag beaches at Lahinch and Fanore. Lahinch seaside resort boasts one of Ireland's best known and most loved beaches. Lahinch Beach, with its golden sands, stretches for almost two kilometres around Liscannor Bay. As one of Europe's leading 'surf centres', Lahinch attracts visitors from around the world to its many surf schools. It is also a popular destination for lovers of other water sports, including sailing, swimming, kite surfing, diving, deep-sea and freshwater fishing. There is a lifeguard service during the summer months.
Fanore Beach is a wonderful sandy beach and a designated Discovery Point on Clare's Wild Atlantic Way. It is located near the village of Fanore in the heart of the Burren. It is extremely popular with surfers, swimmers and walkers. During the summer months the beach is patrolled by the lifeguard service making it a great place to learn to surf or enjoy the waves. Fanore Beach is backed by an extensive sand dune system, formed over thousands of years, and protected by the European Habitats Directive. 
Take a boat trip to the Aran Islands or under the Cliffs of Moher
It will be a highlight of your visit!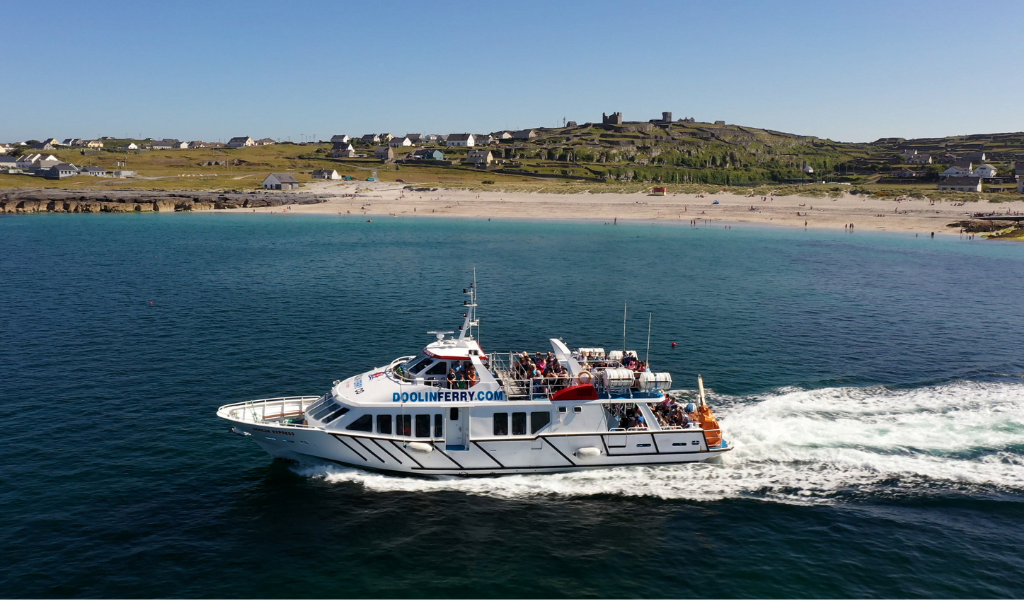 From the lively fishing village of Doolin, you can take a boat trip to the Aran Island or past the amazing Cliffs of Moher.
The Aran Islands are just a 15 to 35-minute ferry trip from Doolin (depending on which island you go to). The stunningly beautiful islands are an extension of the Burren and the locals living on the island speak Irish and English. Dún Aonghasa, the largest of the prehistoric stone forts on the Aran Islands, is located on Inis Mór – and is perilously perched on a sheer sea-cliff!
The Cliffs of Moher are one of Ireland's most popular visitor attractions. However, until you see their great height from the water (214 meters), there are many who would say you haven't really seen them at all!  
Between March and October, there are several ferry trips daily to both the islands and past the Cliffs of Moher.
Enjoy lively music and fabulous food
Seek out a 'Session' – ask a local!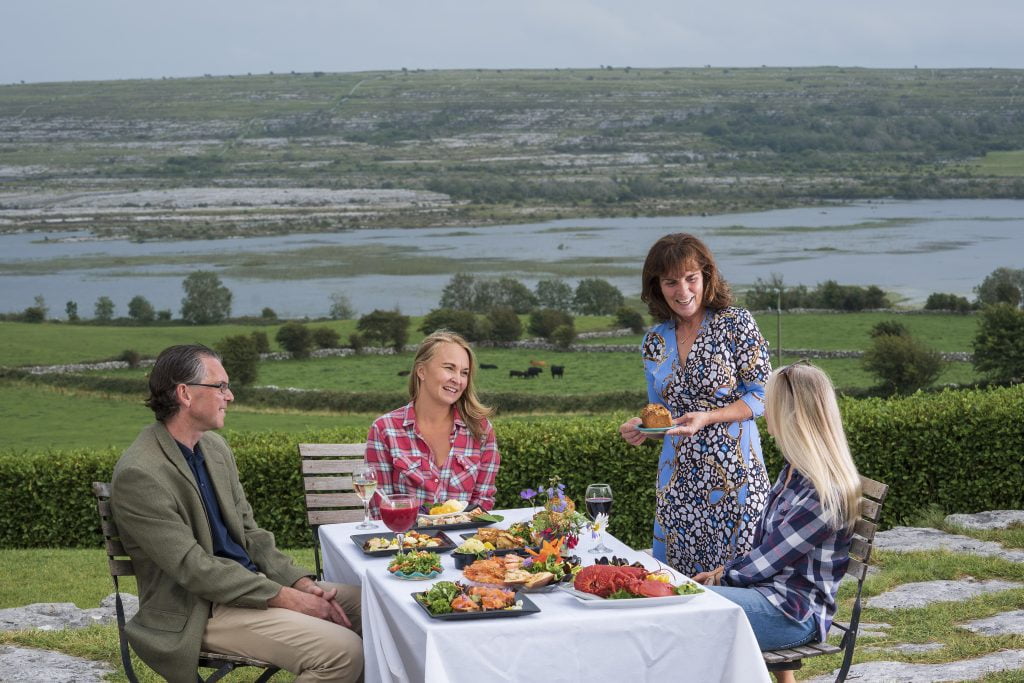 You can savour Clare's cultural riches of music, song and dance at towns and villages throughout North Clare. There are often spontaneous music and dance 'sessions' in places like Ballyvaughan, Doolin, Ennistymon, Fanore, Kilfenora, Lahinch, Liscannor and Lisdoonvarna. The village of Doolin is famous for music 'sessions' and is considered by many to be the world capital of Traditional Irish Music.
In North Clare, you will also find lots of wonderful places to eat – from quirky cafés to casual gastro pubs and fine dining restaurants. The high quality of our food is one of the most remarked upon observations by visitors to North Clare. You can see a list of some of the dining establishments here. Tip: filter by North Clare!
Experience great activities from surfing to links golf
North Clare is an activies playground, carved out by nature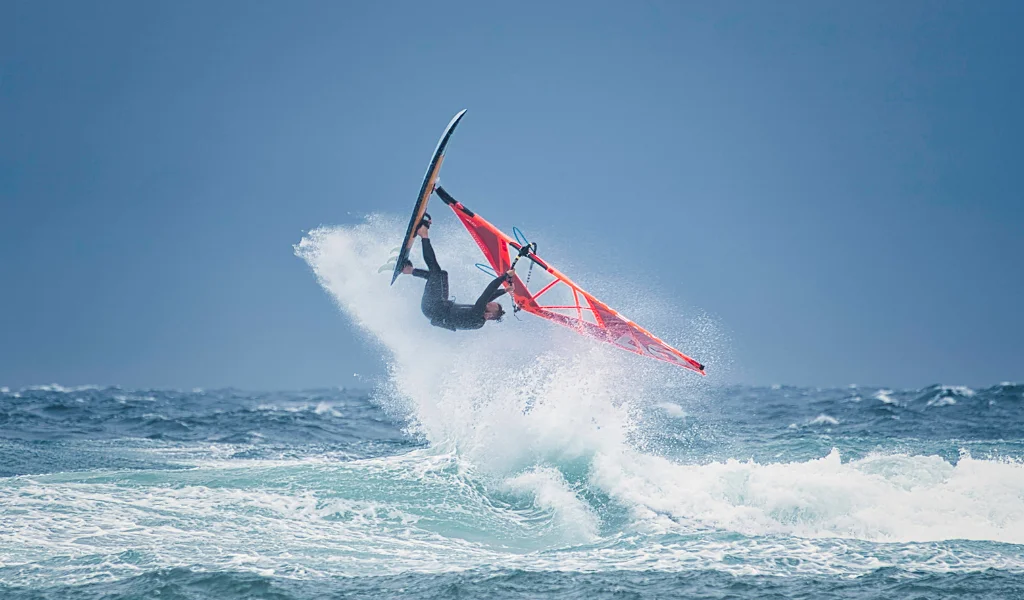 As you might expect, North Clare has an array of activities to choose from including surfing (Lahinch and Fanore), kayaking (Ballyvaughan), walking, cycling, fishing, and golfing (Lahinch).