Visit these amazing and historical islands
A visit to any of the island's is likely to be a holiday highlight
There are three special islands that can be reached in circa 20 minutes by boat from Clare. Each will provide a unique and memorable experience.
Visit Scattery Island
See the site of an early Christian settlement – often invaded by Vikings!
Off the coast of Kilrush, North Clare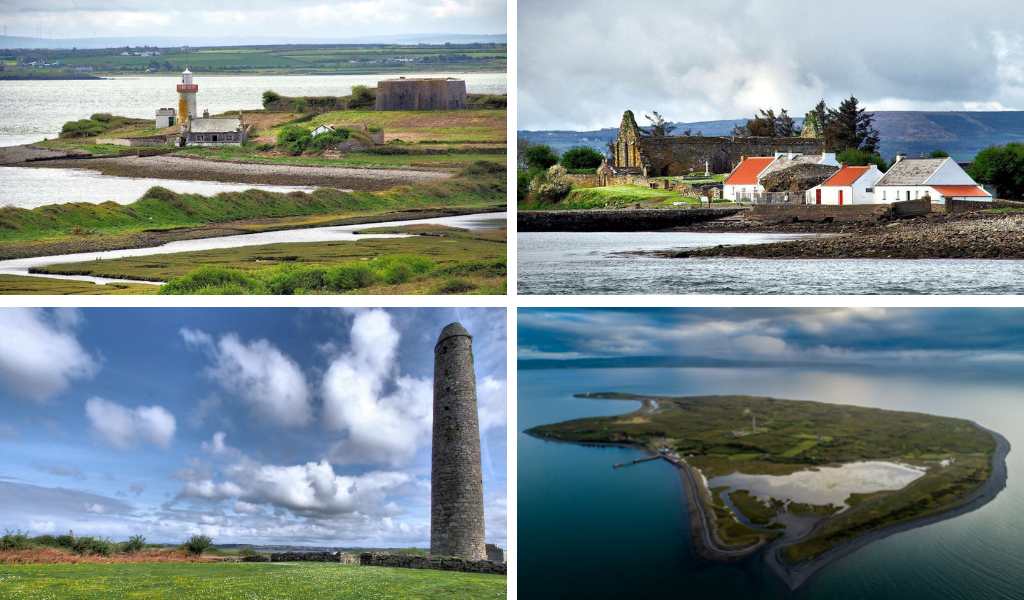 Scattery Island is a small island and lies just off the northern bank of the Shannon Estuary. It is the site of an early Christian settlement founded by St Senan, who was born in the area, and built his monastery in the early sixth century. It includes a round tower which, at 36 metres, is one of the tallest in Ireland. It also features the ruins of a cathedral and several medieval churches. As well as these historic sites, the island also has a lighthouse, an artillery battery, and the deserted village where the islanders lived until 1978. The island is home to an array of wild birds, animal and plant life.
Scattery was invaded many times over the centuries. The Vikings in particular believed that the monastery held many riches and returned several times to ravage it.
A short boat trip from the Kilrush Marina with Scattery Island Tours will take you to the island, where you can stroll around to explore its multi-layered 1,500-year history. You can also take a guided walking tour. The boat trip takes circa 20 minutes.
Explore Holy Island (Inis Cealtra) on Lough Derg
One of the most famous monastic sites in Ireland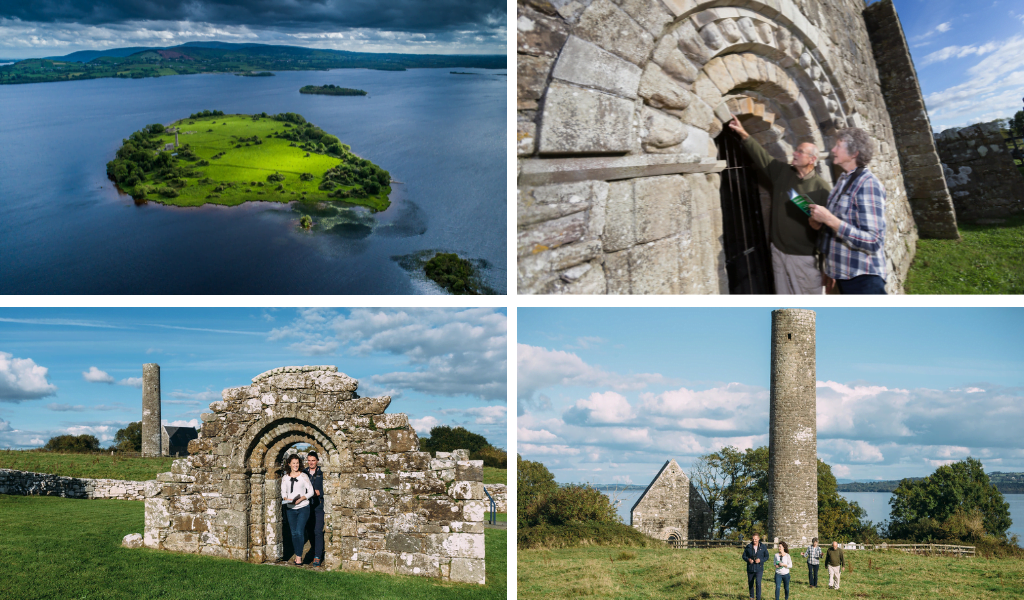 Inis Cealtra (Holy Island), on Lough Derg in East Clare, is one of the most famous monastic sites in Ireland. The island includes a well preserved round tower, the ruins of six churches, three cemeteries, bullaun stones, grave slabs, a holy well, and a bargaining stone.
The Island is chiefly associated with St Caiman who died in 653 AD. During his time Holy Island was a great centre of learning. It remained in active occupation until the 13th century despite numerous attacks from Norse raiders and others.
Holy Island is a very special place, and the sense of history there is palpable. There are boat trips available to the island from Mountshannon.
Experience the famous Aran Islands
Three iconic island that offer a glimpse into times past
Sail from Doolin, North Clare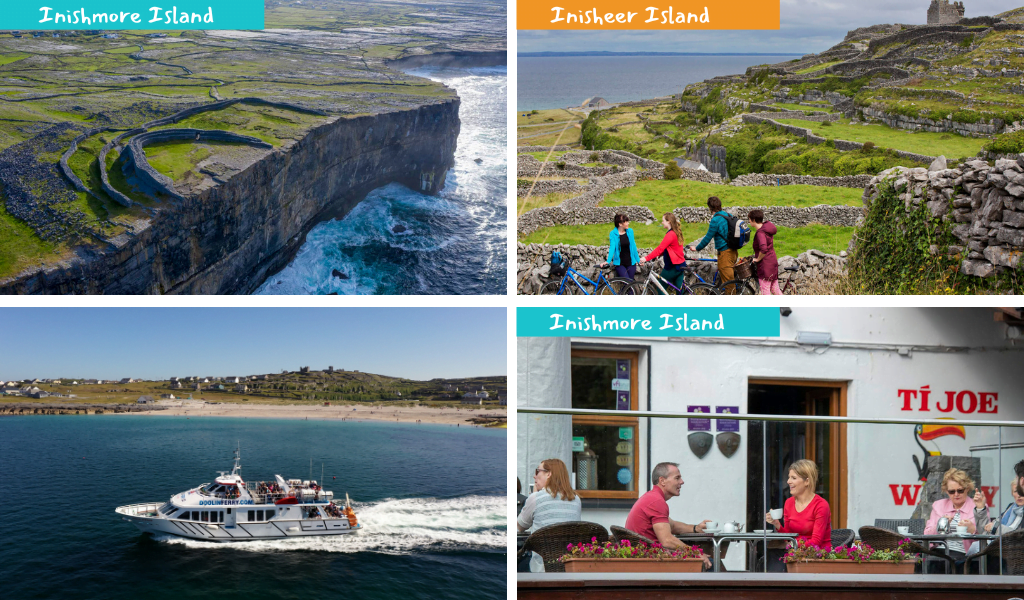 The Aran Islands consists of three islands – Inis Mór, Inis Meáin and Inis Oírr. Each Island can be reached by passenger ferry from Doolin in North Clare. These three islands have maintained the culture and heritage of traditional Irish life, and fascinate the thousands of visitors who visit each year.
Inis Oírr (Inisheer) is the smallest of the Aran Islands and the closest is to County Clare. It's less than 3km (1.8 miles) in length, and 2km (1.2 miles) wide. The island has a similar landscape to the Burren in County Clare. On arrival, you'll notice its white sandy beach and crystal clear waters. It's an island that blends moments of fragile beauty with craggy limestone. Ferry crossing time from Doolin is circa 15 minutes.
lnis Meáin (Inishmaan) is the middle island. It has an amazing landscape including green fields bordered with dry-stone walls, and the Atlantic Ocean crashing in the distance. Inis Meáin is the least visited of island, and you can often find yourself almost alone to explore its dramatic cliffs and deserted beaches. Ferry crossing time from Doolin is circa 20 minutes.

Inis Mór (Inishmore) is the largest of the three islands. The island is circa 12km (7.4 miles) in length and 3km (1.8 miles) wide. Historical sites include the Dun Aengus fort, the Seven Churches), and a round tower. The 'worm hole' is one of its unique attractions. Popular with divers this looks like a large man-made swimming pool – but is was formed naturally by nature. Ferry crossing time from Doolin is circa 35 minutes.
You can book your trip to any of the islands with Doolin Ferries. They also offer trips that take in the Aran Islands passing beneath the Cliffs of Moher.