Holy Island Boat Trips and Tours with Gerard Madden
Boat Trips
Historical/Heritage
Islands
Cool For Kids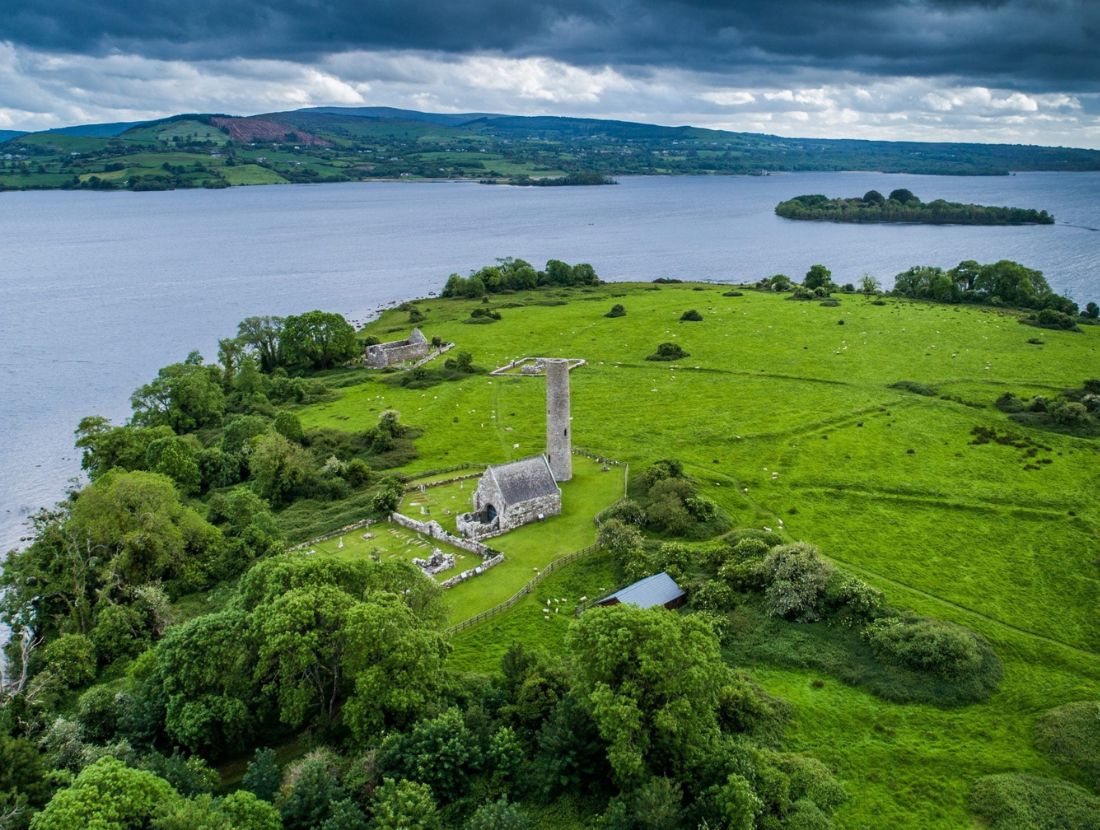 Take a boat trip from Mountshannon and a tour of Holy Island (Inis Cealtra) on Lough Derg on the River Shannon – one of the most famous monastic sites in Ireland.
Inis Cealtra/Holy Island is a complex early monastic site with a diversity of surviving monuments. There are bullaun stones from pagan times, a ring fort from the iron age, eight-century grave markers, tenth-century high crosses, one roofed church and five ruins, a round tower, three cemeteries, a children's burial ground, a holy well, a kissing stone and a bargaining stone. Its secluded position has enabled it to survive in an excellent state of preservation.
The Island Monastery has been a centre of pilgrimage for over 1,000 years. In 1608, Inis Cealtra or Holy Island was one of twelve 'notable shrines' in Ireland to which Pope Paul V attached a plenary indulgence at the request of the Irish chieftains who fled to Rome after a disastrous battle in 1601. Within two years, 15,000 pilgrims were recorded there. For the following 250 years, it was one of Ireland's most popular pilgrimage sites. However, the Irish Famine of 1845-1852 disrupted such traditional gatherings.
Holy Island has one of the most impressive early medieval sculptural collections in Ireland. There are cross-inscribed stones, plain grave slabs, high crosses, cross-bases, socket stones, sundials and architectural pieces. Over 100 large grave-slabs dating to the eleventh and twelfth centuries survive.
Lough Derg, which has 376 islands though some have been submerged due to the rising of the water level, can be seen in all its glory on the short boat trip to Holy Island. It is one of the best inland bird sites in the country and the least appreciated.
Much of the folklore of Holy Island has been preserved. There are tales of trees whose juice had the flavour of honey and the headiness of wine, a witch who caused the masons building the Round Tower to abandon their work, buried treasure, underground passages, the Lough Derg monster, and even raising the dead.
In March 2010, Holy Island was recognised as one of the foremost monastic sites in Ireland and added to a list of properties submitted to UNESCO for future nomination to the World Heritage List.
Highlights
The boat trip to the island.
The round tower with nesting ravens in its uppermost window.
The six churches are in various stages of dereliction.
The holy well where your sins are forgiven if you see your reflection.
The bargaining stone where a promise made is a debt unpaid.
The high crosses and numerous grave markers.
The peace and tranquillity to be found in this island retreat
Good To Know
Participation fees apply. Rates depend on whether you opt for the boat trip and visit the island only or the boat trip with the guided tour.
Open months: Operates daily from April to October.
Suitability for younger children?: Boat trip is ideally suited.
Cool for kids: Coolest for ages 6-12
Rainy days: All outdoor
Assistance/guide dogs: permitted.
Picnic facilities: Picnics are allowed on the island
Gift shop: Guide books, local histories, prints and maps in Mountshannon Harbour.
Dining/refreshments: Tea rooms in Mountshannon Harbour. Restaurants and cafés
Toilets and changing rooms available in Mountshannon Harbour
Parking: Free car parking at Mountshannon Harbour and Knockaphort Harbour.
Free coach parking at Mountshannon Harbour.
Important Note: Details are subject to change. It is always advisable to check the opening dates, times and prices on their website or directly with them before visiting or booking.