Plan your Visit to County Clare
County Clare is one of Ireland's top visitor destinations – for all the reasons featured on this website. It's not to be missed, and you can see why by viewing the main highlights here. Below are some general advice and tips to help you plan your visit. We look forward to welcoming you!
#1: Stay awhile in County Clare
Don't try to rush through Ireland!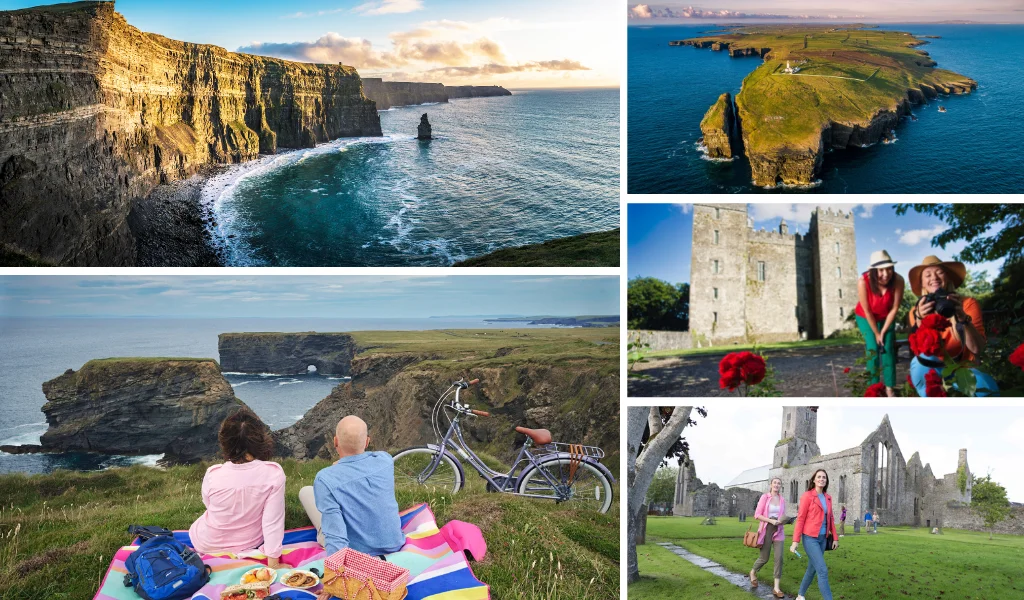 Our first tip is that if you are living overseas and planning a visit to Ireland, you shouldn't try to rush through Ireland or take in too much too quickly. Your travel itinerary is going to be really important. If you want to enjoy the magic of Clare, and there is so much to enjoy, you should stay awhile and spend some time exploring the County. If you plan to travel throughout Ireland, you should stay in Clare and one or more other locations – for example, Dublin. County Clare is not a place you pass through. It's an Ireland destination highlight.
#2: Arriving by air or sea
Shannon Airport is easiest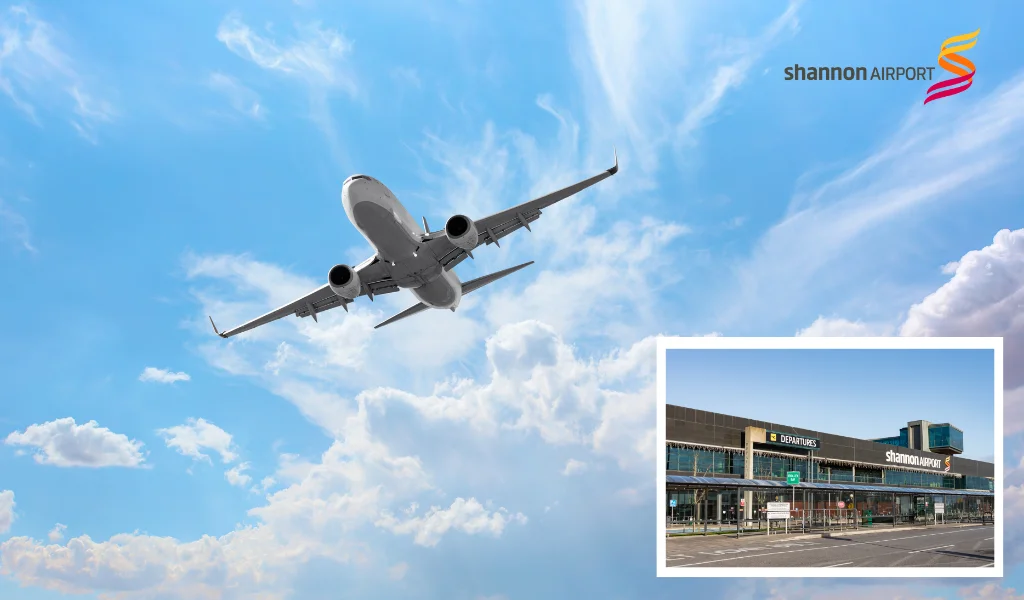 By air, the easiest way to reach County Clare is via Shannon International Airport, which is located in the County and is close to the mid-point of Ireland's Wild Atlantic Way. There are direct flights to Shannon from the U.K., Europe, and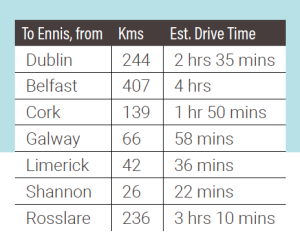 North America. Most car rental companies have a presence at Shannon Airport – and picking up a car at Shannon means you start driving on open roads instead of arriving into a city. See www.ShannonAirport.ie
If you plan to arrive in Ireland by sea or by air through gateways other than Shannon, you can be in Clare within two to four hours by car, bus, or rail. See selected distances and estimated travel times by car to Ennis, the County Capital, on the grid opposite.
#3: Getting to Clare by road or rail
Clare is well connected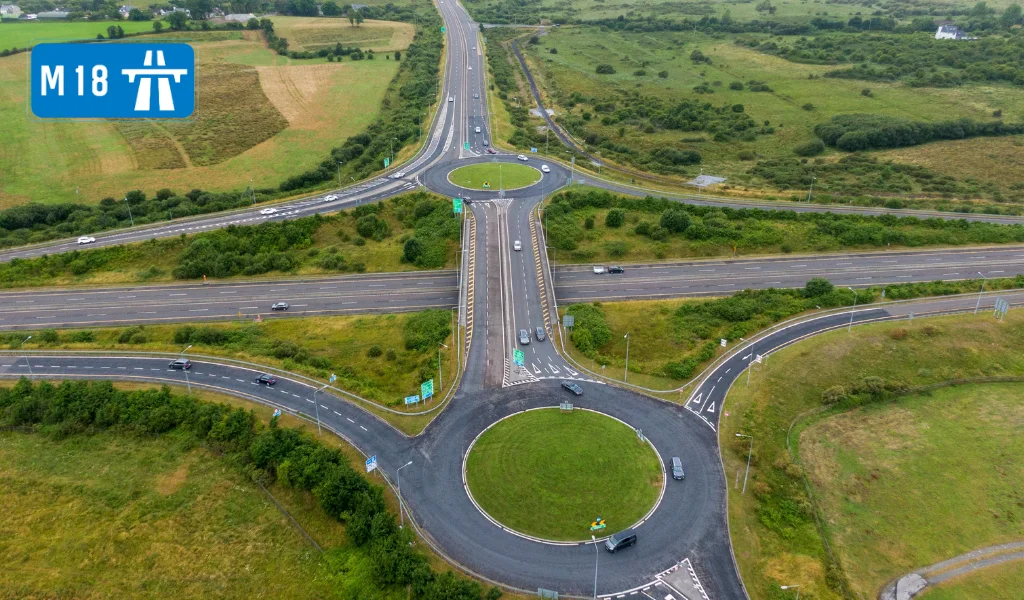 County Clare is easily reached by road or rail from any part of Ireland. Drive time from Dublin City to Ennis, the capital town of Clare, is less than 2.5 hours on a motorway, or from Dublin to the centre of Clare's Wild Atlantic Way coastline takes 3 hours. Cork City to Ennis is less than a two-hour drive. Galway City to Ennis takes less than 60 minutes, and Limerick City to Ennis is 36 minutes. The County is well serviced by a network of bus routes, and Ennis is on the National train grid.
#4: Travel distances within County Clare
Everything can be quickly reached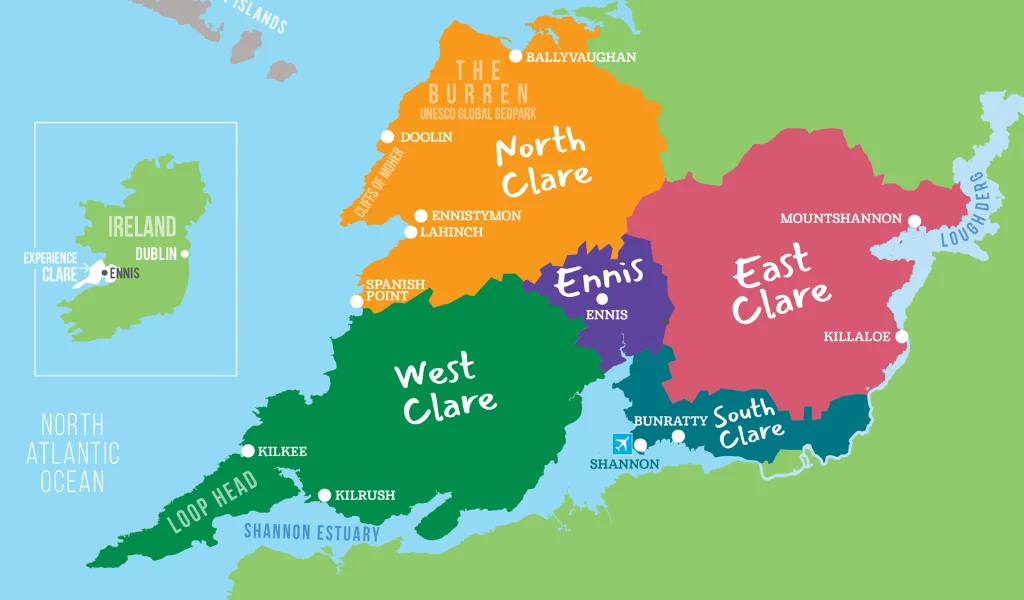 County County is less than 130 km (80 miles) from end-to-end. Everything can be quickly reached. For example, driving from Ennis, the County Capital, to Clare's Wild Atlantic Way coastline takes less than 30 minutes. Driving from Lough Derg, the River Shannon's largest lake, to the coast takes approximately 70 minutes. TIP: Use our 'near to' map to see what accommodations, attractions, activities or dining facilities are near to the location you select. Or, select a category on the main navigation, and filter by area.
#5: When is the best time to visit Clare?
Anytime – it really depends on your interests and availability to travel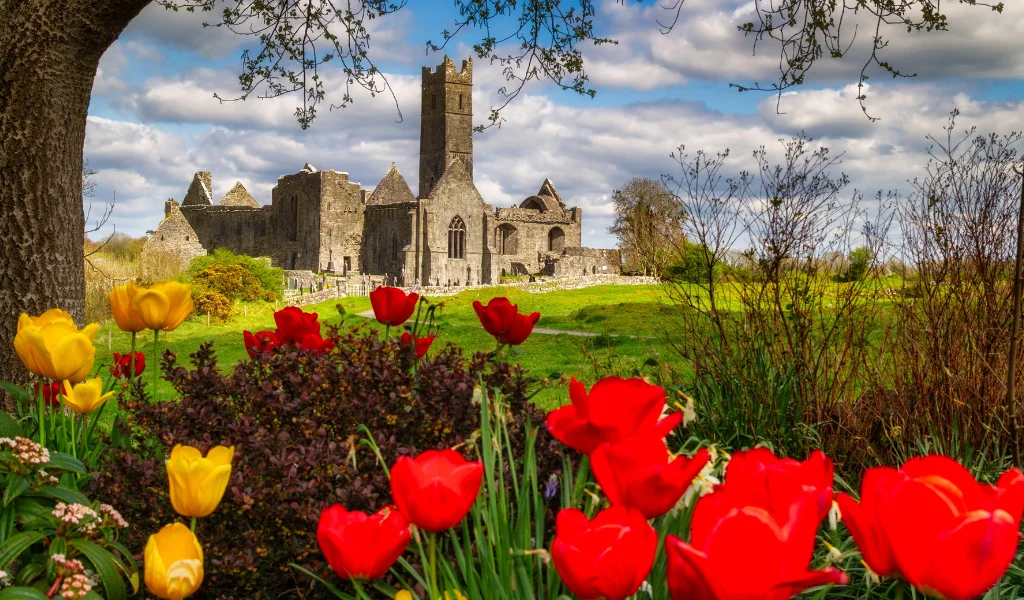 There is never a wrong time to visit County Clare. The Summer months (June/July/August) are considered high season for visitors. The weather is warmer, the evenings are brighter, and there are more activity options. Autumn and Spring are a little quieter. The weather is mild, and nature presents the County in all its beautiful colours. Most visitor attractions are open, and there are plenty of activities to experience. Winters are cooler, and this is the 'best-value' season for savvy travellers! You also can get to see nature at its most impressive. Walk a beach or watch the waves crash against Clare's Wild Atlantic Way cliffs and coast. Exhilarating! Enjoy cosy restaurants and warm, luxury accommodation.
#6: What's the weather like?
We have one of the world's mildest climates – and you can experience four seasons in a day!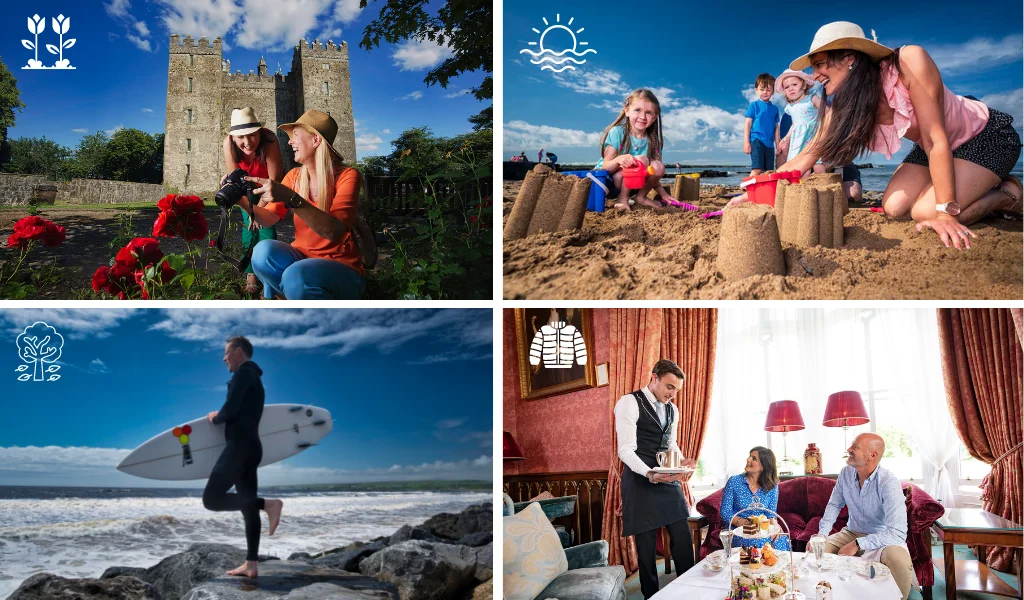 Someone jokingly said that the difference between winter and summer weather in Ireland is that the rain is warmer in summer! It's not true…but it has been known to rain in Clare(!) and happily this is what provides us with pure waters and the green rich pasturelands which in turn helps to make the quality of our food ingredients very special. We have one of the world's mildest climates with few extremes, but our weather can change from warm to cold or dry to wet within any given day. Ask a Clare 'local' and they will tell you there is no such thing as bad weather, just unsuitable clothing…and that's the truth. It's therefore always advisable to bring layered clothing and plan for the possibility of wonderful sunshine or a shower of rain. Our weather and our location on the West Coast of Ireland also means we have the freshest of fresh air. It's invigorating!
#7: What are Clare's 'must see, must do' attractions?
Our advice is to take in some highlights … and then get lost!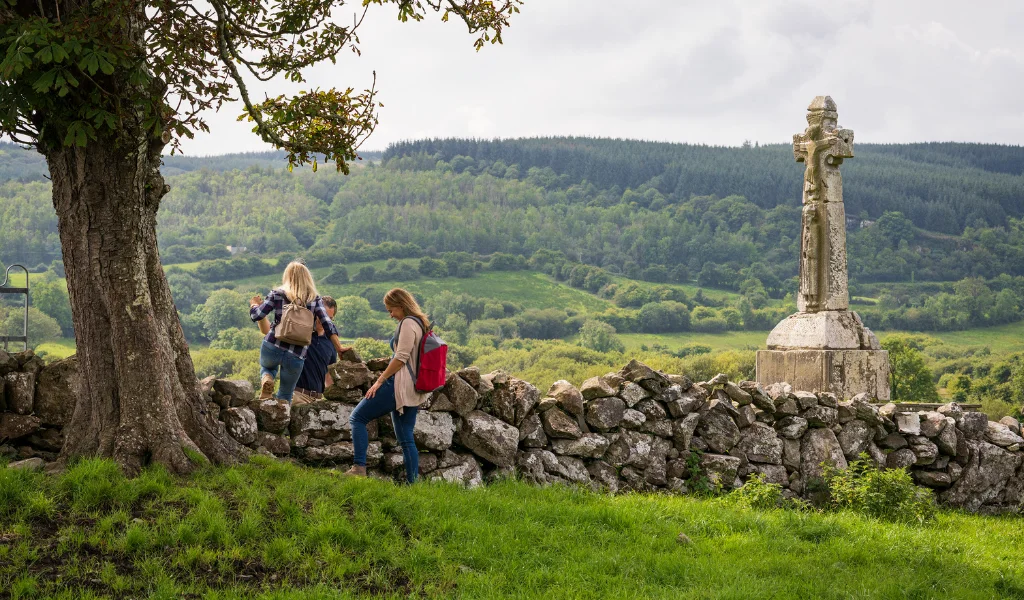 Clare has so many things to see, do and enjoy it's challenging to pick them out in a short answer. Therefore, instead, you should check out Clare's highlights here. These highlights give you links and suggestions, enabling you to delve even deeper, based on your interests. For sure, take in some of Clare's top attractions like the Cliffs of Moher, the unique Burren, Shannon's Lough Derg, Loop Head Peninsula, the sandy beaches, Bunratty Castle and Folk Park, and Ennis – the county capital town; or go walking, swimming, surfing, kayaking, horse riding or golfing – depending on your interests. However, a top tip is to take some time to also go and get lost! It will make it an adventure, and you will find discoveries throughout the county. It will also make you wonder how County Clare has so much diversity in such a relatively small area.
#8: What about food in County Clare?
Foodies say Clare is fab!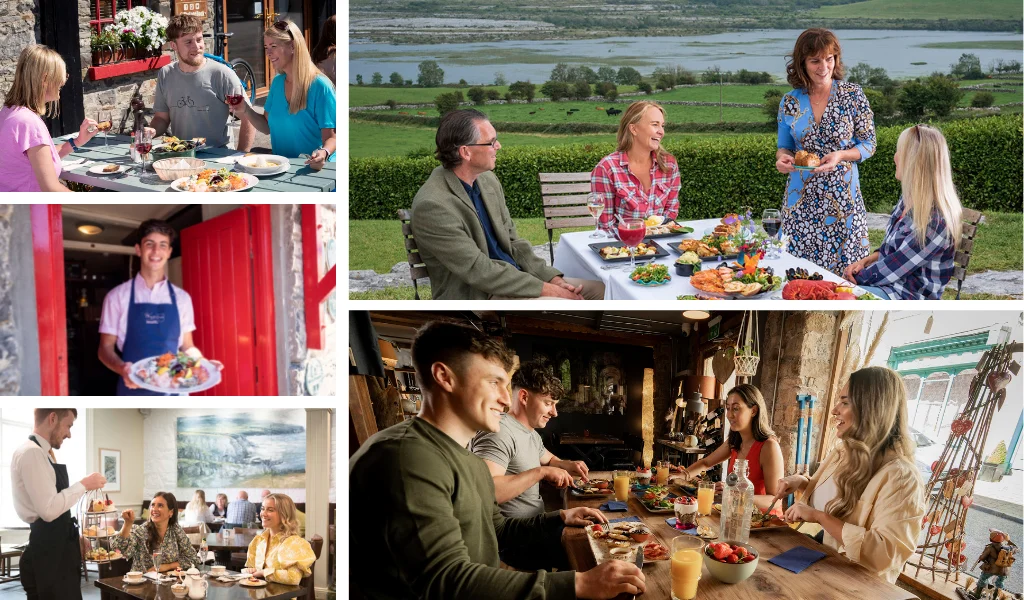 One of the most remarked upon features by visitors to Clare is the diversity and quality of our foods. It shouldn't surprise, given that the Atlantic Ocean, our rivers, lakes and green pasturelands provide the county with a rich harvest of fine food ingredients. These ingredients are creatively used and served in dishes in casual and formal dining establishments, from hotels and restaurants to cafés and pubs. Seafood is often a speciality, and most establishments will offer vegetarian and vegan options. You can check out where to eat here.
#9: What's the accommodation like?
Stay in an amazing castle, a lakeside hotel, a quirky glamping pod, or a seaside holiday home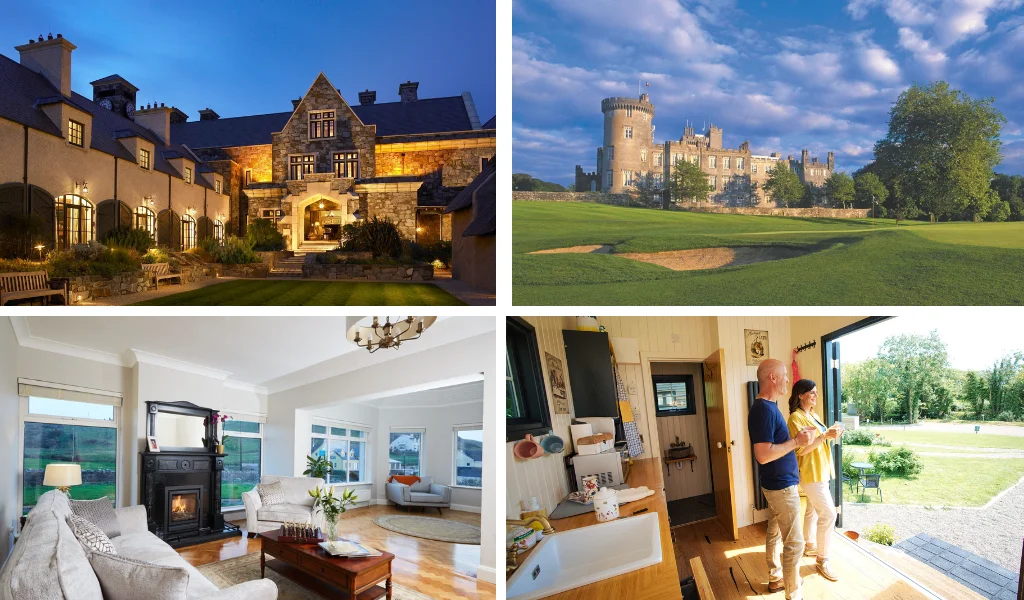 Accommodation is available to suit all tastes and budgets, and from luxury castles and top quality hotels and guesthouses to farmhouses, town and  country homes, caravan and camping, glamping, self-catering holiday homes, and hostels. You can check your options here, and filter by where you want to stay and the type of accommodation you wish to use.
#10: Are there facilities to support workcations in County Clare?
Probably the best in Ireland!
Eleven locations throughout County Clare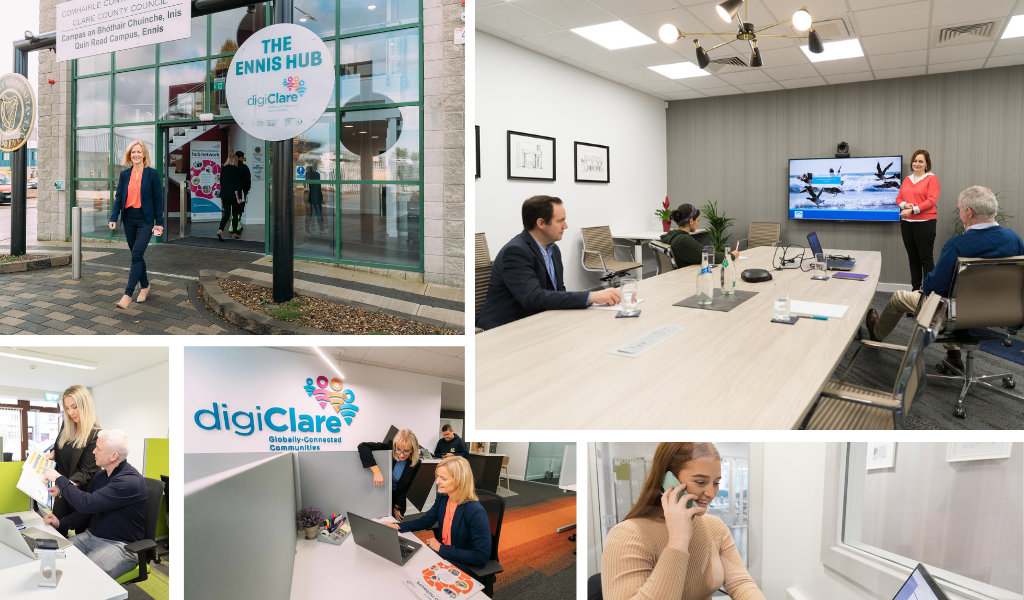 County Clare is the perfect destination for workcations, with eleven DigiClare Hubs here to support you. This network of flexible workspaces throughout the county offers excellent facilities tailored for individuals who seek a productive and inspiring work environment while enjoying the beauty of Clare. From high-speed broadband to comfortable workstations and meeting rooms, the DigiClare hubs provide the necessary amenities to support your workcation needs. They can be booked online as needed. See www.DigiClare.ie
#11: Do you have a trip planner publication?
Yes. You can view a 16-page planner here!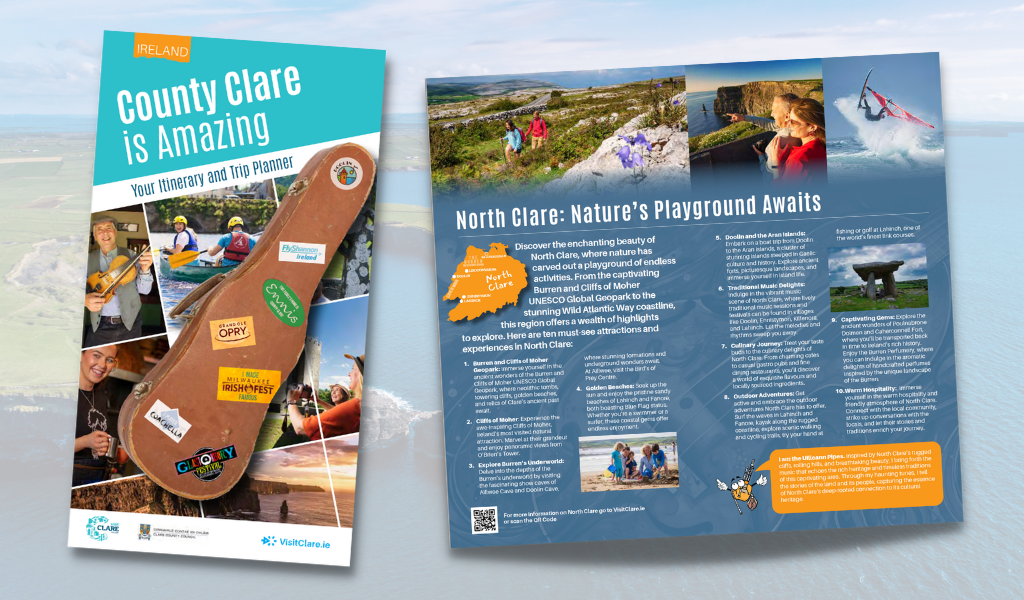 To ensure you make the most of your visit, we have produced a trip planner and have divided County Clare into five distinct areas for your convenience: North, South, East, and West Clare, as well as the vibrant capital of Ennis. This trip planner acts as a prompt, providing you with a glimpse of what each area has to offer. It also offers some advice. The entire county is only 130 km (80 miles) from end to end, so it's easy to take in all parts of Clare.  You can read the journey planner online here as a flip book, or download or share it.