South Clare Highlights
Memories to treasure
South Clare includes Shannon International Airport which is the gateway to the county for many international visitors. South Clare offers a range of activities to experience and attractions to explore. Here are some of its highlights.
Visit 15th Century Bunratty Castle
The most complete and authentic Castle in Ireland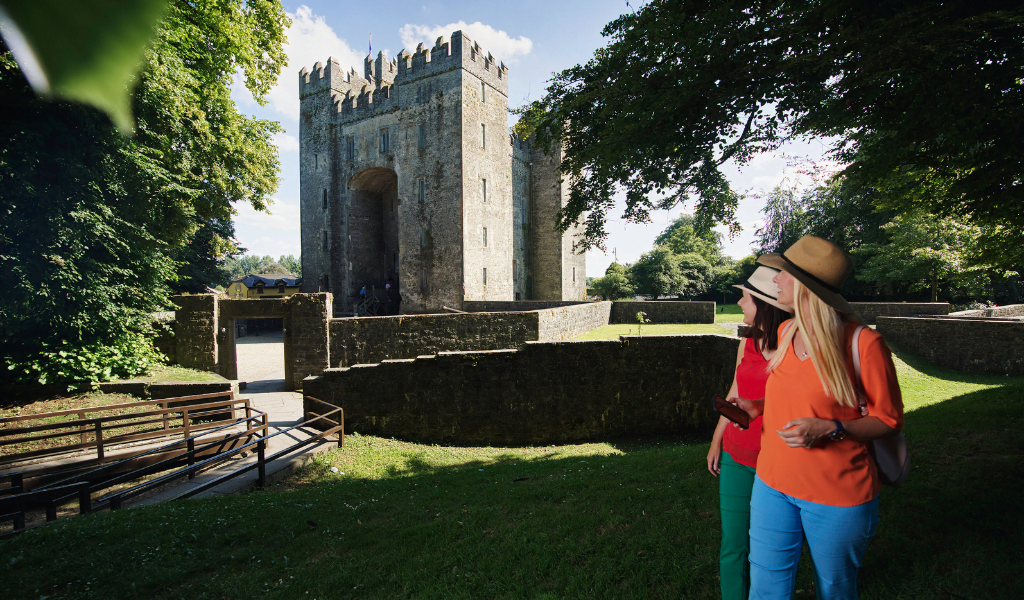 Bunratty Castle is the most complete and authentic medieval castle in Ireland. Built in 1425, and plundered on many occasions, it was authentically restored in 1954 to its former medieval splendour, with furnishings, and tapestries capturing the mood and styles of those times.
Take a tour of this iconic fortress; hear and see how the lords and ladies of this castle lived; hear stories of battles and bravery and enjoy stunning views across the idyllic Clare countryside.
Explore Bunratty Folk Park – set on 26 acres
Experience village life in 19th century Ireland!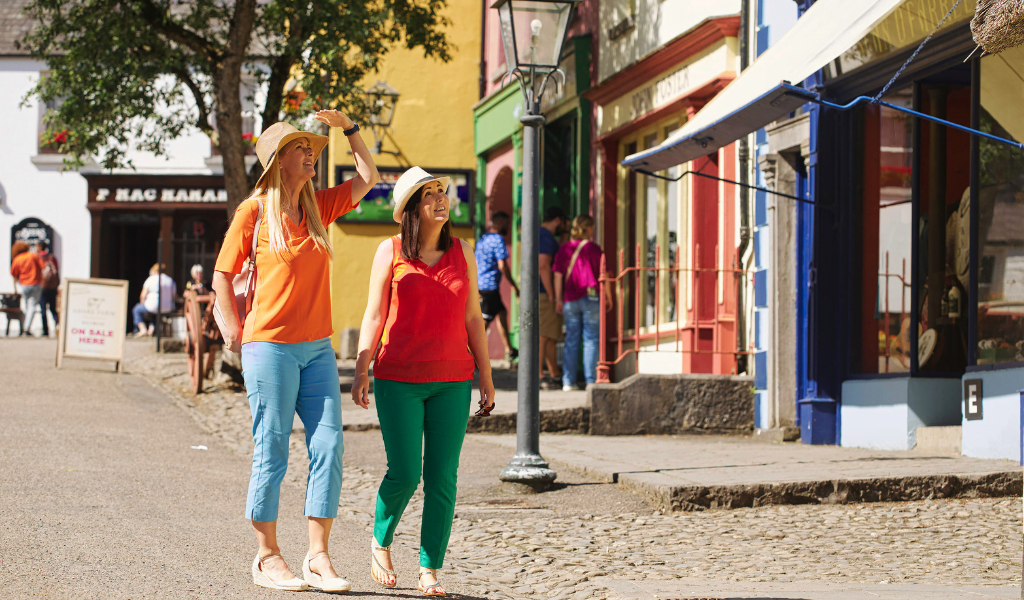 Set on 26 acres of unspolit Clare countryside, in the shadow of Bunratty Castle, Bunratty Folk Park features over 30 buildings in a 'living' village and rural setting. Rural farmhouses, village shops and streets are recreated and furnished as they would have appeared at that time according to their social standing, from the poorest one roomed dwelling to Bunratty House a fine example of a Georgian residence built 1804.
The re-created 19th century Village Street is the epicentre of Bunratty Folk Park. Here you will find a collection of brightly coloured shops and buildings side by side. The sweet sounds of traditional Irish music is carried in the air and the village characters, including the schoolteacher, policeman and village doctor are on hand to entertain and enthral all who visit!
Drive or Cycle the Shannon Estuary Way
Where the serene Shannon meets the wild Atlantic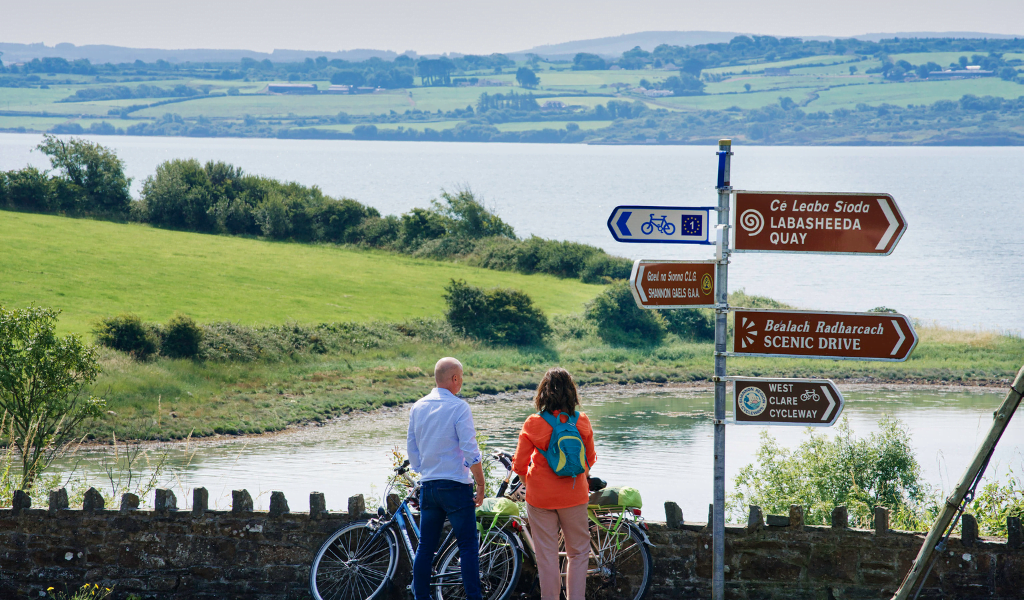 The Shannon Estuary hugs South Clare. This is an area of natural beauty, and is where the mighty River Shannon flows into the Atlantic. On your drive or cycle around the Estuary, expect to find delightful towns, pretty villages and piers, excellent shore-fishing sites, and lots of stop-off places to explore.
Clare's towns and villages along the route include Killimer, Labasheeda, Killadysert, Ballynacally, Ennis, Clarecastle, Newmarket-on-Fergus, Shannon, and Bunratty. The Shannon Ferries Car Ferry can take you across the Estuary in 20 minutes, connecting Tarbert in Co. Kerry and Killimer in Co. Clare. Watch out for the famous Shannon Dolphins!
Challenge two top class golf courses
Test your game at Dromoland Castle and Shannon Golf Club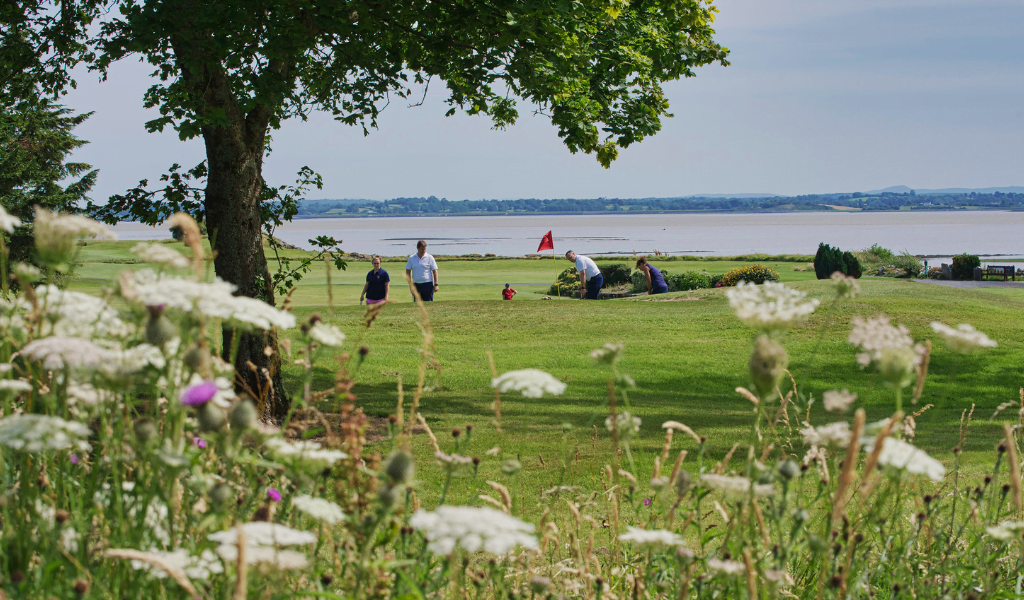 Every golfer dreams of playing at Dromoland Castle Golf and Country Club. The impressive 18-hole championship parkland course is set on the magnificent 450-acre estate of Dromoland Castle. Combining gentle hills, ancient trees and unexpected water hazards, the immaculately maintained course presents challenges and thrills for golfers of all abilities.
Shannon Golf Club is home to one of Ireland's premier 18-hole parkland courses. The course presents a mixture of sand-based and traditional greens, maintained to the highest standard and protected by numerous sand bunkers to offer the final challenge to each hole. Water hazards feature on several holes. The par three 17th, the course's signature hole, requires a dedicated golf shot over the Shannon Estuary.
Enjoy a medieval banquet at Bunratty or Knappogue Castle
Experience the hospitality, entertainment and timeless atmosphere of medieval Ireland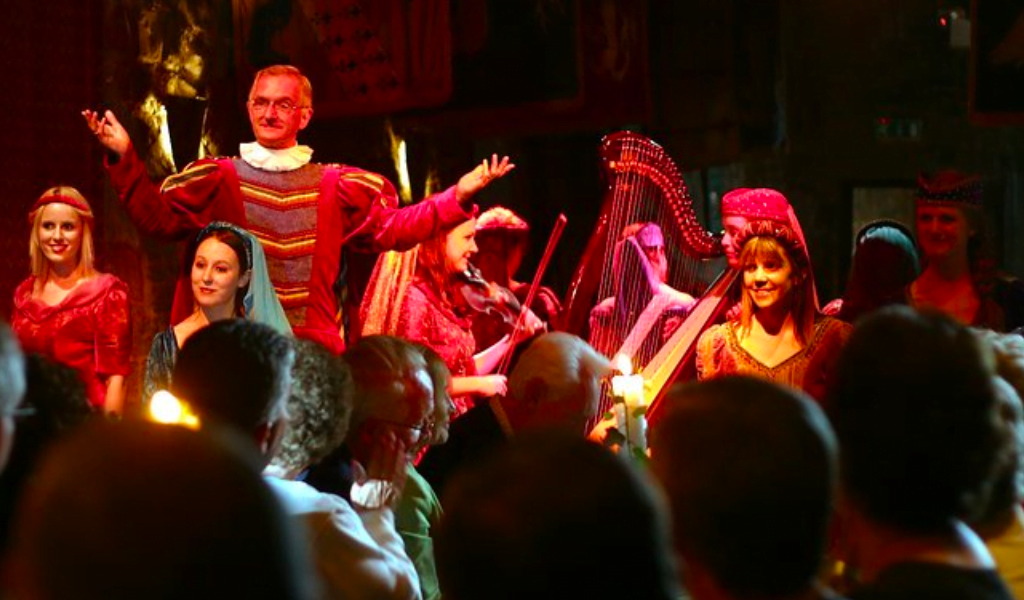 The Medieval Banquets in Clare are world-famous. At Knappogue Castle, near Quin, you can enjoy a sparkling good humoured medieval evening in the Castle – a feast of fine food, great entertainment and merriment. While at Bunratty you can share a medieval banquet with the Earl of Thomond, toasting and era of great Irish taste with excellent food and wines, while being entertained by the renowned Bunratty Castle singers with enchanting melodies to the music of harp and violin. Both are memorable experiences full of fun and good humour.
Explore our ancient history
Travel back in time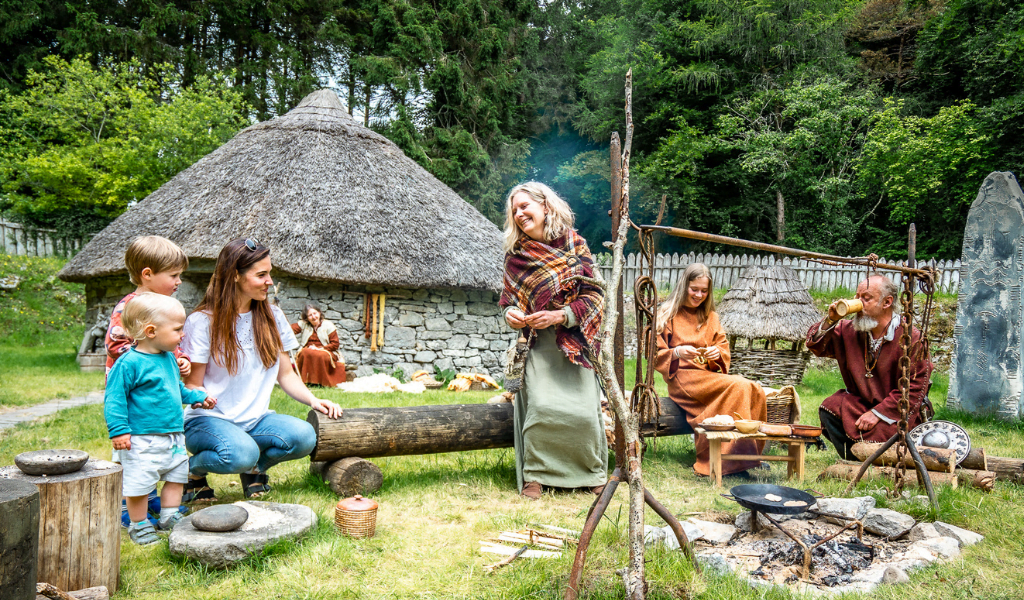 Throughout South Clare you will find reminders of our colourful and sometimes turbulent history. In addition to Bunratty Castle and Folk Park, other South Clare sites worth highlighting include:
Craggaunowen – the Living Past Experience: Explore Craggaunowen Castle, near Quin, and also see and experience a Crannog – a bronze-age lake dwelling; a ring fort, an Iron Age roadway and an ancient outdoor cooking site. The 'Brendan Boat' – a hide boat which sailed from Ireland to the United States is also located here.
Mooghaun Bronze Age Hillfort, near Newmarket-on-Fergus, was built at the beginning of the Late Bronze Age around 950 BC and is one of the biggest such forts in Ireland. The largest and most spectacular hoard of prehistoric gold in Western Europe was found at Mooghaun Lough 1km north of the hillfort.
Quin Abbey, in Quin, was built between 1402 and 1433. The cloisters, which remain one of the abbey's most prominent features, were constructed in the 15th century. From the top of the tower, visitors can take in stunning views of the surrounding countryside.
Accommodation to suit all tastes
From luxury castles to quicky glamping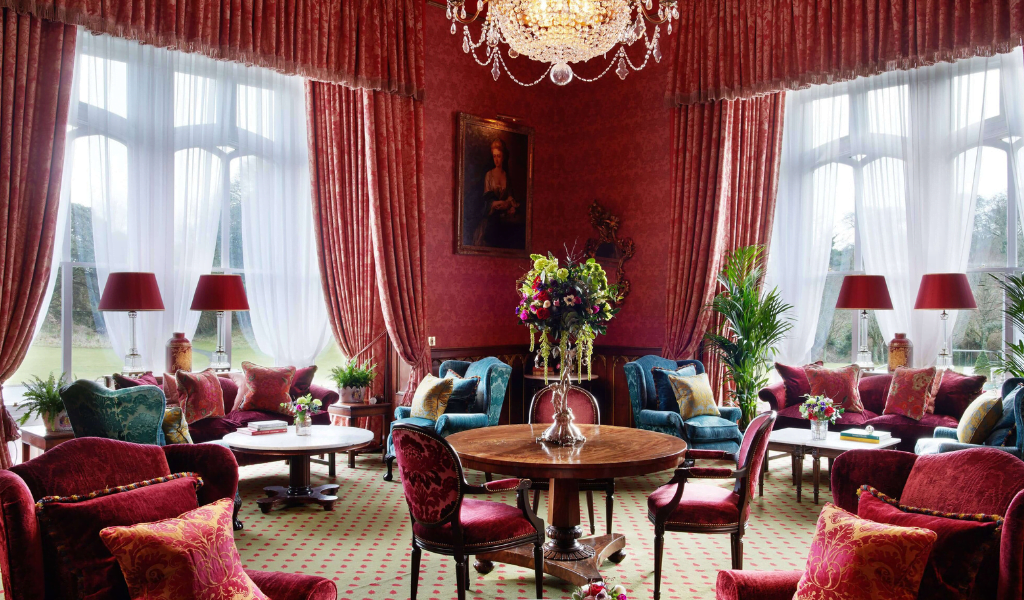 South Clare has accommodation to suit all tastes and budgets. If you want high-end luxury try Dromoland Castle, a wonderful 5-star hotel on its own estate. For something quirky, for couples, try the award-winning Beds of Silk Luxury Glamping in Labasheeda, a picturesque village along the Shannon Estuary Way. See here for all your accommodation options and filter by 'South Clare'.
Visit friendly towns and villages
The welcome awaits!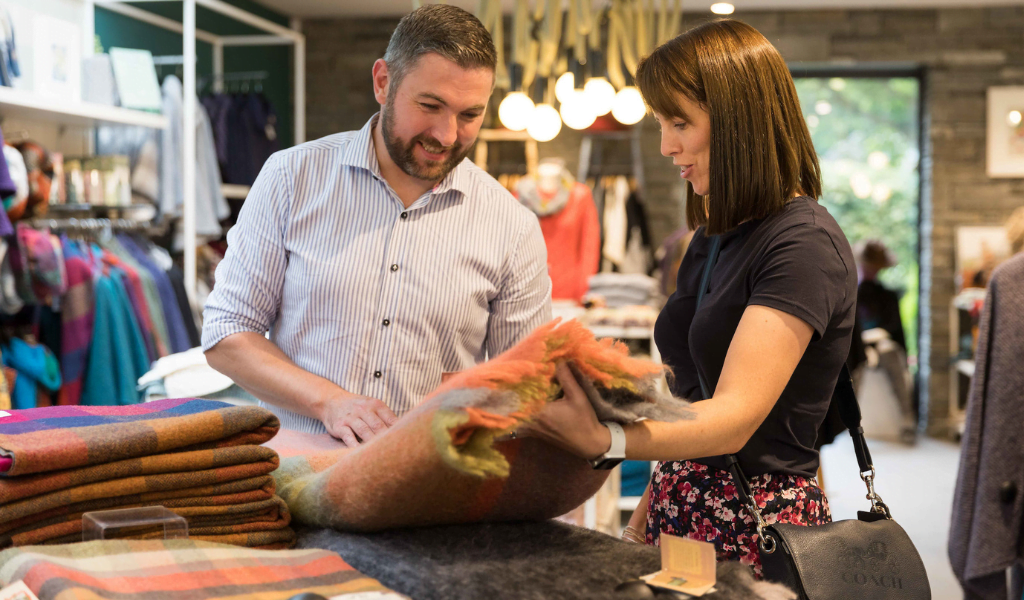 South Clare has welcoming towns and villages, including Shannon (Ireland's newest town) and Bunratty a popular tourist hub.
Shannon is home to Shannon International Airport which welcomes hundreds of thousands of visitors to Clare and the West of Ireland each year. Shannon has a modern shopping centre, an aviation museum, Shannon Estuary walking trails, and one of Ireland's finest parkland golf courses.
Bunratty includes Bunratty Castle and Folk Park, great craft and gift shopping, excellent cafes and restaurants and the famous Durty Nelly's pub – which is over 400 years old.
You can see the main South Clare towns and villages here.