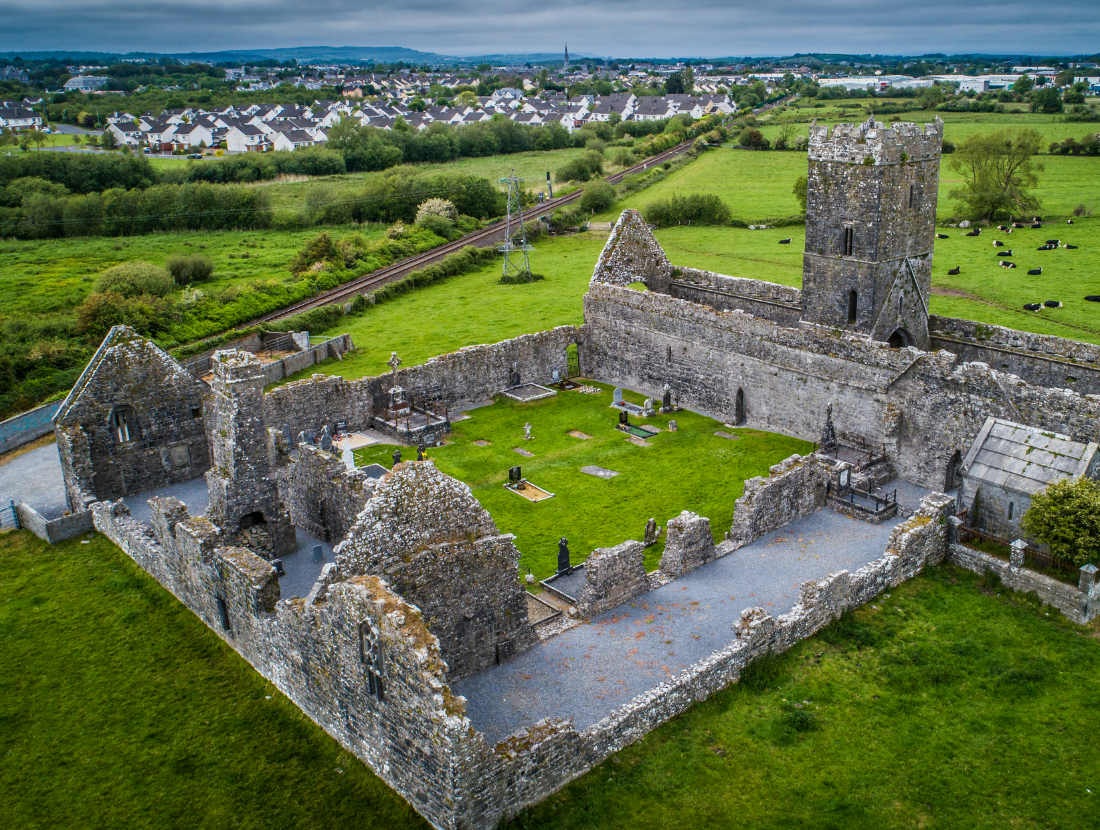 Despite its proximity to the Clare County Capital of Ennis, Clarecastle has retained its unique village charm and strong sense of identity.
History runs deep in Clarecastle with its origins dating back to the 12th century when Clare Abbey was the largest and most important of the Augustinian monasteries in County Clare. The abbey is open to visitors and may also be viewed from the River Fergus Walk & Cycleway, a 5km loop linking the site with the Quin Road in Ennis.
The village is named after the Clare Castle, which stands on an island in the narrowest navigable part of the River Fergus, a position of such strategic importance that it is said to have lent its name to County Clare.
Clarecastle's rich maritime heritage makes it an important stop-off point along the Shannon Estuary Way, a spectacular and unspoiled riverside loop drive off the Wild Atlantic Way. The 207 km-long loop takes you around Ireland's deepest watercourse, and through the other gateway towns of Ennis, Bunratty, Limerick, Listowel and Kilrush where the mighty River Shannon meets the wild Atlantic Ocean. The Quay of Clarecastle, once a busy port, is today a popular location for fishing and recreation and hosts a popular rowing regatta every June.
Ballybeg Woods is a wonderful place for all the family to enjoy a leisurely stroll. The circular paths cut through the beech, ash and oak trees. The Rocky Road runs along the southern edges of the woods and is part of an ancient Pilgrim's Road linking Ennis Abbey, Clare Abbey, Killone Abbey and St John's Holy Well. On the western edge of the woods is the Alice and Gwendoline Cave, which provided the oldest known evidence of human activity in Ireland when the patella of a bear was discovered there in 1903. The bone was dated to circa 10,500 BC, from the Palaeolithic era.
Clarecastle is one of six trailheads on the Mid Clare Way, a 148km loop boasting remote hills, river valleys and lake shore scenery in abundance. Taking six-days to complete, the loop connects with the East Clare Way.
Clarecastle is synonymous with hurling having produced some of the sport's best-known players. The local GAA Club, known as 'The Magpies', is a hive of activity and always affords a warm welcome to visitors looking to enjoy the spectacle of Ireland's most ancient game being played.
The Clarecastle Village Market is held regularly and offers local crafts, businesses, and artisan food producers, while a Farmer's Market takes place every Saturday. Clarecastle also has a large playground suitable for children aged 12 and under. The facilities include a wheelchair-accessible mobility roundabout.