Visit Clare Flip Book Brochures
County Clare – is the home of great times!
You can view our County Clare Flip Book brochures online without the need to download them. You can also share them or download them if you wish. We hope you find them helpful – and that you get the opportunity to visit and explore our county. The welcome awaits.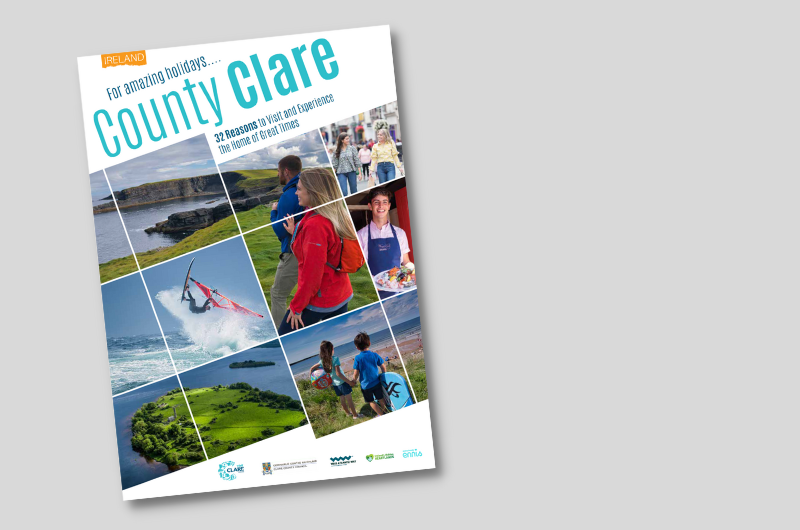 Visitor Brochure
32 Reasons to Visit County Clare
Our '32 Reasons' brochure will give you a good overview of County Clare – and reasons to visit. It includes some stunning images – which is just a part of the reason visitors choose to visit Clare (plus the attractions, activities, history, food quality…and the welcome)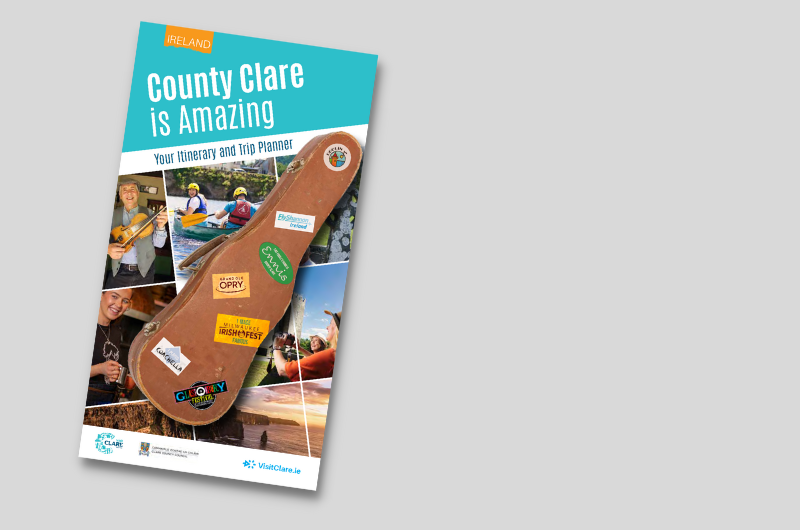 Your Companion Guide to Clare
County Clare Itinerary and Trip Planner
This is our handy 16-page County Clare Trip Planner. It provides a glimpse of the attractions and activities available in the different parts of Clare, serving as a helpful reference in planning and enjoying your journey through Clare. Enjoy!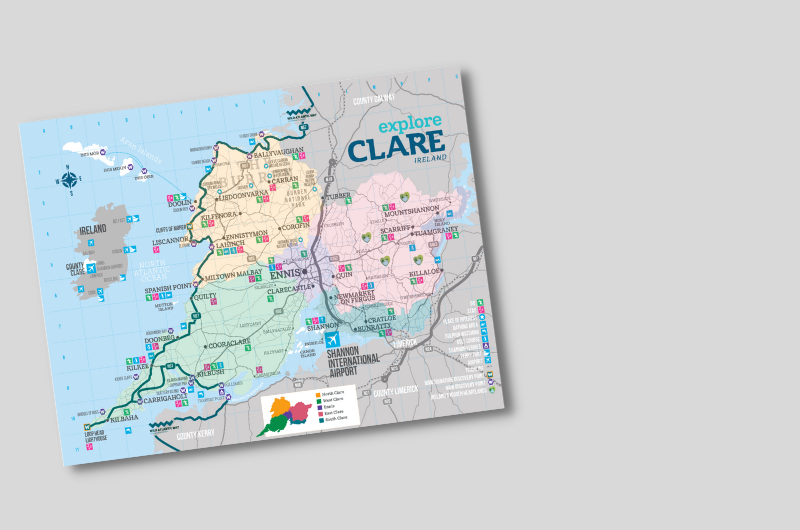 Visitor Map
A Handy Map of County Clare
Clare is very easy to get around. If you are in Clare and are travelling by car, you can get to any point in the County within the morning or afternoon. Our website features an online map and distances, but this is a handy reference map to view online or download.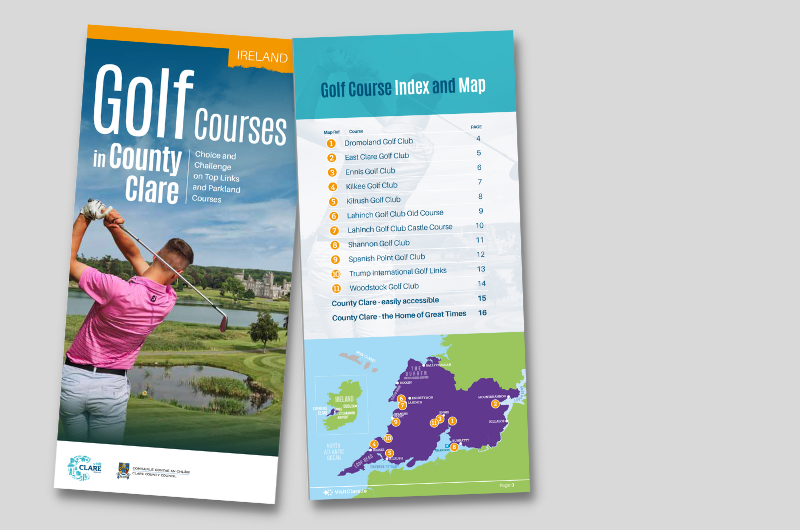 Golf Brochure
Golf Courses in County Clare
This 16-page brochure profiles County Clare's eleven top-class golf courses. Each one is uniquely challenging. You can test your skills amid the windswept dunes of a championship world-rated links course or play a relaxing eighteen holes on a parkland of tree-lined fairways. Visiting golfers are welcome.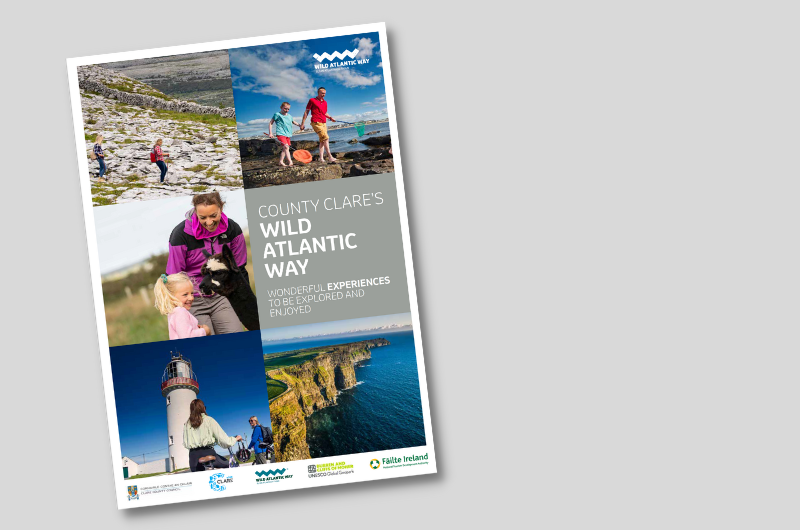 Visitor Brochure
County Clare's Wild Atlantic Way
This brochure features Clare's Wild Atlantic Way and a selection of the coastal experiences that can be enjoyed in the County – including stunning coastal scenery and top attractions and activities. Clare is at the centre of Ireland's Wild Atlantic Way, which stretches out for 2,600 km.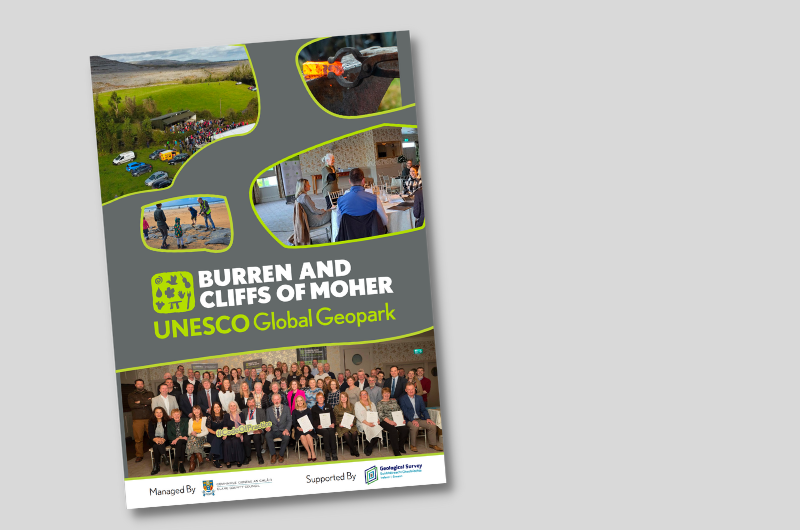 Visitor Brochure
Burren and Cliffs of Moher
This 26-page brochure gives some deep insights into the Burren and Cliffs of Moher UNESCO Global Geopark. As well as being the finest example of a glaciated karst landscape in Europe, the Geopark is home to a very special collection of flora and fauna and an abundance of ancient archaeological sites.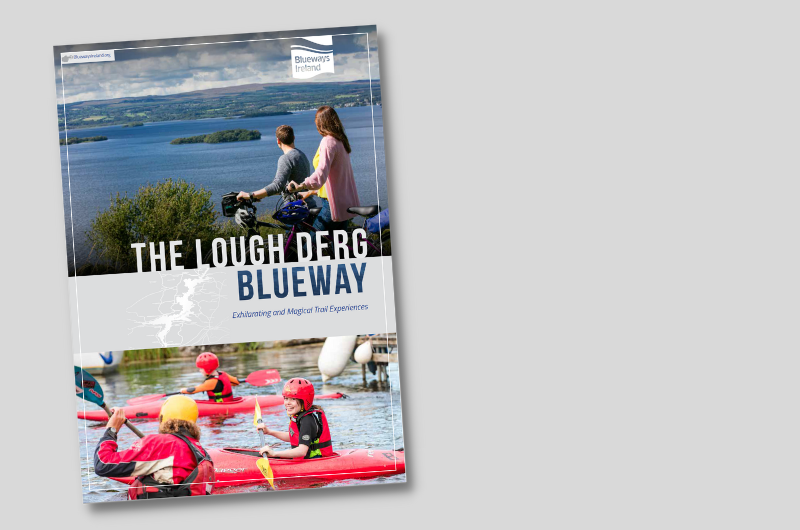 Visitor Brochure
The Lough Derg Blueway
This brochure features the Lough Derg Blueway – a network of wonderful multi-activity recreational trails that allow you to explore rural Ireland's unique waterscapes. Lough Derg includes 13,000 hectares of clear water surrounded by beautiful and dramatic countryside in County Clare, Tipperary and Galway. It is traversed by a series of on-water and water-side trails that provide the opportunity for exhilarating activities and adventures.