Using our website – Top Tips
VisitClare.ie is the official tourism website for County Clare, Ireland, and is managed by Clare County Council. We hope you get the opportunity to visit our County. To help you easily find what might be of interest to you, below are our top tips.
If you don't know Clare, visit our highlights page first
This should make your decision to visit even easier!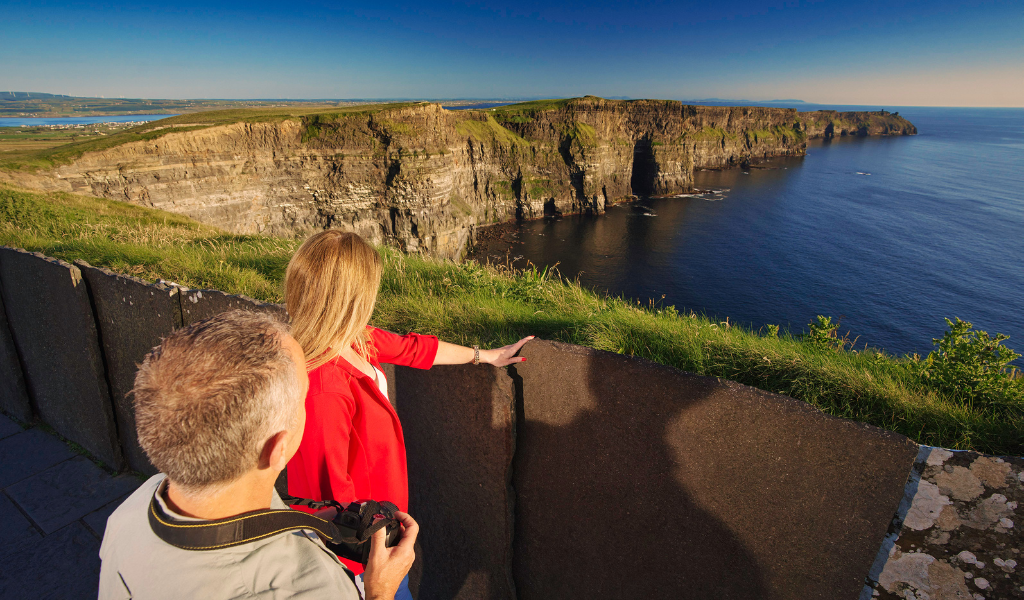 Use our 'search' and our navigation bar
Easily find what you are looking for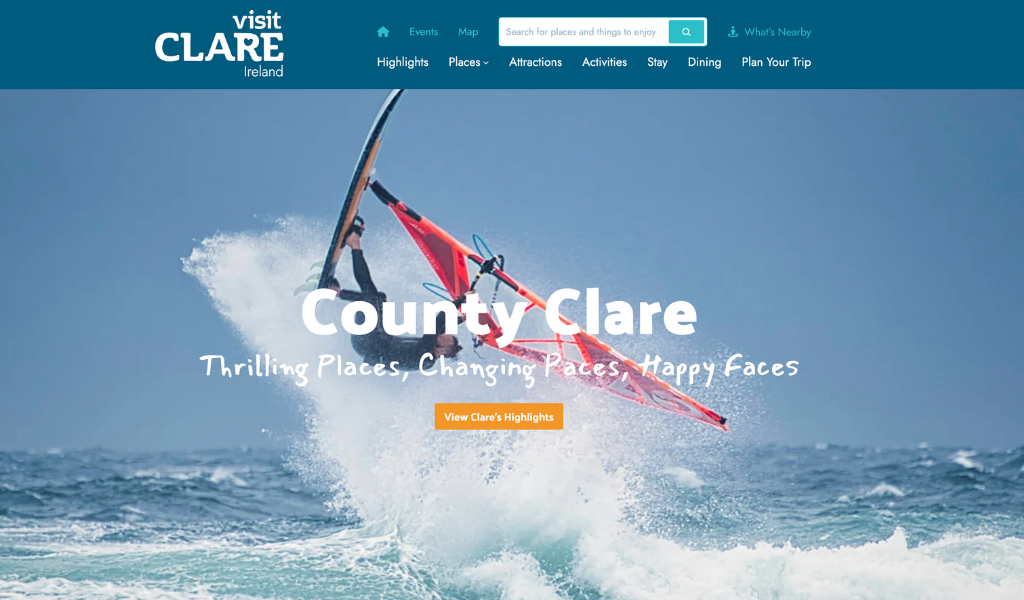 Our search and navigation should return information to match your needs. One thing to note on the navigation bar is the difference between "activities" and "attractions". Activities are typically physical activities such as surfing, kayaking, golf, walking, etc. Attractions are more leisurely – visit castles, folk parks, caves, beaches, monuments, or take guided boat trip or coach tour.
Filtering your search results
This will be your best friend!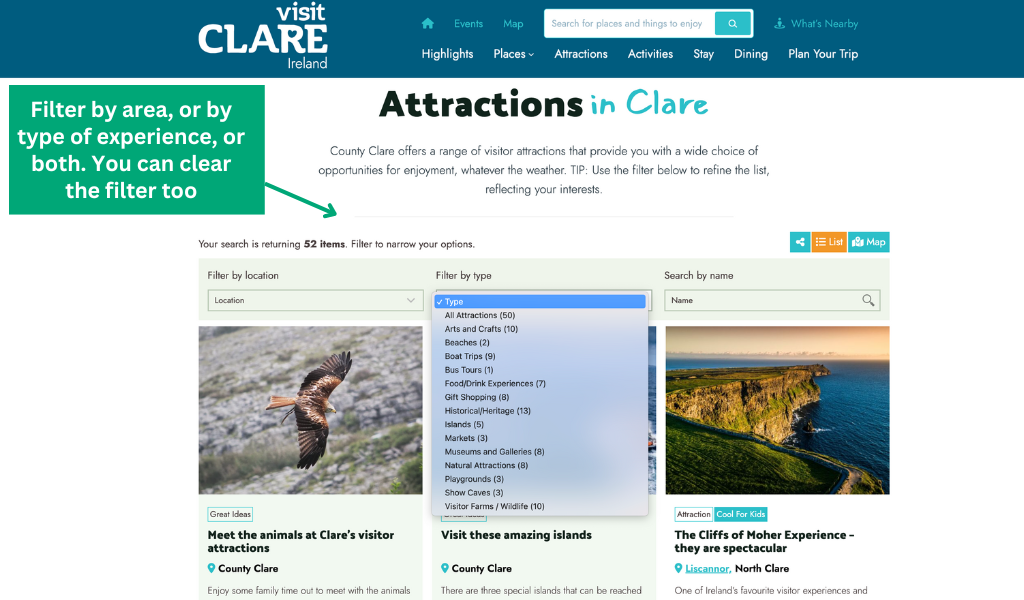 Search results can be intimidating – if they present you with too much choice. We use dynamic filtering. You can filter by area or by type of experience in line with your interests. We also have a mini map here to help orientate you the different area of Clare (and distance between places).
Check out our 'Great ideas'
They highlight great options, by theme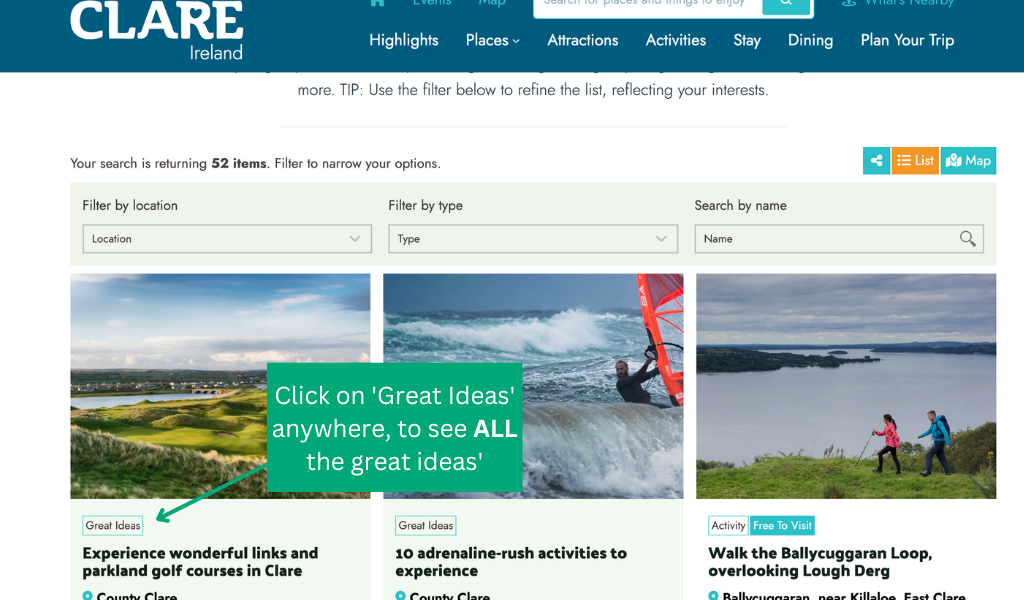 Lots of people would prefer to see "theme" ideas and suggestions, rather than web listings that can sometimes 'work you' too hard. If you click on 'Great Ideas' – you will see lots of ideas there that may inspire you. If you want to know where to play golf, to surf, where to get an adrenaline rush, or where the children will have fun – the 'Great Ideas pages will highlight some options'.
Use the 'show near to' google map
See what's near to where you are visiting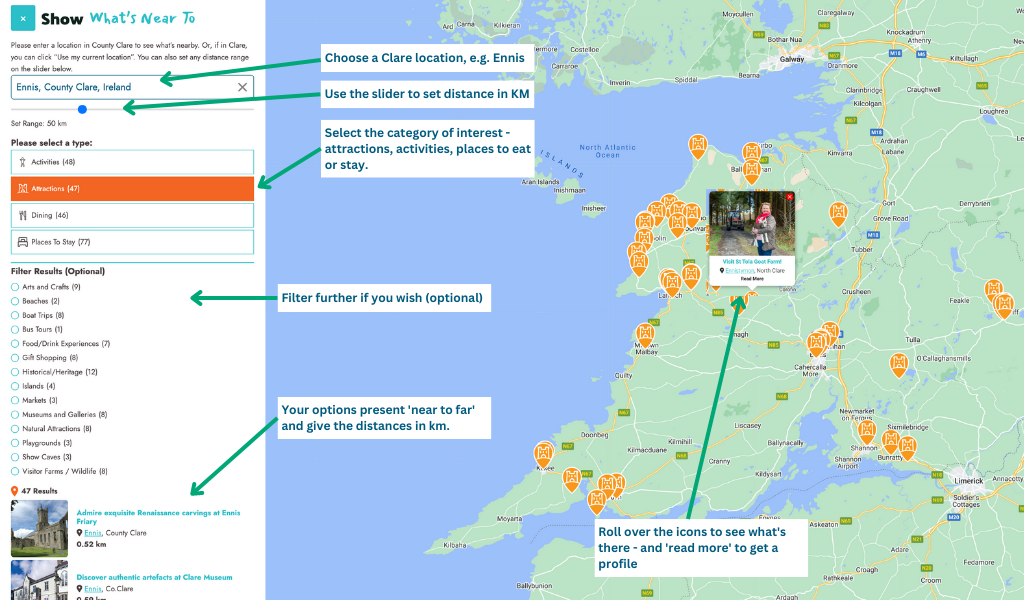 Our 'show near to' google map is really handy. Pick any place in Clare and you can see what's near to it. You can also use the distance 'slider' to set any distance parameter (the default is 50km) and then filter by attractions, activities, places to eat, or places to stay. For example, places to eat within 10km of Ennis (the county capital); or places to golf within 60 km of wherever you are staying in Clare. You can view the 'Show Near to" map here.