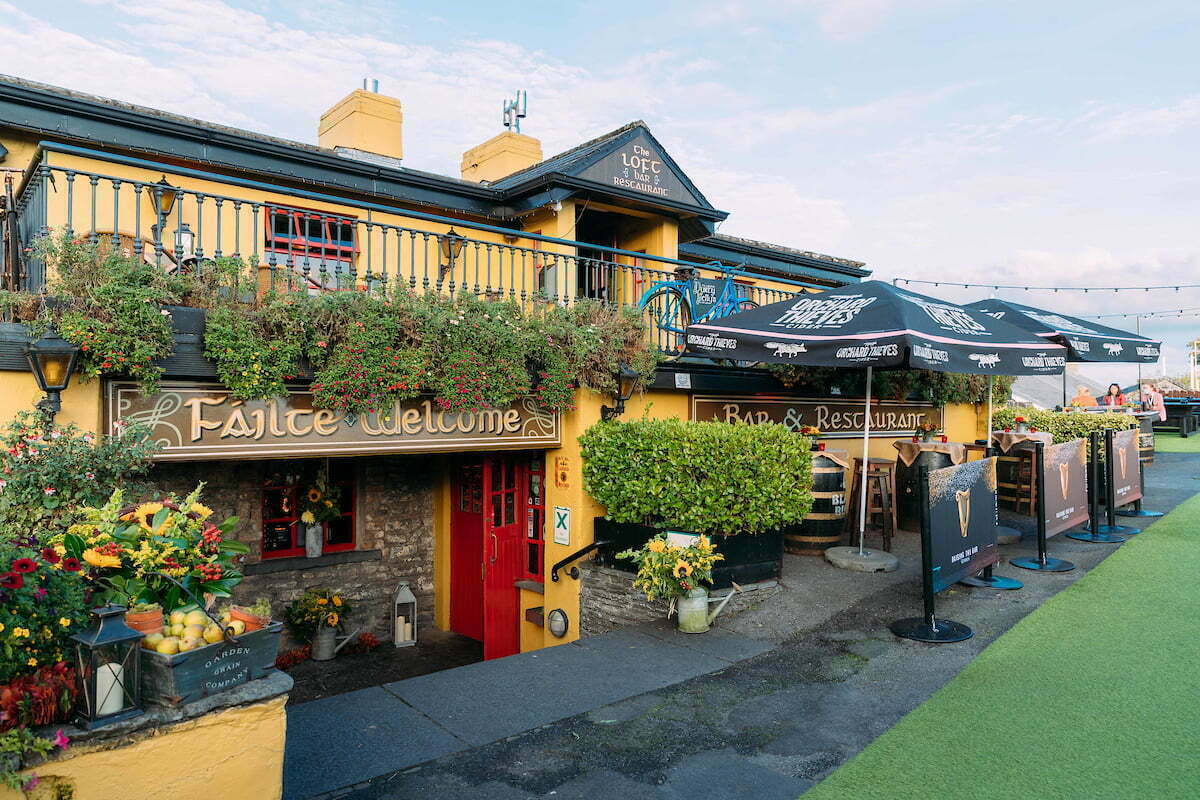 Durty Nelly's Bar and Restaurant is world-famous for its singsongs, atmosphere, excellent food, live music nightly, and location next to Bunratty Castle.
When dining, you can choose from their bar menu or Oyster restaurant menu, which offer a wide choice of options to suit all tastes, with dishes prepared using fresh, locally sourced produce. Or, relax with a drink in the shadows of the iconic 15th Century Bunratty Castle.
Established in 1620!
Durty Nelly's, or 'Nelly's (as it is known locally) is world-famous. It was established in 1620 and celebrated its 400th year in 2020. It is situated in an idyllic setting nestled in the shadow of the majestic15th century iconic Bunratty Castle and the enchanting 19th century Folk Park. The Owengarney River flows by Nelly's with the Clare Hills providing a wonderful backdrop.
Over the years, Durty Nelly's have resisted the temptation of being converted into yet another gastro-style pub. The building itself is steeped in history and folklore, and it has its own story attached to its unusual name.
Excellent food, friendly atmosphere, and great meeting place
Perhaps the biggest single charm of Nelly's is that it's a meeting place for both locals and tourists alike, and the interaction between the two is what makes it such a unique Irish pub and restaurant.
Special features in the interior of the building are the Liscannor flagstone floor, original stone walls, attractive wooden ceiling beams, historical memorabilia, and comforting nooks and crannies.
Food is served all day with various menus available to suit all tastes and using locally sourced fresh Irish produce. On the bar food menu, you will find steamed mussels, oysters, smoked salmon, traditional fish n' chips, slow-roasted lamb shank (a favourite), bacon & cabbage and traditional Irish stew, to name but a few. Vegan and Vegetarian options are also on their menu.
Many of their staff have long years of service and are always ready and waiting with a smile and a welcome for all who come through their doors. There will always be a friendly bartender who will engage in lively conversation with the customers while serving the perfect pint of Guinness.
Awards
Winner 'Tourist Bar of the Year' Bar of the Year Awards 2022 and 2019.
Regional Winner – 'Best Tourist Pub' – Irish Pub Awards 2022 and 2019.
Finalist – Clare Business Excellence Awards.
Good to Know
Durty Nelly's is open seven days a week, from 11am.
Free WiFi is available throughout the pub and restaurant.
Durty Nelly's is wheelchair accessible, with accessible toilets.
It has a newly-built outdoor dining and beer garden – idyllic in fine weather.
It features Traditional Irish music sessions seven nights a week – both indoors and outdoors during the summer months.
It can cater for seated groups of up to 150 people.
Nelly's can offer 'Pull your own Pint of Guinness' and/or Irish Coffee demonstrations. These are fun interactions with their staff, who will judge the winning pint within a group while showcasing the technique and skill it takes to create both beverages uniquely associated with Ireland.
Nelly's has a vast collection of first responder and police patches from all over the world. It's a great talking point for customers.
You can purchase Durty Nelly's souvenirs shop on-site, including sweatshirts and locally crafted mementoes.
Turf and wood-burning fireplace during the cold winter months.
An outdoor terrace area for summer BBQ's is available upstairs, and an outdoor seating area at the front of the premises is particularly popular during the summer months, providing a perfect setting to enjoy a drink or a bite to eat in the sunshine.
There are three different bar areas on the main level to choose from, all with their unique atmosphere.
Both casual dining and restaurant dining is available on the main level.
There are two large TV screens located upstairs where GAA football, hurling and Irish rugby games can be seen.
Conveniently located just off the main Galway-Shannon- Limerick route and close to many popular attractions.
Ample parking is available close by.
Important Note: Details are subject to change. It is always advisable to check the opening dates, times and prices on their website or directly with them before visiting or booking.