Step back in time at Bunratty Castle & Folk Park
Historical/Heritage
Playgrounds
Visitor Farms / Wildlife
Cool For Kids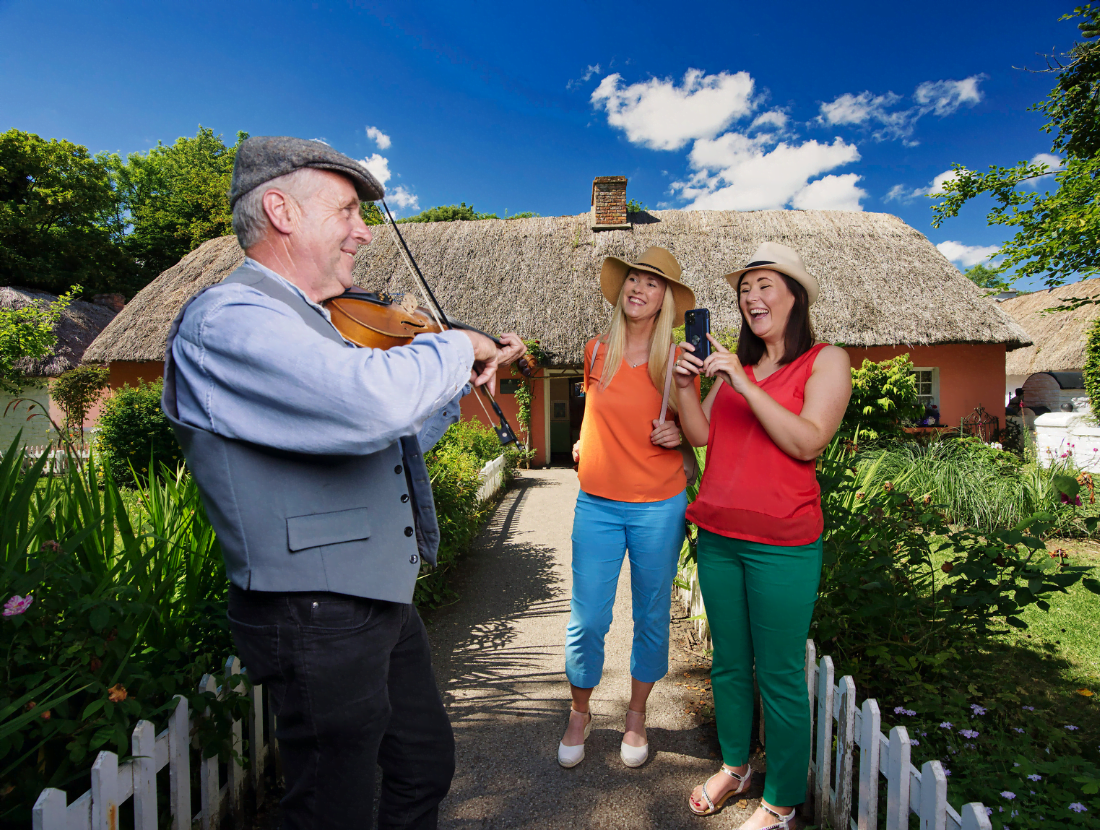 Undoubtedly one of Ireland's most famous and most loved attractions, it is hard to believe that Bunratty Castle, which once stood in ruins, now welcomes thousands of visitors from all corners of the world each year.
What makes Bunratty Castle & Folk Park so charming is the unique opportunity it offers visitors to travel through time, back to an Ireland of old. From the elegance and attention to detail carefully restored within the castle walls to the charm and authenticity of the recreated old village street and farmhouses, it is easy to see why visitors love this iconic attraction.
Visitors are invited to cross the drawbridge of the 15th-century castle and see and experience the lifestyles once enjoyed during this period. Discover all, from the banquet hall and the Earl's bedroom to the stunning decor of the South Solar study and the commanding views over the Shannon Estuary.
The village characters, from the schoolteacher, doctor, and policeman to the Bean an Ti, all bring the attraction to life as they reflect what life would have been like back in the early 1900s.
The Folk Park's resident musicians brighten up even the dullest of days as they perform traditional classics and contemporary favourites for all to enjoy as you wander around the park's stunning 26 acres.
The folk park's animals are a big hit with visitors of all ages and include various breeds of native Irish animals, including Irish red deer, Connemara ponies, pigs, goats and much more.
Full of imagination, magic and fun, the folk park's interactive Fairy Trail is the perfect way to spend the afternoon whether you're 2 or 102! Magical in every sense of the word, the Bunratty Fairy Trail is an enchanting experience which weaves through the upper end of Bunratty Folk Park. Wander through the enchanted woods and the walled garden and woodland trails of Bunratty Folk Park. Pay a visit to the fairy university and read from the fairies' magical book of spells, or try on a set of fairy wings for size.
The Viking playground is a firm favourite with young visitors, complete with a wooden pirate ship, slides, swings, zip line and much more. The stunning regency walled garden, where various breeds of heritage plants thrive and grow, provides a tranquil space to unwind and take in the stunning views of the surrounding Clare countryside.
Attraction Highlights
15th Century Bunratty Castle – the most complete and authentic Castle in Ireland.
The recreated Village Street – wander through a typical 19th-century village street complete with the School, Doctor's house, Pawnbrokers, Pub, Drapery, Printworks, Grocery, Hardware shop, Pottery and a Post Office.
Meet Village Characters – who can reflect on what life would have been like in the early 1900s.
Traditional Farmhouses – representing different building styles throughout Ireland in the early 1900s. These farmhouses range from the luxurious residents of rich landowners to simply one-roomed dwellings of farm labourers and their families.
Native Irish Animals – from Irish red deer to goats and Connemara ponies.
Interactive Fairy trail – full of imagination, magic and fun!
Good to Know
Admission: Admission fees apply.
Open months: Open year-round.
Visit duration: 80 minutes to 3 hours.
Suitability for younger children: Ideally suited.
Cool for kids: Aged 2 to 17.
Rainy days: Mostly outdoor.
Picnic facilities: Covered and outdoor seating available for picnics.
Dining/refreshments: Tearooms – serving light snacks, sweet treats and hot drinks. Mr O'Regan's Cafe – serving sandwiches, salads, pizzas, light snacks, and sweet treats. Macs Pub – serving hot food, light snacks, beers, wines, spirits and hot drinks.
Gift shop: Gift Store on-site selling souvenirs, toys, books, homewares, clothing and gifts.
WiFi: Free on-site.
Toilet facilities: On-site with baby changing facilities.
Accessibility: Partially wheelchair accessible with accessible toilets.
Assistance/guide dogs: Permitted.
Groups: Group rates are available for groups over 20.
Parking: Free car parking and coach parking on-site.
Details are subject to change. It is always advisable to check the opening dates, times, prices, and other information on their website or directly with the attraction before visiting or booking.