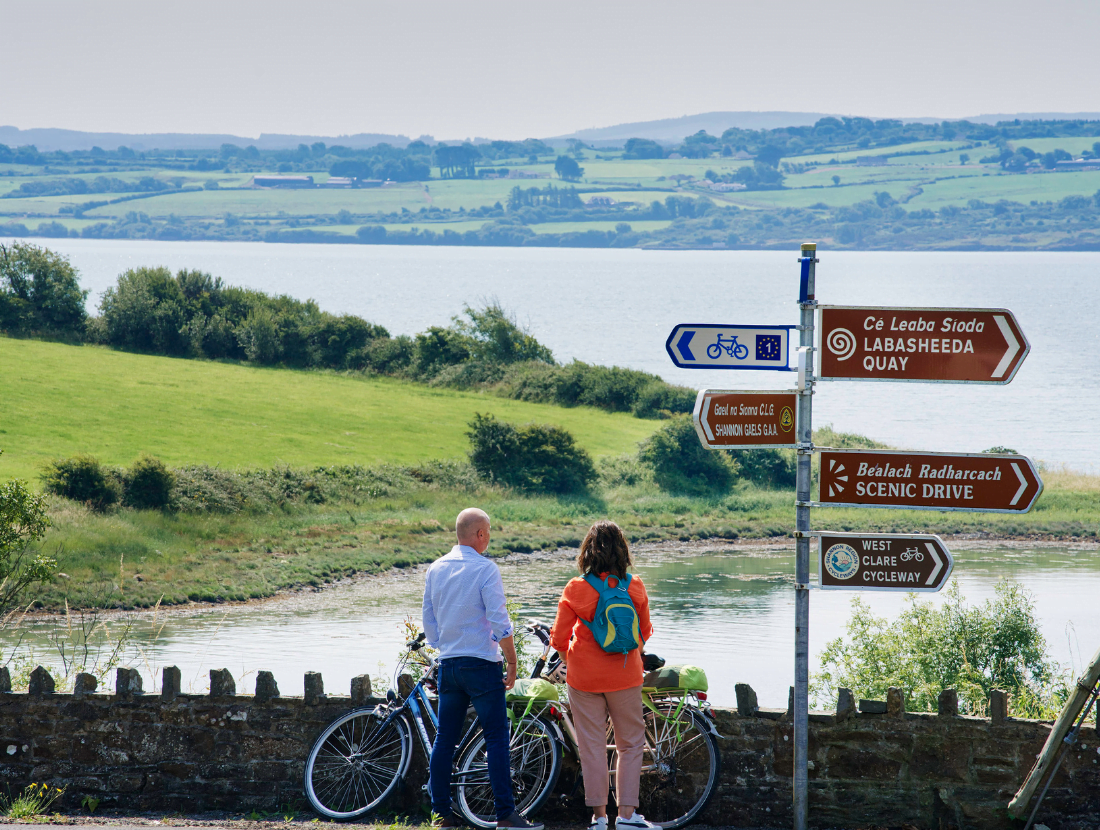 The small, picturesque village of Labasheeda overlooks the wide expanse of the Shannon Estuary and is synonymous with Irish traditional music and dance.
The historic Labasheeda Quay is well worth a visit with its scenic views of the estuary and the Kilkerrin Peninsula. Once a trading post and a point for crossing to the North Kerry town of Tarbert before a permanent quay was built, the quay today is a popular spot for angling trips, swimming and sailing. It features a picnic area, a small green area and a tourist information board detailing the area's flora and fauna. It also hosts a memorial to the victims of the Irish Potato Famine of 1845-50.
Labasheeda Quay is a designated viewing point along the Shannon Estuary Way, a spectacular and unspoiled riverside loop drive around Ireland's deepest watercourse. The 207 km-long loop winds its way through stunning and changing landscapes and river vistas, and through the gateway towns of Limerick, Ennis, Bunratty, Listowel and nearby Kilrush where the mighty River Shannon meets the wild Atlantic Ocean.
A few kilometres from the village is Kilkerrin Battery Fort, the best preserved of the early 19th century battery forts built by the British along the Shannon Estuary to repel a threatened invasion by Napoleonic forces. Restoration work on the monument was undertaken in the 1980s by a local community group. Kilkerrin Peninsula also is home to Mountshannon Wood, a mature forest perched on the banks of the estuary. St. Senan's Holy Well is located nearby and is one of several West Clare wells located in the region of the 6th century Saint's base on Scattery Island.
The village hosts its own annual celebration of Irish traditional music and dance every August in memory of the late Dan Furey. The streets, pubs and community venues of the village come alive during the Dan Furey Set Dancing Weekend to the sounds of impromptu céilí and set and step-dancing workshops.
Labasheeda offers plenty of accommodation options including B&Bs, self-catering and a glamping site close to the shores of the Shannon Estuary, providing a great reason for visitors to overnight in the area. The village is situated close to the Wild Atlantic Way with its many popular visitor attractions and the Killimer-Tarbert Car ferry, which provides a great link to Clare from North Kerry and West Limerick.