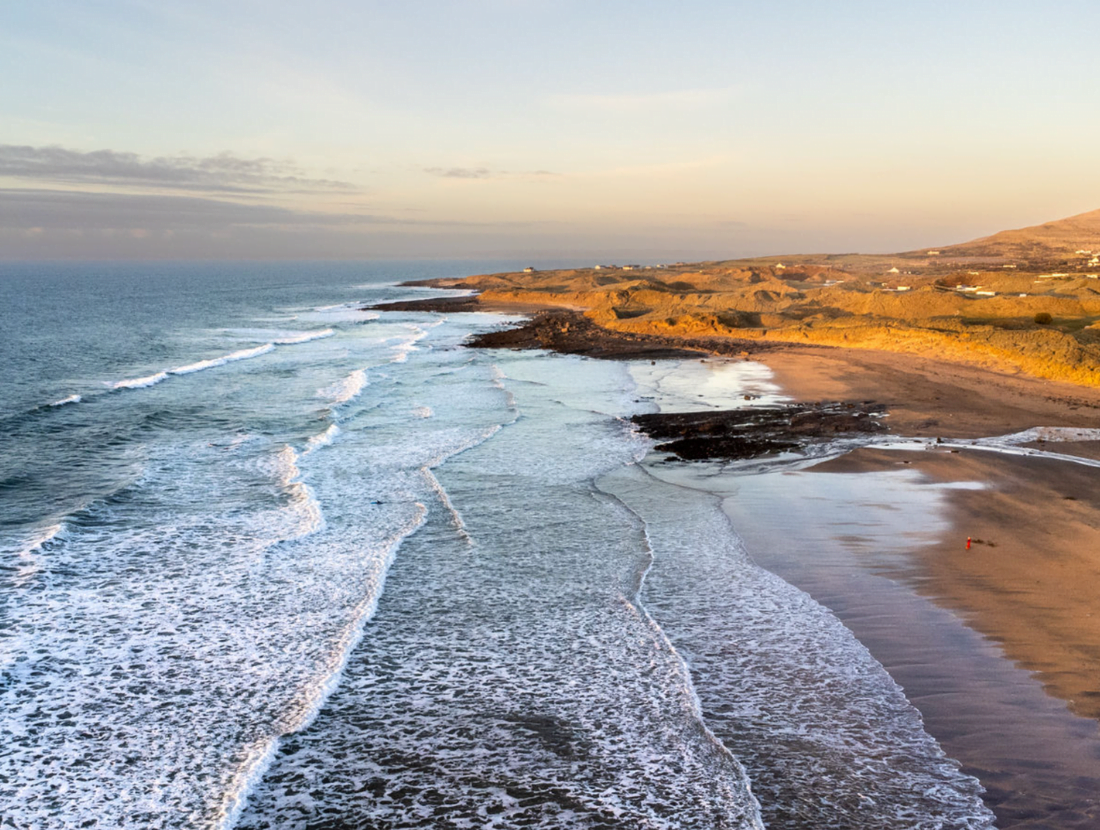 The small coastal village of Fanore is located where the Caher River enters the Atlantic Ocean on the edge of the world-famous Burren region.
Fanore is home to one of nine International Blue Flag beaches. The popular bathing area features an extensive dune system and a sandy beach underlain by gently sloping stepped limestone, which is exposed in parts at low tide. The Discovery Point on the Wild Atlantic Way is lifeguard patrolled during the summer months and is popular surfing spot with its own on-site surf school, Aloha.
Explore the most northerly tip of County Clare at Black Head with its magnificent views of Galway Bay, the Aran Islands and the Cliffs of Moher. Don't forget the take in Black Head lighthouse, which also a Discovery Point on the Wild Atlantic Way. The lighthouse was established in the 1930s when visiting transatlantic liners anchored their vessels off Ballyvaughan.
The 14km Caher Valley Walk is one of the most poplar walking trails in the Burren National Park and the Burren and Cliffs of Moher UNESCO Global Geopark due to the stunning vistas of Caher Valley and Fanore Mountain, which is composed of layers of limestone that were deposited 330 million years ago when Fanore was located near the equator in a warm tropical sea.
The shorter 4.5km Fanore Heritage Trail provides a unique insight into the rich geological, archaeological, and architectural heritage of the area. Walkers can trek along the Caher River, the only river in the Burren that flows its entire course overground, as well as learn about the large limestone boulders (Glacial Erratics) that were transported by glaciers and dropped over 15,000 years ago as the ice sheets that covered Ireland began to melt for the last time. You can also visit the ruins of an 11th Century church linked to St. Onchu. The graveyard is the burial place of local priest, philosopher and author John O Donoghue.
Burren Mountain Tours provides one of the region's most unique trails, a 90-minute tour on a private mountain track travelling the route taken by the herdsmen of long ago to bring their cattle to the mountain for the winter. The tour veers away from the main tourist routes and follows a 6-mile farm track on private lands cresting altitudes of 1,000 feet.
Clare is a county with a wealth of shore fishing marks, possibly unmatched anywhere in Ireland, and Fanore is no exception. Popular fishing locations include Fanore Beach, Black Head, The Flats and Ballyreen.
With its plentiful accommodation options, Fanore is an ideal starting point for exploring all of what North Clare has to offer including Aillwee Cave, Kilfenora Cathedral, Doolin Cave, the Burren Centre, the Spa Well in Lisdoonvarna, Poulnabrone Dolmen, Caherconnell Stone Fort, Leamaneh Castle, Lough Inchiquin, Clare Heritage Centre, and many more attractions and sites of interest. The 66km Burren Beauty Drive takes in Black Head, Ballyvaughan, Carran, Kilfenora and Lisdoonvarna, before returning to Fanore