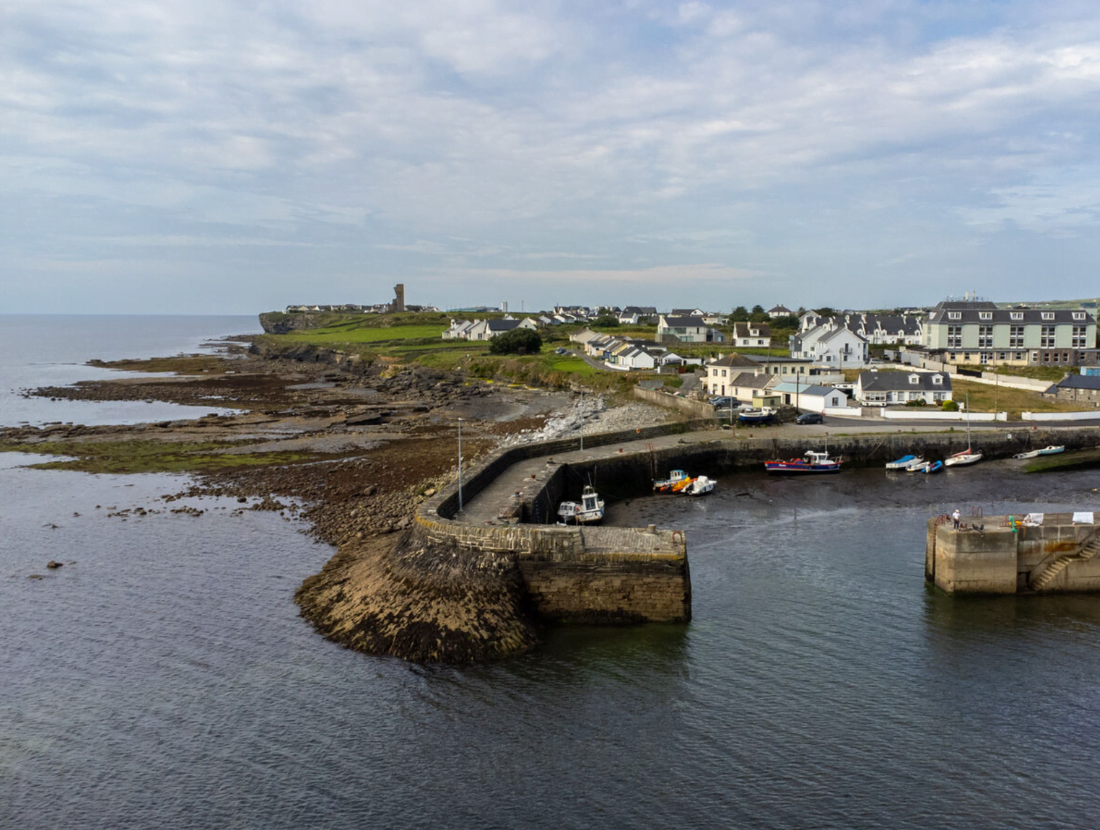 Located on the northern shore of Liscannor Bay, the picturesque village of Liscannor has a rich maritime heritage and is located a few kilometres from the world-famous Cliffs of Moher and the popular seaside resort town of Lahinch.
Full of quality accommodation options and adorned with pubs, restaurants and shops, Liscannor is a popular stop-off point along the Wild Atlantic Way.
County Clare's maritime heritage is encapsulated in Liscannor, the birthplace of submarine inventor John Philip Holland. A statue of the pioneering engineer in the first ever submarine commissioned by the US Navy and the Royal Navy is on display in the centre of the village's main street. Drop into the John P. Holland Centre to learn more about the inventor's life and work.
The early 19th century village harbour remains a hive of commercial and recreational fishing activity.
Liscannor is a five-minute drive to the Cliffs of Moher Visitor Experience, one of the 15 wonders of the Wild Atlantic Way and Ireland's most visited natural attraction. Towering more than 210 metres over the Atlantic Ocean, the cliffs stretch for 8 jagged kilometres. O'Brien's Tower, one of Ireland's most photographed landmarks, stands atop this year-round visitor attraction which also boasts an award-winning virtual experience within its main visitor centre building.
One of the most renowned aspects of Liscannor is its distinctive flagstone, which is called Liscannor Stone. The stone is a popular choice for houses, walls, flooring, paving and roofs. An audio-visual room at Liscannor Rock Shop showcases the quarry methods used to extract the stone along with quarrying tools and photographs of Liscannor in the 1800s.
Overlooking Liscannor Bay, Moher Hill Open Farm and Leisure Park ensures that children and adults alike have an opportunity to learn about and interact with a wide array of animals throughout the 14-acre site. The farm also has a wide range of activities such as mini golf, all-weather outdoor play area, and indoor go-karts to ensure that all ages are kept entertained, regardless of the weather.
The Holy Well of Saint Brigid is one of the oldest holy wells in Ireland and is rumoured to have healing powers. In 1853 Cornelius O'Brien MP and owner of Birchfield House was cured of an ailment with water from the Holy Well. He erected high pillar nearby to show his gratitude. On the last Sunday in July each year, pilgrims travel from far and wide to visit the Well for the Lughnasa festivities. The well's scenic and tranquil location makes it a popular stop-off point for people of all faiths and none. Don't forget to pop into the nearby craft shop and café. Moher Cottage offers its very own artisan fudge made on the premises and came out on top in a recent national poll to find Ireland's Best Coffee.