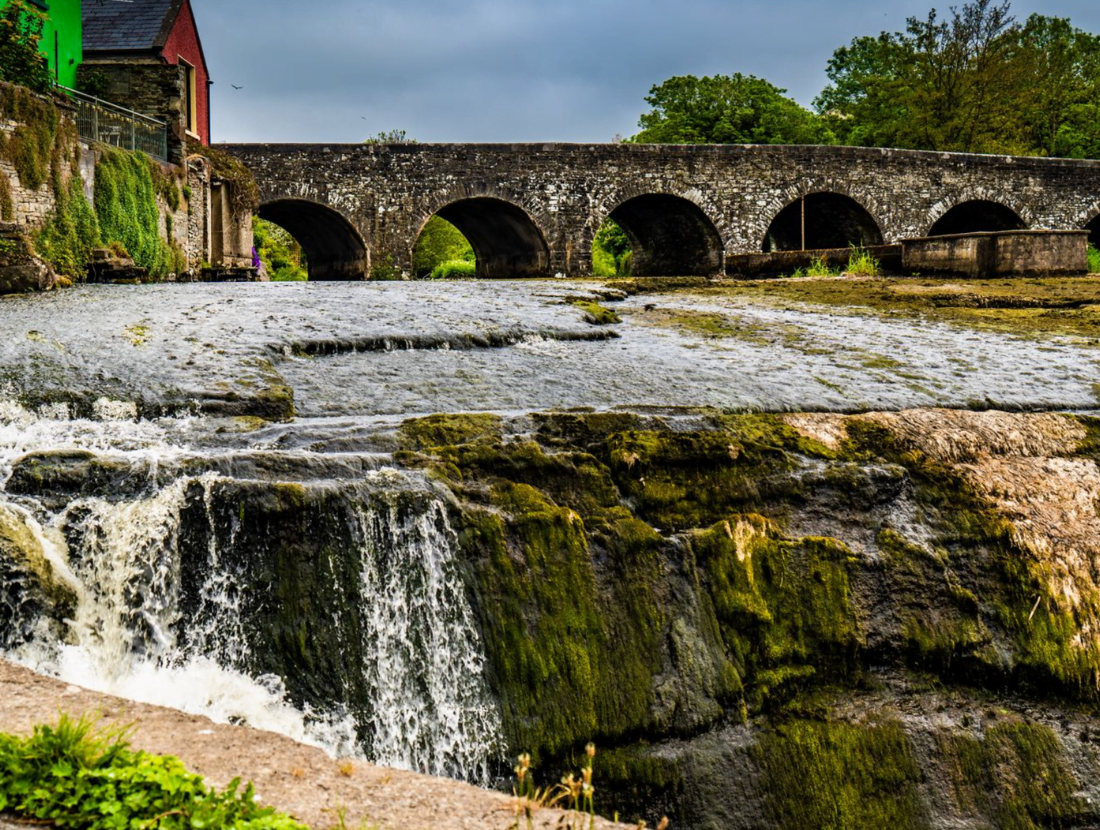 Ennistymon is North Clare's largest town.
'The Cascades' are among the most photographed natural attractions in Clare and are best viewed from the grounds of The Falls Hotel, which overlook the churning waters of the Inagh River as they make their way over an extensive ridge of rocks and onwards to Liscannor Bay and the Atlantic Ocean. Such churning waters, are a source of the Falls Hotel recently being certified as carbon neutral. The hotel runs almost entirely off its own hydroelectric turbine.
The 5km-long Ennistymon Historic Town Walk is suitable for people of all ages and explores Ennistymon's origins in medieval times to the arrival of the O'Brien's of Thomond in the mid-16th century to its development as a market town in the early 1800s. Built on the grounds of the old local workhouse, the 'An Gorta Mór' Memorial commemorates the memory of the victims of the great potato famine of 1845 to 1850.
Ennistymon's many family-owned and run businesses and large selection of restaurants and pubs serve up an authentic Irish experience through locally sourced food and nightly Traditional Irish Music sessions. A Food and Craft Fair also is held in the town on a regular basis. Keep an eye out for exhibitions and music gigs at The Courthouse Gallery, a studio space for Visual Artists in Ennistymon and its hinterland. And don't forget the Foust Gallery on Main Street.
With plenty of accommodation options and its proximity to Lahinch, the Cliffs of Moher and the Burren, Ennistymon is an excellent base for exploring all that North and West Clare has to offer.
Experience the Flexibility of DigiClare Hubs: Empowering Remote Working in County Clare.
Ennistymon is home to one of the eleven DigiClare centres. DigiClare Hubs offer visitors the opportunity to work flexibly and remotely within vibrant communities across County Clare. With a range of amenities such as individual hot desks, high-speed broadband, co-working spaces, private work units, meeting rooms, and more, our hubs provide a fresh, dynamic, and secure environment to suit your diverse working needs.
Book the Ennistymon Hub: You can view a profile of the Ennistymon DigiClare Hub here, and also book your space online here.
For details of all Clare hub locations, visit www.DigiClare.ie