Loop Head Lighthouse offers a fascinating look into the past
Historical/Heritage
Cool For Kids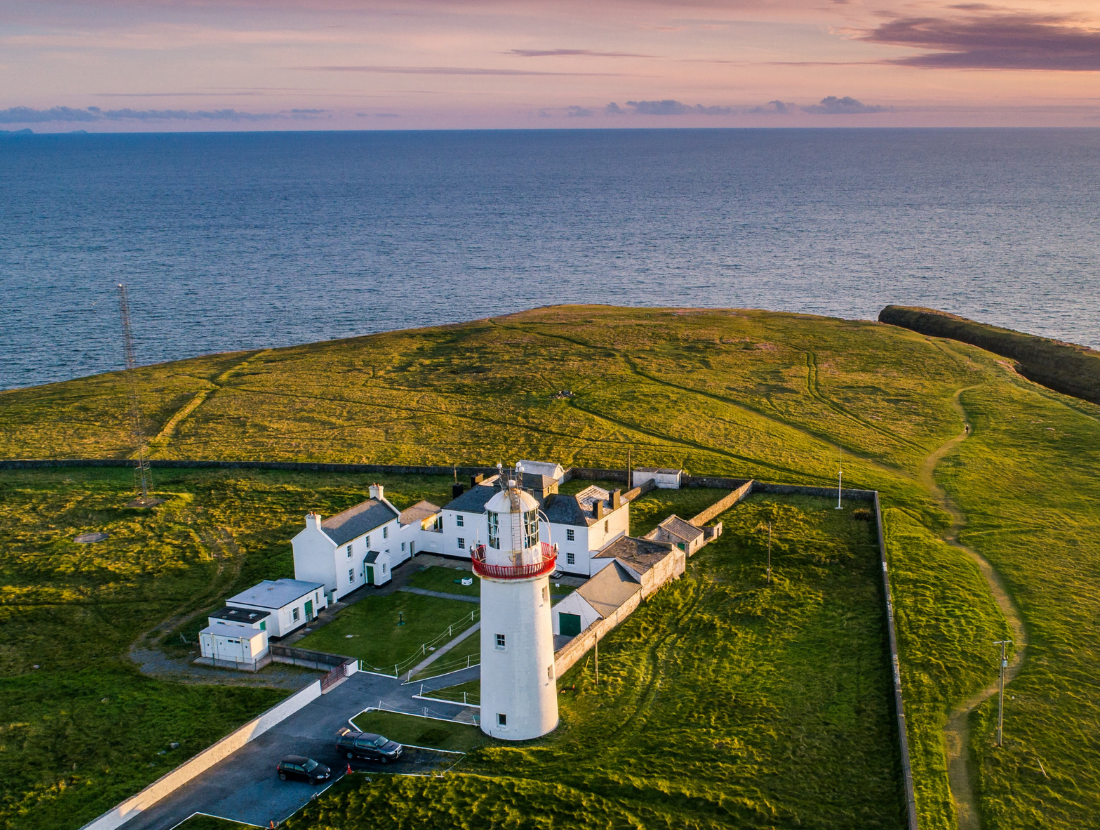 The proud, beautiful, and graceful Loop Head Lighthouse is rich in maritime heritage, with origins stretching back to 1670.
A visit to Loop Head Lighthouse is a fascinating look at days gone by. The lighthouse is the major landmark on the northern shore of the Shannon River. It offers 90-metre-high views of the sea. From Kerry Head and Dingle, across the Shannon and up the Clare coast, to the Cliffs of Moher in the north. Loop Head Lighthouse is one of the most important lights on the Irish Coast, guarding the entrance to the busiest river in Ireland, the River Shannon, since 1670. It is on the scenic Loop Head peninsula – a cliff-girt headland that separates the sheltered water of the Shannon Estuary from the roaring waters of the Atlantic Ocean.
Video clip: For the best visual experience, watch this 40-second video clip of the Loop Head Peninsula in full-screen mode. Click the icon on the bottom right of the video.
In 1802, the first 'tower' lighthouse was built, which was then replaced with a new tower in 1854 designed by George Halpin. 1869 was a landmark year for the lighthouse when its light changed from being fixed to flashing. The flashing pattern of a lighthouse is called its 'character' and Loop Head's is a white light that flashes four times every 20 seconds. In 1898, the fog signal was established, and in 1955 a radio beacon was introduced to transmit its morse signal every two minutes during fog conditions. In 1971, the lighthouse was converted to operate electrically, and in 1991, it was automated. Today, it is one of 70 lighthouses operated by the Commissioners of Irish Lights, around the coast of Ireland and continues to play a vital role in maritime safety.
Loop Head Lighthouse is one of two Signature Discovery Points in County Clare along the route of the magnificent Wild Atlantic Way. It is also part of the Great Lighthouses Of Ireland initiative, which comprises 12 lighthouses situated in breath-taking coastal locations. This initiative invites visitors from home and abroad to visit or stay in one of Ireland's lighthouses, learn about its history, and take in the stunning natural world that surrounds it.
Over the years, Loop Head has attracted everyone from birders and dolphin watchers, to Star Wars film crews and historians. Having earned its name as one of the Wild Atlantic Way's most dramatic headlands – Loop Head offers something for everyone.
Attraction Highlights
Beautiful lighthouse
Walking trails
Heritage
Bio-diversity
Fantastic ocean views
Good to Know
Admission: Admission fees apply.
Open months: Open April to September. Check Loop Head Lighthouse website for details.
Visit duration: 120 to 180 minutes.
Suitability for younger children: Moderately suited.
Cool for kids: Aged 6 upwards.
Rainy days: Mostly indoor.
Dining/refreshments: Tea and coffee station with sweet treats and refreshments.
Picnic facilities: Picnic benches available on-site.
Gift shop: Loop Head Lighthouse branded merchandise.
WiFi: On-site.
Toilet facilities: On-site.
Accessibility: Partially wheelchair accessible, accessible toilets.
Assistance/guide dogs: Permitted.
Groups:  Check the website for any offers.
Parking: Free car parking and coach parking available.
Details are subject to change. It is always advisable to check the opening dates, times, prices, and other information on the Loop Head Lighthouse website or directly with the attraction before visiting or booking.