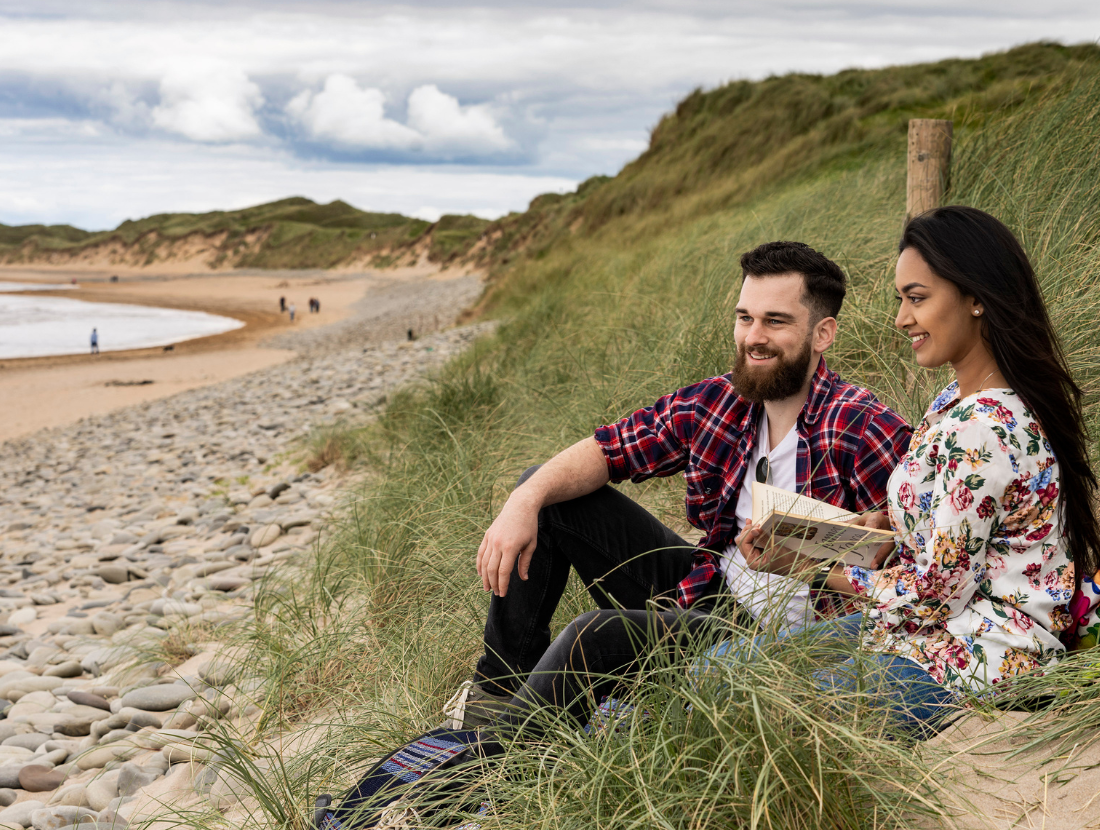 Lying within a landscape of Atlantic dunes and rich farmland, the picturesque West Clare village of Doonbeg is a vibrant centre of history, culture and tourism activity.
Famed for its white sands set against the backdrop of the pristine waters of the Atlantic Ocean, White Strand Doonbeg is one of nine International Blue Flag beaches in Clare and is a Discovery Point on the Wild Atlantic Way. Sheltered on both sides by low rocky rugged cliffs, the secluded beach is renowned as a safe bathing location and is lifeguard patrolled during the summer months. Located at the opposite side of the bay are the spectacular, golden sands of Doughmore Beach. The 4.5km long beach is backed by an impressive sand dune system and the five-star Trump International Golf Links and Hotel, which attracts visitors from around the world.
The present-day village formed around Doonbeg Castle, which has a fascinating history of fighting and intrigue. The ruins of the early 16th century castle tower over the Doonbeg River shortly before it reaches the sea and are located next to a six-arch hump-back stone bridge that marks the central point of the village. Built circa 1820, the bridge has a direct link with the Great Famine having served as a temporary refuge for two families in the 1840s. Located 2km to the south of the village is Doonbeg Fort which provides evidence of ancient settlement in the area.
Doonbeg has a thriving arts scene. The West Clare Drama Festival takes place each March and has drawn performers from all over Ireland to Doonbeg for six decades. Every year, a carnival atmosphere descends on the 'Long Village', as it known locally. The annual Doonbeg International Jazz Festival features a weekend programme of performances by Irish and international musicians and groups.
The cliffs of Baltard are spectacular and a popular stop-off point for those travelling on the Wild Atlantic Way. Located a few kilometres south of Doonbeg, the cliffs offer breath-taking views of the ocean and surrounding landscape. Some of the best angling locations in Ireland are located along the Clare coastline and in its many rivers and lakes. Shore angling is popular in Doonbeg, while the Doonbeg River is famous for its salmon and sea trout. You also can book a sea angling trip out on the Atlantic.
After a day of enjoying the sights and activities around Doonbeg, you can return to the village to enjoy a lively traditional music session in one of the local pubs. There are several accommodation options, including a hotel, B&Bs and caravan/camp sites, making the village an ideal base location for your Clare holiday experience.