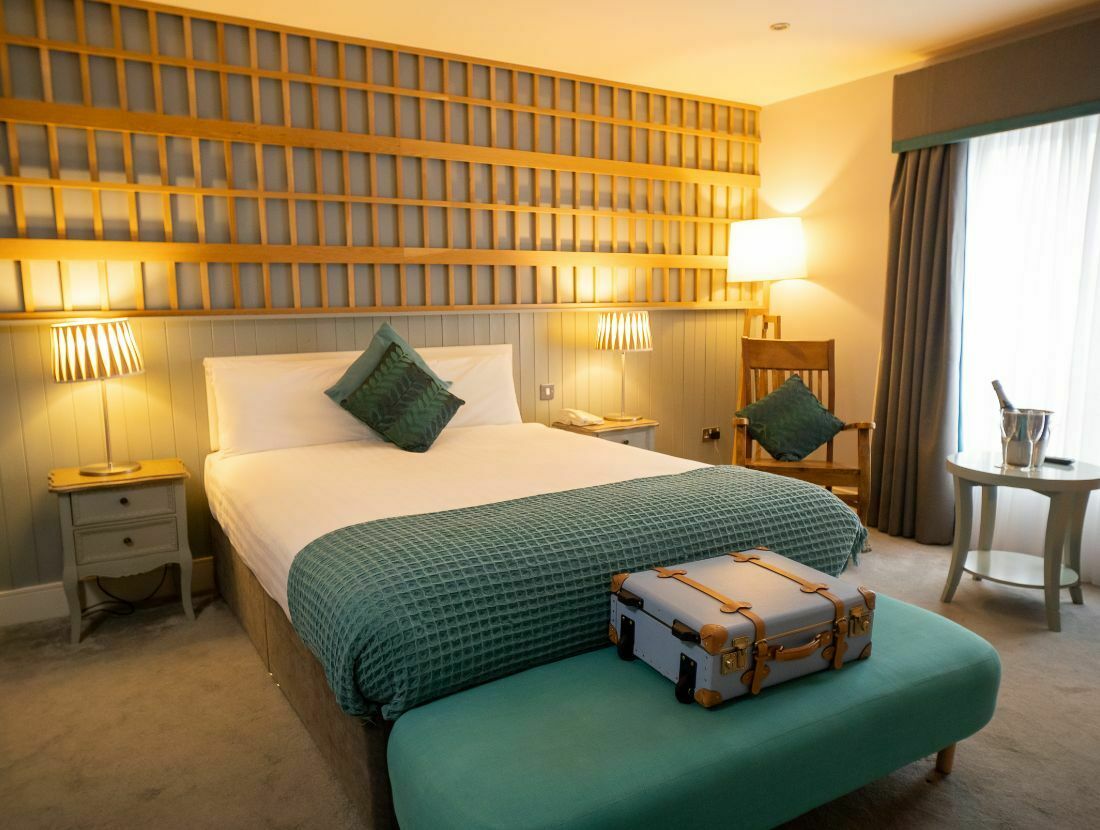 The award-winning Hotel Doolin is located in the heart of Doolin, on the Wild Atlantic Way. The hotel includes luxurious bedrooms, a restaurant, a bar, and more. It is also a popular wedding venue.
Hotel Doolin is an intimate and quirky boutique 17-bedroom hotel and wedding venue with several unique outlets throughout the hotel. Fitz's pub, Glas restaurant, Stonewall wine-bar & Coffee House, The Attic live music venue, the Sibín bar and gardens, and The Eco wedding and events barn, which has the capacity to seat 300 people.
The focus is on friendliness, fun and most importantly, food. They can accommodate up to 300 people in their Eco-friendly barn. They host one wedding only per weekend so that you along with your wedding party, family and friends can enjoy the hotel exclusively for the entire weekend which makes for a more intimate and enjoyable experience.
Hotel Doolin is the founder and the home of the Doolin Folkfest and Doolin Hedge School.
Food, Drink and Music
One of the main focal points at Hotel Doolin is food – growing it, selecting it, preparing it, cooking it and eating it! They are committed to delivering authentic and inventive food, using as many local, home-grown, homemade and organic foods as possible on their menus.
Glas Restaurant is a friendly, welcoming and informal dining experience that they like to call Doolin on a Plate. They serve beautifully presented modern cuisine, prepared with love and care. Glas only uses sustainable, locally produced meats, fish and vegetables in line with Hotel Doolin's multi-award winning green ethos. Glas is fine-dining without the fuss. They are open Wednesday to Sunday nights from 6.30-9 pm.
Fitz's Pub is famous for its lively music sessions and home of the Wild Atlantic Session. Fitz's hosts live music every night of the year #trad365. Fitz's is the pulse of Doolin with a cosy front bar and open fire, ideal for chilling with a cool pint whilst listening to the best of local musicians. It is also a relaxed eatery where you'll be served the best of restaurant-quality local seafood, meats and vegetarian/vegan fayre in a friendly informal setting. One cannot visit Fitzpatrick's Bar without tasting their very own Dooliner Beer, a creamy, smooth traditional Irish red ale. With over 100 whiskeys in stock, ask your bartender for the Whiskey bible or try one of their unique cocktails or one of their specially selected organic wines. Please visit Facebook for up to date music schedules.
Stonewall is an exciting, newly-renovated wine bar and coffee house with hand-shaped, wood-fired Neopolitan pizzas, salads, sharing plates of local cheeses and Charcuterie, a fully organic wine list, cocktails, bottled beers, coffee, homemade desserts and pastries.
The Attic is the latest edition to Hotel Doolin, drawn from their love of music, gatherings and the arts. This unique space hosts live music, spoken word, theatre and comedy, something for everybody. Their live entertainment runs daily throughout the summer, and they keep the tunes coming throughout the winter with intimate gigs of all genres. While you enjoy the venue, check out the original Lisdoonvarna Festival posters alongside the past posters from their own Doolin Folk Festival. The artwork in the Attic was specially commissioned by local artist Marcus (aka Surfek West), who drew his inspiration from the mesmerising colours of the skies off Doolin pier.
Hotel Doolin is the founder and the home of the Doolin Folkfest and Doolin Hedge School.
Awards
The hotel has won numerous awards, including Irish medium-sized Green Organisation of the Year 2019/2021 at the Green Awards, the Green Team Sustainability Award 2021, Chambers Ireland CSR Award 2019 as well as being listed in the McKenna Guide 100 Best and the Irish Independent's Fab 50 Places to Stay.
Good To Know
Hotel Doolin offers free parking on-site and has an electric vehicle charge point. It also offers free Wifi.