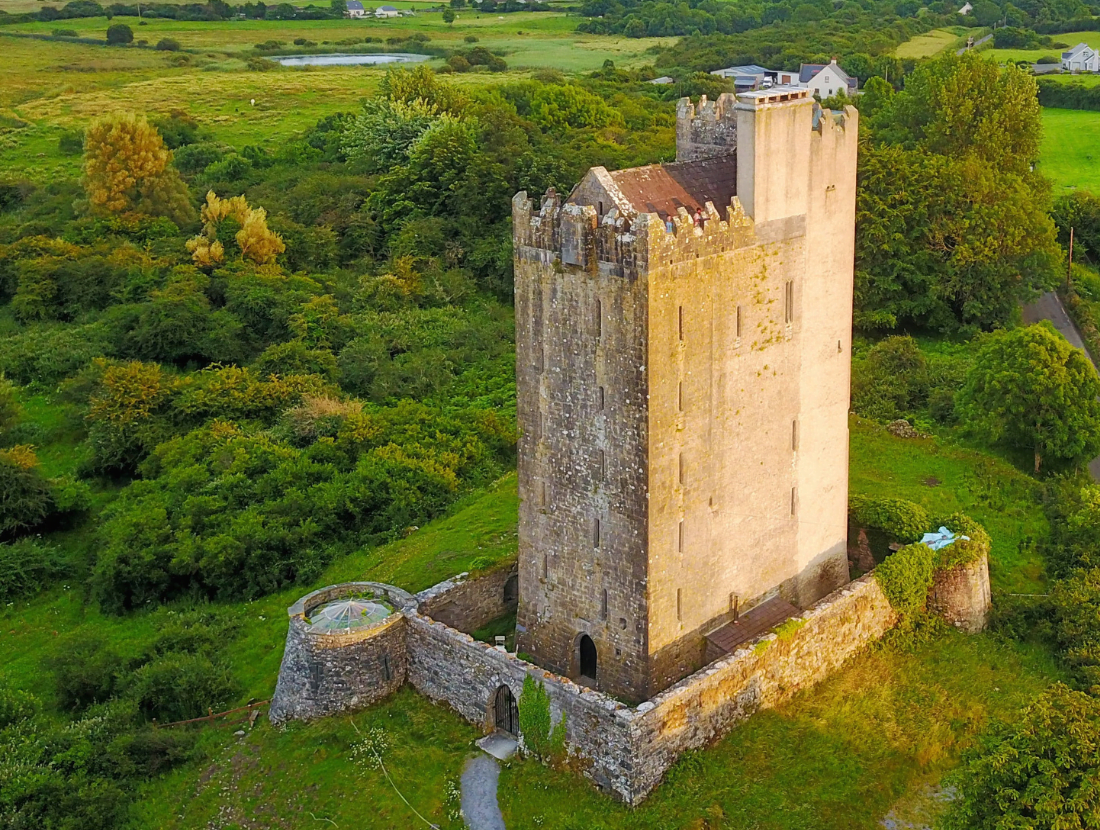 Ballyportry Castle is an authentic renovated 500 year old Gaelic tower house within the Burren, is available as an exclusive let and is suitable for family groups of two to eight guests. Minimum stay three nights.
It is a contented and a welcoming castle that gives space to everyone. This is a large and comfortable towerhouses with generous spaces on every level. Two large rooms, the Great Hall at the top and the kitchen/living at ground level give space to all. No more than eight guests can stay.
A 17th century bawn wall that dates from the 17th century encloses Ballyportry. When you arrive you walk up an incline to the gated entrance to the bawn. You enter through a thick wood door into a large high vaulted kitchen/sitting chamber.
The quality of the light is one of the first impressions to be noted, as it is that of the celebrated paintings of interiors of houses by the famous Dutch painter, Vermeer. Photographs fail to catch the nuanced and changing light of the Atlantic weather in these high vaulted spaces.
The log stove will be lit and the surprise is the farmhouse comfort of a well-used table and the familiarity of geraniums that flourish on the deep window cills. The kitchen is equipped with an elegant 21st century log burning stove, a 6 burner cooking gas stove, dishwasher and fridge/freezer with plenty of delph and a good selection of books in the bookcase.
The superbly engineered stone spiral staircase ascends the castle to the principal room, the Great Hall roofed with oak trusses, an open fireplace, couches, a dining table, more books and an independent kitchen up a further 3 steps to one side on the way to the rooftop walk. Drinks before dinner are frequently enjoyed in front of the open fire. Guests wonder at the sunset from this ancient high vaulted room or, on a clear winter's night, the stars with their light from thousands of years past, as twilight sets in.
Heating is oil fired ducted under floor heating. There is an excellent Danish designed 21st century cosy log burning stove in the downstairs kitchen. All the beds are comfortable with thick pocket sprung mattresses and are dressed with wool blankets.
The tower house is cleaned completely before and after guests have stayed, and in accordance with the sensitivities of the conservation programme.
Many of the ceilings contain remains of the original hazel branches, which were used to hold the plaster and bear the impressions of the branches. The limestone walls are neither rendered nor plastered nor painted.
The bathroom counter tops and stone floors are of Liscannor stone, a rare and beautiful rough cut limestone from close by.
Good to Know
Important note: Please note that the curving medieval stone staircase may not suit small children or those with a walking disability.