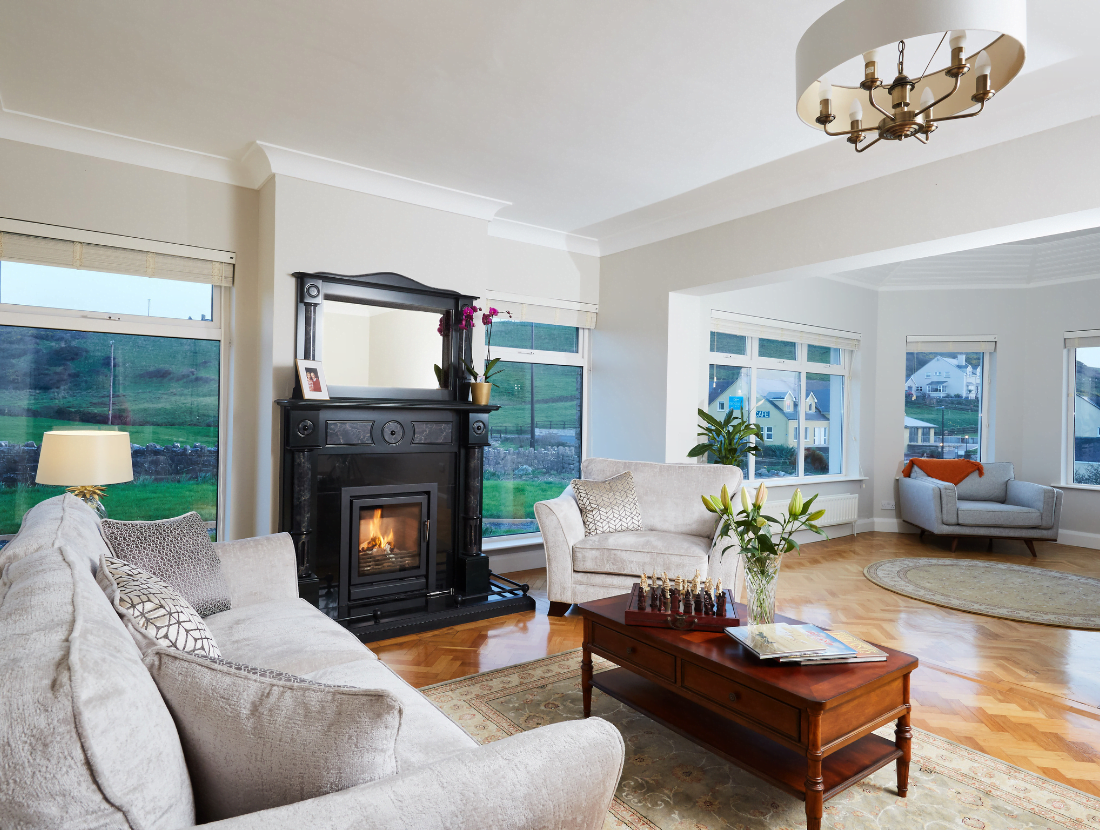 These stylishly decorated luxury lodges are in the heart of Doolin, with all the modern features you need for an ultimate luxury getaway.
These Luxury lodges are in the heart of Doolin village, just a short walk from Doolin's famous pubs, many restaurants, and the start of the Doolin Cliff Walk.
Stylishly decorated, The Lodges have all the modern features you need for your ultimate luxury getaway. Each has a private entrance and outdoor terrace or deck with a private hot tub. The Fisherstreet and Castle View lodges have amazing views of the 500-year-old Doonmacfelim Castle and the beautiful surrounding countryside.
The lodges have been developed to an exceptional standard with all modern features. Each lodge is fully equipped and comfortably furnished. You can choose to include the freshly prepared and locally sourced Burren Breakfast Buffet, which they discretely deliver to you each morning. In the evening, you can dine in at your lodge or dine out at one of Doolin's great local restaurants, cafés, and eateries.
Fisherstreet Lodge:
Fisherstreet Lodge provides a tranquil haven for two to four guests in one or two bedrooms. A large and light-filled open plan living room, dining room and kitchen lead out onto a private terrace with a hot tub overlooking the 500-year-old Doonmacfelim Castle at the rear.
Castle View Lodge:
Castle View Lodge is suitable for two to six guests to stay in absolute comfort. This luxury lodge is in Doolin village at the start of the Cliffs of Moher coastal walk. It's the perfect base to rest and recharge, perhaps taking a short stroll to Fisherstreet. Discover its shops, cafés and pubs, including Gus O'Connor's, world-famous for traditional Irish music played nightly.
Horseshoe House:
Both Castle View and Fisherstreet Lodges can be rented as one connected space, which they call Horseshoe House. At 2610 sq ft, this house is wonderfully spacious, with five bedrooms, four kings, one twin, and suitable for up to ten guests. Located on the family farm and just a two-minute stroll to Fisherstreet, it's the perfect base from which to enjoy the village with its shops, cafes and pubs.
Breakfast at your lodge:
Should you choose the lodge package with breakfast, they will deliver the freshly prepared Burren Breakfast Buffet each morning to your lodge without disturbance. The Burren Food Trail Breakfast Buffet can change daily and with the availability of local produce but usually contains homemade Irish soda bread and jams, muesli, yoghurt, home-poached fruits, cheeses, cured meats, and one of Niall's breakfast frittatas. Almost all ingredients are sourced from either their garden and farm or from their partner members of the Burren Food Trail. They are happy to include gluten-free options and are sensitive to other dietary requirements – just let them know at the time of booking. They will be sure to provide a healthy and delicious breakfast option for everyone.
Awards:
They have been awarded the Burren and Cliffs of Moher UNESCO Global Geopark Code of Practice for Sustainable Tourism for 2020/2021.
Good to Know
There is free parking and an electric charge point on-site. Free WiFi is also available.