Enjoy Kilkee Blue Flag Beach – one of Ireland's favourite beaches
Beaches
Cool For Kids
Free To Visit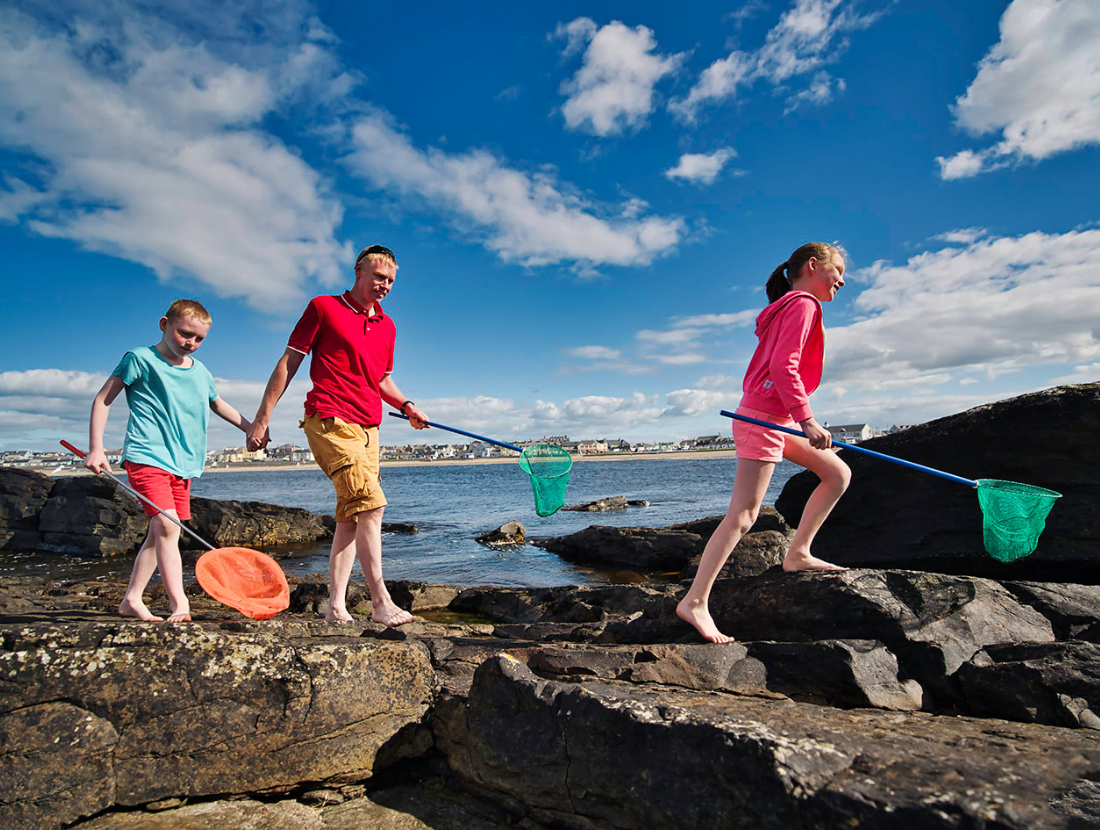 Located at the gateway to the Loop Head Peninsula, the International Blue Flag beach at Kilkee is known for its expanse of golden sand and coveted bathing areas.
Since the late 19th century, Kilkee has been a popular tourist destination due to its unique climate, natural amenities, and coveted bathing areas.
The 1.5km long International Blue Flag beach is regarded as one of the best and safest bathing locations on Ireland's west coast, attracting visitors from all over the country every year. Lifeguards are on duty during peak season.
The beach is a haven for outdoor adventure enthusiasts, with surfing and kayaking lessons available. Trained experts are on hand during the summer months to guide you through coasteering, an adventure activity with climbing, jumping, swimming and exploring in and around rock pools, cliffs, caves and coves.
Kilkee attracts scuba divers from across the globe to enjoy the clear waters and abundant marine life. The reefs around Kilkee are also considered to be some of the best places for diving in the world.
The magnificent Kilkee Cliffs, which overlook the beach and bay, provide some of the best scenery in Ireland and are one of Clare's greatest natural attractions. An 8-kilometre loop walk takes visitors from the Pollock Holes to the amphitheatre, with its tiers of seat-like rocks; the Pink Caves; the Diamond Rocks; Intrinsic Bay and Look Out Hill with its spectacular views; and back into the town by Fooagh Chalybeate spa.
Don't miss the famous Pollock Holes in Kilkee. These are natural sea pools and are a favourite swimming spot. Relax in the seawater and feel energised. They are located on the West End of Kilkee in Duggerna Reef, access is from the car park beside the Diamond Rocks Café. You can walk across the flagstones to these large sea pools at low tide and immerse yourself in the clear water of the Atlantic. Swim or snorkel at your leisure. The pools range from 1 to 2.5 metres deep and 20-50 metres in size. They get their name from the small pollock that inhabit here for six months of the year. Check in advance for tide times and exercise caution on the flagstones when wet.
Kilkee Waterworld offers family visitors a fun day at the seaside, irrespective of the weather conditions. The indoor complex features a tower slide, bubble pool, lazy river ride, beach pool and a play pool for younger guests.
Kilkee beach has plenty of amenities, including public toilets and numerous public car parks.