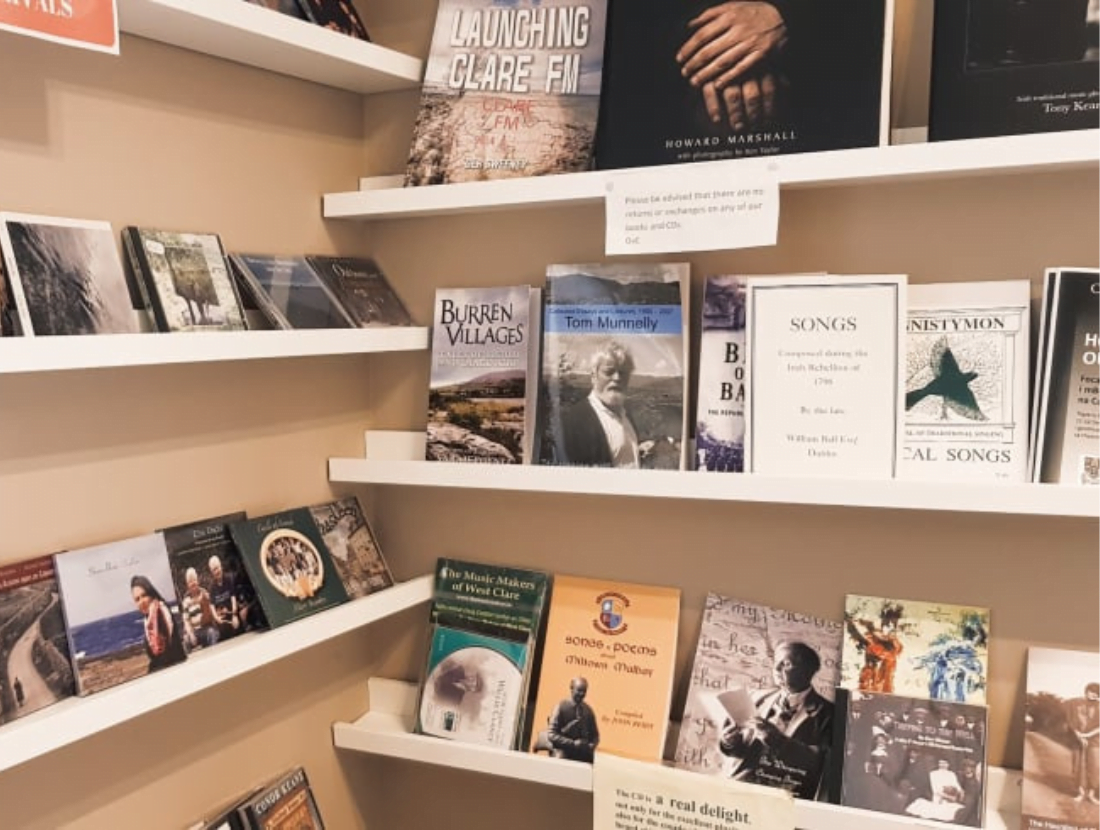 Immerse yourself in stories of local musicians such as Willie Clancy, Martin Junior Crehan and more. Also enjoy a video of talented local musicians.
When passing through Miltown Malbay on the Wild Atlantic Way, take the time to visit the attraction, The Musicmakers of West Clare.
Relax and enjoy a specially commissioned 14-minute video of talented musicians performing on the different instruments, including Uileann pipes. There is also an 8-minute video about the history and origin of traditional Irish instruments. The video is available in English, Irish, and French.
At the Musicmakers of West Clare, read about the Uilleann pipes, the travelling piper, the tin whistle, the fiddle, and many others on display panels. Gain insight into the music, song and dance of West Clare with panels that include the Chéile band and the country house dances, which were held throughout the country.
View the original first map of Ireland produced in the Irish language and displayed for years in National schools by Thomas Ó hAodha, a native of Miltown Malbay, with the assistance of Pádraigh Ó hAichir of Dunsallagh. There is also a unique collection of concertinas of different makes and backgrounds on display.
The attraction has knowledgeable guides with years of experience in Irish history and can accommodate bus tours. There is also a wide variety of CDs and books about Irish music for sale.
Highlights
Tourist Information Office.
A specially commissioned video of local Irish musicians called " The Session".
Information on local Irish musicians including Willie Clancy.
Video in English, Irish and French of the history of Irish music and instruments.
Display of a range of concertinas on loan to "Music Makers of West Clare".
CDs and books about Irish music and local musicians for sale.
Good to Know
Admission: Free to visit, with pay attractions inside.
Open months: Open year-round.
Visit duration: 40 minutes.
Suitability for younger children: Moderately suited.
Cool for kids: Aged 13 to 17.
Rainy days: All indoor.
Gift shop: Books of local music and musicians, CDs of Irish music.
WiFi: On-site, available on request.
Toilet facilities: On-site.
Accessibility: Partially wheelchair accessible with accessible toilets.
Assistance/guide dogs: Permitted.
Groups: Over 10 people.
Parking: Free on-street car parking and coach parking.
Details are subject to change. It is always advisable to check the opening dates, times, prices, and other information on their website or directly with the attraction before visiting or booking.