Explore the beautiful Vandeleur Walled Garden
Gift Shopping
Historical/Heritage
Museums and Galleries
Free To Visit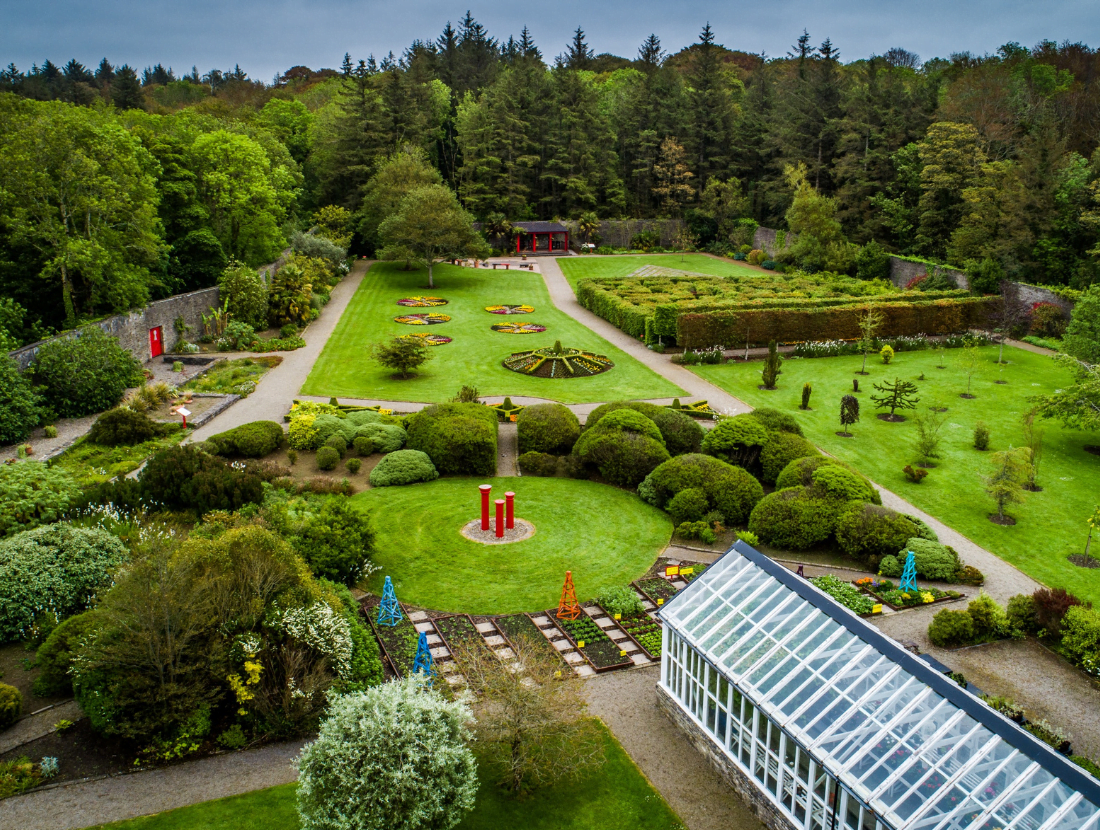 Walk, explore, and relax in one of Ireland's finest walled gardens. A special experience and a wonderful botanical tribute to nature.
Follow the winding road up through the beautiful avenue of trees arching over your head, a special hint at the magic to come. Take a moment to count the colours, feel the life, and treat the senses.
Then step inside and follow the story of one of Clare's most beautiful botanical tributes to Ireland's rich, natural history. This hidden gem is amongst 170 hectares of native woodland and nestled in the heart of Kilrush Wood. It is also only 2km from the centre of Kilrush.
The enchanted Vandeleur Walled Garden thrives behind mighty and beautiful old stone walls. It was once the private garden of Kilrush House – ancestral home to the landed gentry Vandeleur family in the early 19th-century. The horticultural medley of trees, flowers, and plants offer a fascinating glimpse into the past, combined with a beautiful, re-designed look for a new generation of garden lovers. The garden has been restored around the old path system with a horizontal maze, unusual water-features, giant garden chess and an accessible free-standing Victorian-style working glasshouse. The garden specialises in many unusual and tender plants that thrive in the area's uniquely western latitude microclimate.
Just across from the entrance to the Vandeleur Walled Garden is the Coillte Outdoors Forest Recreation Area – a beautiful, tranquil and inviting backdrop to this historical destination. It is enjoyed by locals and visitors alike as a place to walk, run or simply take in the great outdoors. Each Saturday, Parkrun holds a free 5km run – and all are welcome to challenge the clock or beat your best!
Turn a visit to the garden into a full celebration of the senses by dining at the Woodland Bistro. Greet the day with a scrumptious hearty breakfast, enjoy a light and flavourful lunch, or simply take time to indulge in an elegant afternoon tea. Have a sneak peek at the Gift Shop to find that perfect gift for whatever occasion. The shop offers handcrafted jewellery, spectacular local scenic prints, decorative garden accessories, and more.
There is also a beautiful range of shrubs, plants, bushes, trees, flowers and herbs for sale, many of which are grown in Vandeleur Walled Garden. Whether you're picking up your favourite plants, planting bulbs for spring, or bedding down the garden for winter, you'll find it at the garden centre.
Attraction Highlights
Walled garden.
Woodland trail.
Woodland Bistro.
Gift shop.
Garden centre.
Good to Know
Admission: Admission fees apply.
Open months: Open year-round.
Visit duration: 120 to 180 minutes.
Suitability for younger children: Ideally suited.
Cool for kids: Aged 2 to 12.
Rainy days: Mostly outdoor.
Picnic facilities: Located at a few locations around the woodland.
Dining/refreshments: Woodland Bistro. Menu available online.
Gift shop: Handcrafted jewellery, spectacular local scenic prints, decorative garden accessories and more.
Toilet facilities: On-site with baby changing facilities.
Accessibility: Partially wheelchair accessible with accessible toilets.
Assistance/guide dogs: Permitted.
Groups: Yes.
Parking: On-site free car parking and coach parking.
Details are subject to change. It is always advisable to check the opening dates, times, and other information on their website or directly with the attraction before visiting or booking.