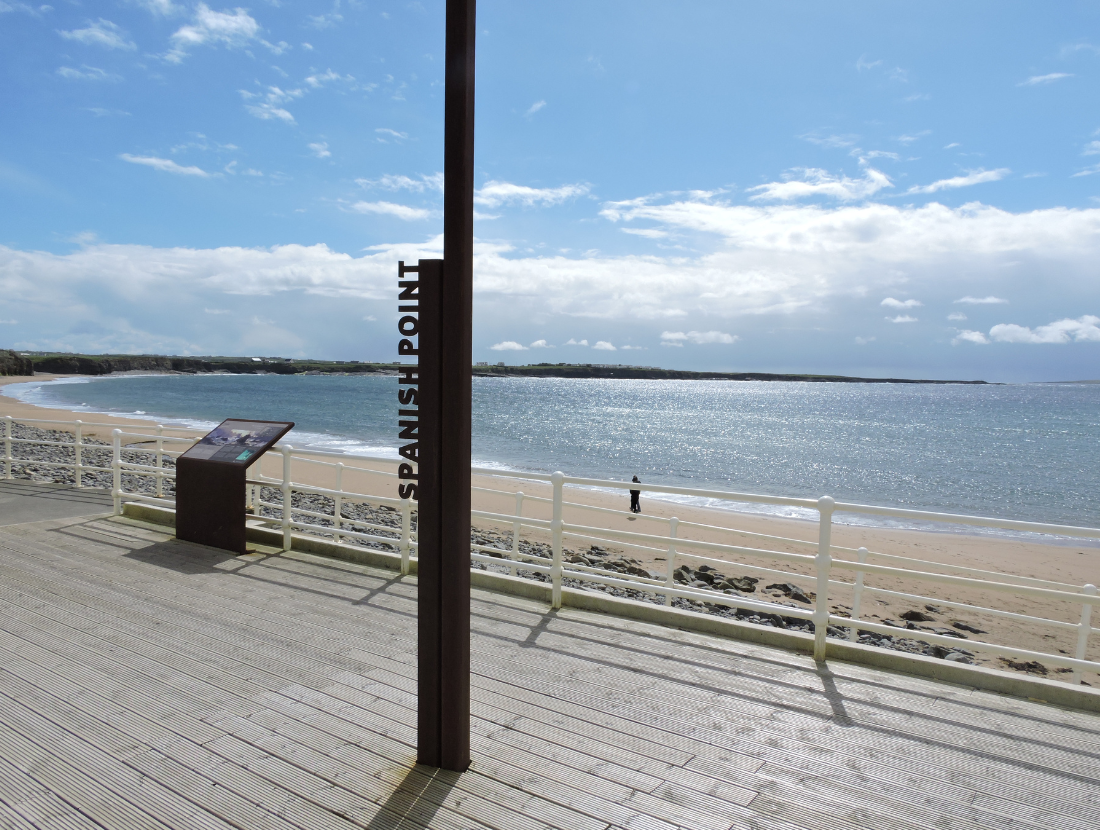 Nestled in the horseshoe-shaped Mal Bay, Spanish Point beach is a discovery point on the Wild Atlantic Way and is one of nine International Blue Flag beaches in County Clare.
The lengthy sandy beach is a popular bathing and surfing area throughout the year, while lifeguards are on duty during the summer months.
Spanish Point beach has plenty of amenities, including a surf school and surfboard rental, free parking, public toilets and shower facilities, an observation deck, picnic tables and a Wildlife Information Point.
Don't miss out on Snámhaí Sásta, a local initiative which brings people together every morning at 9.00am for a swim after which everyone gathers on the beach for a chat and a cup of tea. Visitors are welcome!
At the northern end of the strand is a long spine of rocks, known locally as the Black Rock, that stretches out into the churning waters of the Atlantic. Here, a series of rock pools provide a great hunting ground for children looking to discover small sea creatures. The Black Rock is also a popular spot for sea anglers.
The hotels and restaurants that overlook the beach and the expanse of the Atlantic Ocean are known for their menus being filled with freshly caught seafood and other local produce.
Rich History
Spanish Point is named because two ships of the Spanish Armada foundered offshore in 1588. One of the ships was wrecked on the reefs near Mutton Island. More than a thousand men were lost, and many of their bodies were carried by the tide to the beach at Spanish Point. Today, you can hire a currach in the fishing village of Quilty and visit the site of the wreck. A memorial marking the 1986 visit of the King and Queen of Spain and containing a written history of the sinking can be found at the northern entrance to the beach car park.
Spanish Point Beach is also the starting point of the Cleedagh trail. The 5km walk covers the area north of Spanish Point beach to Cleeda.
Good to Know
There is free parking, public toilets and shower facilities, an observation deck, and picnic tables.