Bike Hire in Clare
Cycling is an amazing way to see Clare. There are plenty of bike hire shops, and rental fees are reasonable. The rental price generally includes a lock, pump, puncture repair kit, carrier; and insurance cover. Some bike shops will let you rent your bike in one location and drop it off at another for a small fee.
You can also rent a battery-powered e-bike. This still allows you to pedal and push as much as you like, but with added assistance whenever needed.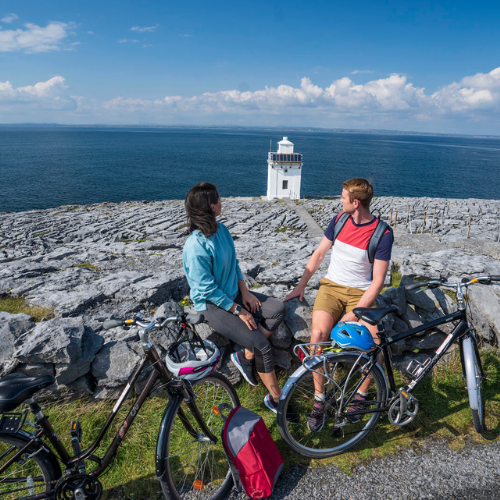 Gleesons of Kilrush
Tel: +353 (0)65 905 1127
Email: gleesonskilrush@gmail.com
Hiring a bike from Gleesons Cycles Bicycle Hire in Kilrush, County Clare will allow you to discover the rich and diverse coastal landscape of the West Clare Peninsula. Wide range of cycles and accessories.
Loophead Bike Hire (e-Bikes), Kilrush
Tel: +353 (0)65 906 2486
Email: info@loopheadbikehire.ie
Web: www.loopheadbikehire.ie
Loophead Bike Hire provides top-of-the-range Giant eBikes. Bookings can be collected in-store or available at our designated pick-up points.
Doolin Rent a Bike
Tel: +353 (0)87 656 9837
Email: doolinrentabike@gmail.com
Web: www.doolinrentabike.ie
Doolin Rent a Bike lets you hire bikes at hourly, daily or weekly rates. A wide range of bikes are available – as well as helmets, reflective jackets, locks and maps.
e-whizz Electric Bikes, Kilfenora
Tel: +353 (0)65 708 8846
Email: info@e-whizz.com
Web: www.e-whizz.com
E-whizz offers bike hire, electric bike hire and self-guided cycle tours and the sale of bike accessories.
Tierney Cycles, Ennis
Tel: +353 (0)65 682 9433
Email: Noel@ClareBikeHire.com
Web: www.ClareBikeHire.com
Tierneys have been renting bikes for over 30 years, to suit all levels and standards.
Planet Tri, Killaloe
Tel: +353 (0)61 622 062
Email: info@planettri.ie
Web: www.planettri.ie
They cater for the individual needs of swimmers, runners and cyclists – including bike hire.
Williams Rent A Bike, Kilkee
Tel: +353 (0)65 905 6041