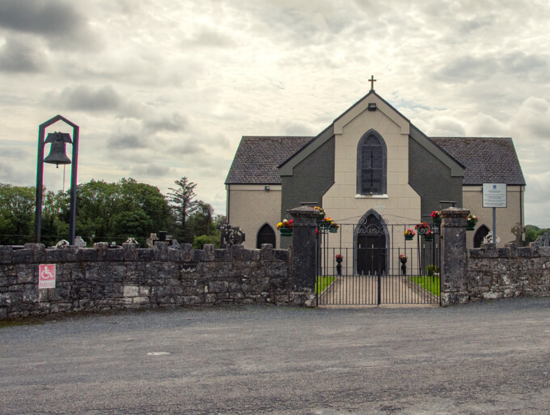 The small rural village of Ballyea is rich in history and hosts one of County Clare's best known hurling clubs.
Surrounded by rolling countryside and extensive woods, the village is located on the ancient Pilgrim's Road linking the local Killone Abbey and St John's Holy Well with Ballybeg Woods, Clare Abbey in Clarecastle and Ennis Abbey.
Founded in 1189 by the King of Thomond and Munster, Donal O'Brien, Killone is a fascinating National Monument situated in a secluded and picturesque valley on the shore of Killone Lake. To the northeast of the nunnery at the edge of the lake lies St John's (the Baptist) Well, which is a holy well and altar. The altar is topped with several 'cursing stones' used for keeping count of the pilgrims' rounds at the well.
Killone Lake is associated with the tale of a mermaid who used to swim up a small brook and steal wine from either the crypt beneath the church or the cellar of the nearby Newhall House. During one of her exploits she was attacked, but managed to drag herself back into the lake and every forty years or so the lake is supposed to turn red.
Next to Killone is Ballybeg Woods, a wonderful place for all the family to enjoy a leisurely stroll. The circular paths cut through the beech, ash and oak trees. The Rocky Road runs along the southern edges of the woods and is part of the ancient Pilgrim's Road. On the western edge of the woods is the Alice and Gwendoline Cave, which provided the oldest known evidence of human activity in Ireland when the patella of a bear was discovered there in 1903. The bone was dated to circa 10,500 BC, from the Palaeolithic era.
Newhall, one of the great old houses of Ireland, is said to have been originally built with stones from Killone Abbey before being extended by former MP for Clare Charles MacDonnell in the mid-18th century. Encircled by 360 acres of rich farmland and mature woods, the house was designed by Clare man Francis Bindon whose other notable works include Drewstown in Meath, Johns Square in Limerick, the Market House in Laois and Russborough House in Wicklow.
Ballyea is the home of hurling great and multiple All-Star winner Tony Kelly who still plies his trade with the local club. Ballyea GAA Club is a hive of activity, particularly during the summer months, and always affords a warm welcome to visitors looking to enjoy the spectacle of Ireland's most ancient game being played.