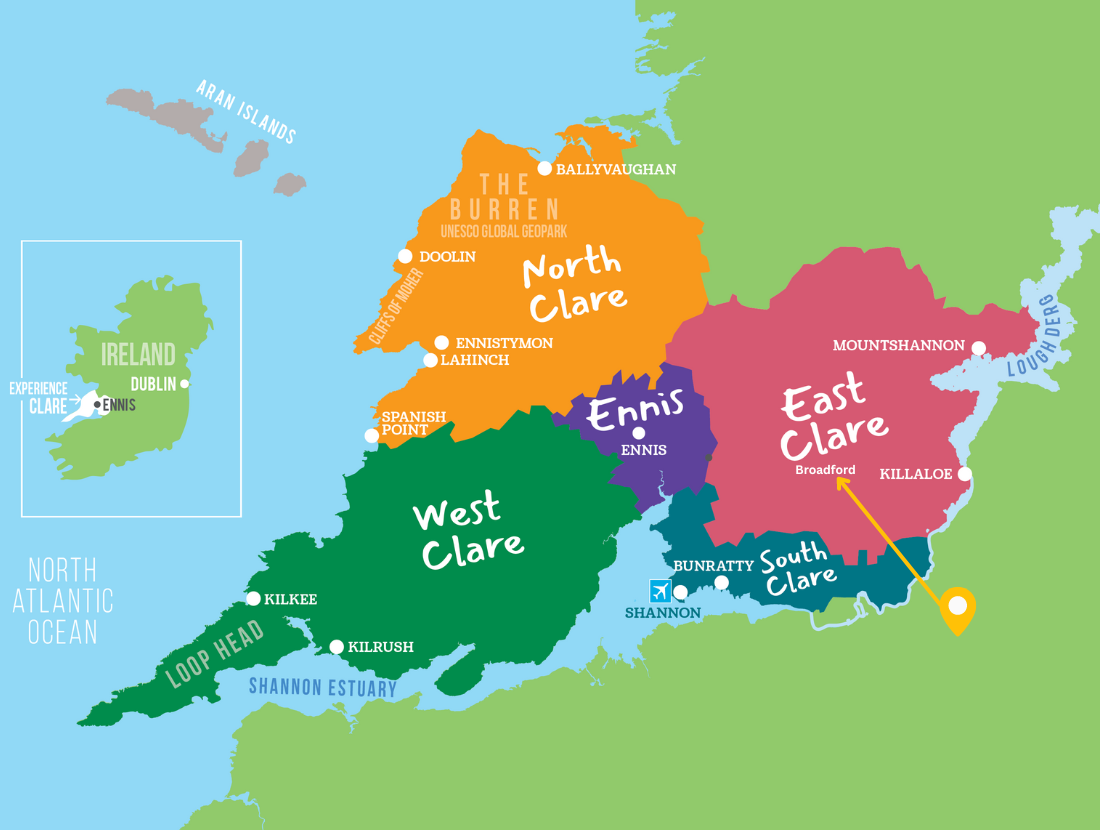 Nestled in the Glenomra Valley of the Slieve Bearnagh mountain range is the large East Clare village of Broadford.
Broadford is located on the East Clare Way, a circular route that takes hikers on a 180-kilometre journey through the Slieve Aughty and Slieve Bearnagh ranges, the rolling hills and valleys of East Clare, and along the banks of the River Shannon and Lough Derg. Taking eight days to complete, the loop connects with the Mid Clare Way.
Doon Lough, located just outside the village, features walking trails and a picnic site. The lake is surrounded by an extensive woodland dating back to pre-historic times and is considered one of Clare's earliest tourist attractions with records of visitors flocking to the area during the 19th century. The site once featured Doon Mulvihill, a tower house built on the site of an ancient fort. In 1986 three submerged canoes estimated to be 2,000-2,500 years old were found on the northern side of the lake.
Broadford offers visitors a range of range of services such as shops, public houses, a children's playground, and a national school. The local GAA Club is a hive of activity, particularly during the summer months, and always affords a warm welcome to visitors looking to enjoy the spectacle of Ireland's most ancient game being played.
Broadford is situated ten minutes from O'Briensbridge, which provides a host a watersports and other activities on the River Shannon. Other nearby settlements include Kilbane, Bodyke and Tulla.