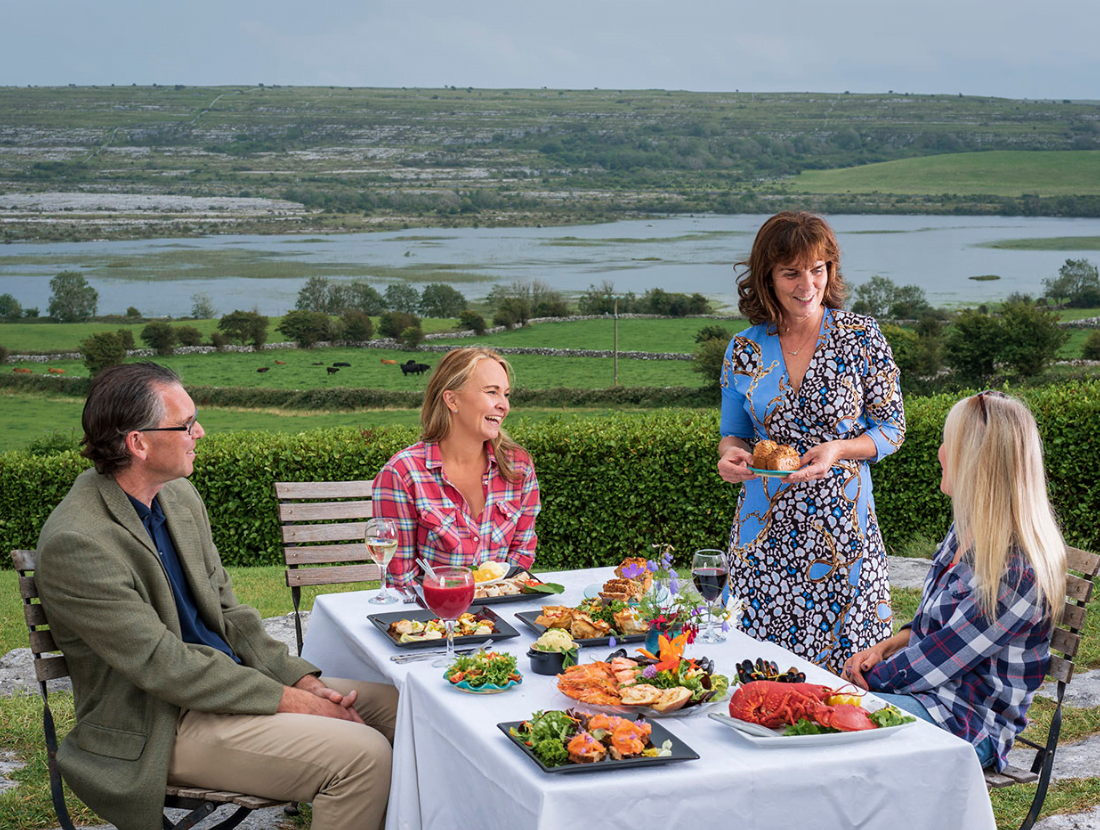 Offering spectacular views over the famous landscape of the Burren, the North Clare village of Carron (also Carran) is a walker's paradise, with three nationally recognised walking trails and a choice of accommodation including B&Bs and a hostel.
As the only village in the Burren uplands, Carron is located close to many of North Clare's most popular visitor attractions and some hidden gems.
The stone-grey hills and the valleys beneath reveal many heritage sites of interest including the ruined medieval oratory at Templecronan, Carran Medieval Church, St Fachtnan's Holy Well, Mullaghmore and the Carron Field Research Facility. The 'turlough' (disappearing lake) in the valley below the village is the second largest and most famous in the world because of its rich diversity of flora and fauna. Cahercommaun is one of the most spectacular ringfort sites in Ireland. The 9th century triple stone ringfort of perched on the edge of an inland cliff overlooking a wooded valley and the vast expanse of the Burren. The 5ft thick inner wall alone is made up of 16,500 tons of stone.
The village is the birthplace of Michael Cusack, founder of the Gaelic Athletic Association (GAA). His original homestead has been fully restored and features a contemporary visitor centre that is open to the public. Glanquin Farmhouse, known better as 'Father Ted's Parochial House' from the hit TV comedy series, also is located nearby.
Carron is a trailhead on the iconic 123km Burren Way which links the village with Corofin, Tubber, Ballyvaughan, Lisdoonvarna, Doolin and Lahinch through the Burren National Park and the Burren and Cliffs of Moher UNESCO Global Geopark. The 9km Carron Looped Walk offers the perfect opportunity to explore the Burren's unique geological, architectural and archaeological heritage. The 5km Carron Turlough Loop is an easy and family-friendly walk. Relax afterwards in Cassidy's family run restaurant serving the best of local food produce.
The Burren has a long and prestigious association with artisan food and craft producers. The Burren Perfumery draws inspiration from the flora and beauty of the Burren landscape to create its signature scents, artisan range of hand-crafted soaps, certified organic creams and candles using the very best natural and organic ingredients.