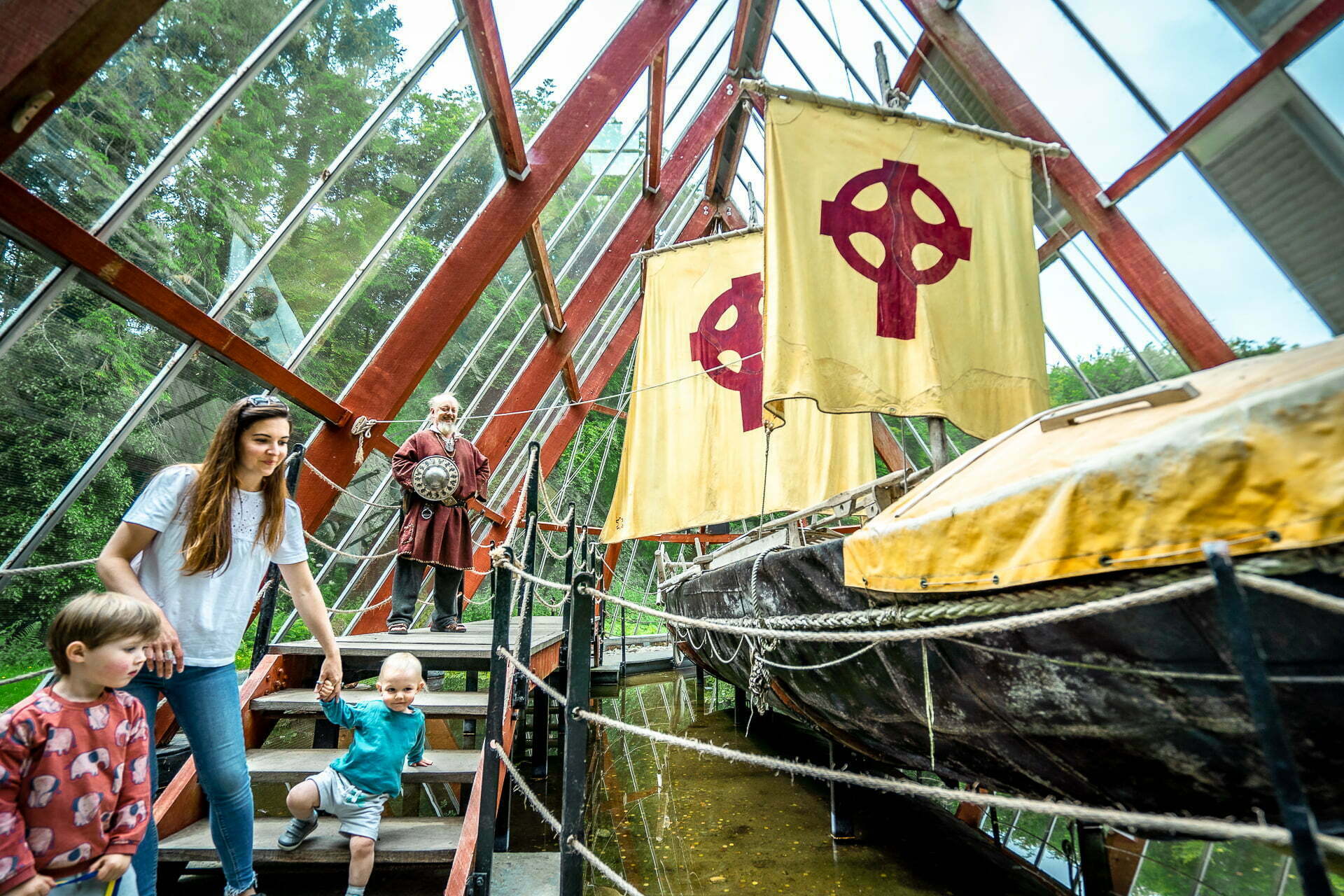 Surrounded by a network of lakes, walking trails and some of Clare's best-known heritage attractions is the small East Clare village of Kilmurry.
Located on the R462, a short distance between Sixmilebridge and Kilkishen, the centre of the village marks the meeting point of five roads. From here you can explore all of what the wider East Clare area has to offer in terms of activities, sightseeing and attractions.
Knappogue Castle is located just five kilometres west of Kilmurry.
Situated 5km north of the village on 50 acres of wooded grounds is Craggaunowen, an award-winning prehistoric park. The popular visitor attraction recreates homesteads, animals and artefacts which existed in Ireland during Ireland's pre-historic and early Christian eras. Visitors can see a replica of a Crannóg (lake dwelling), a ring fort, an Iron Age roadway, and an outdoor cooking site. Also on display is the 'Brendan Boat' built by Tim Severin who sailed from Ireland to Newfoundland, re-enacting the voyage of St. Brendan, reputed to have discovered America nine centuries before Christopher Columbus.
One of Clare's most popular sets of walking trails is located a few kilometres to the east of the village. The 12 O'Clock Hills offer three choices of trails, which are fully waymarked with red, blue and purple arrowheads to facilitate self-guiding. Hikers can make their way around lakes and bog lands, woodland and castles, such as the mid-15th century Ballycullen Castle. The trails offer stunning panoramic views of the Clare landscape, including West Clare, the Burren and the Shannon Estuary. The trail links up with the East Clare Way, a circular route that takes hikers on a 180-kilometre journey through the rolling hills and valleys of East Clare, and along the banks of the River Shannon and Lough Derg. Taking eight days to complete, the loop connects with the Mid Clare Way.
The nearby sister lakes of Rosroe and Fenloe or Fin Lough are popular with birdwatching enthusiasts. In summer the reedy fringes of the lakes reverberate to the sounds of singing Willow Warblers, Chiffchaffs, Blackcap, Cuckoo, Whitethroat and Reed Bunting, while Grey Heron, Woodcock Kestrel, Sparrowhawk and Long-eared Owl all breed along the lakeshore. Other bird species known to occasionally visit the lakes include Greylag Geese, Hen Harrier, Little Gull, Wheatear, and Common and Arctic Terns.
Nested in a wonderful natural parkland setting, the family-run Walton Lodge offers an 18-hole pitch & putt course and is open 7 days a week.
The village also is home to The Pumphouse Bar, an ideal pitstop for refreshments on your visit to this beautiful corner of East Clare.