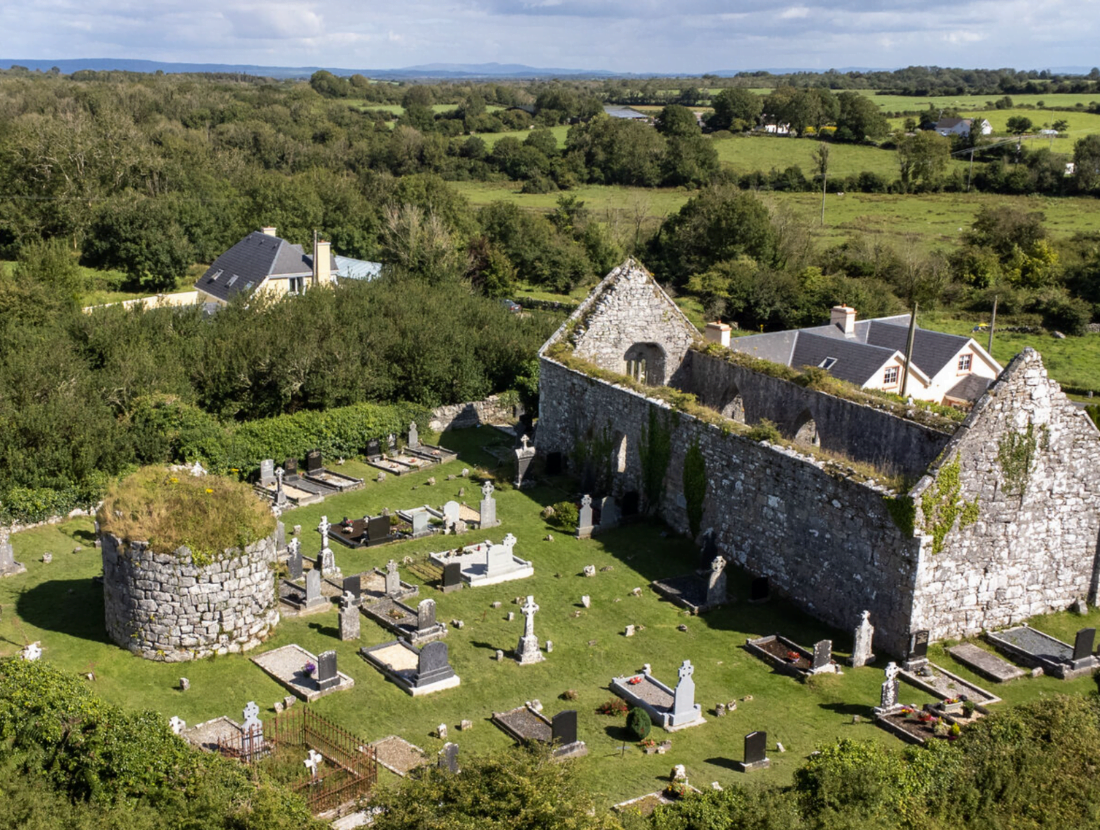 The small North Clare village of Kilnaboy is set in a landscape rich in heritage and natural beauty close to Mullaghmore Mountain and Leamaneh Castle.
Located on the southern edge of the Burren National Park and the Burren and Cliffs of Moher UNESCO Global Geopark, Kilnaboy is famous for its proximity to almost 300 national monuments. The village's medieval church of 11th-century origin features a Sheela na Gig (possible medieval fertility symbol) over its main door. The nearby Roughan Hill is home to Clare's greatest concentration of prehistoric wedge tombs including Parknabinnia.
Mullaghmore (meaning 'Great Summit') is one of the Burren's most photographed landmarks due to its curious shape, dramatic limestone layers and location at the heart of the Burren National Park and the Burren and Cliffs of Moher UNESCO Global Geopark. The trailhead for the Mullaghmore Loop Walk is in Kilnaboy with the 7.5km route taking in spectacular views of Mullaghmore and Lough Gealain, a picturesque lake nestled at the foot of the 590ft hill.
Cahercommaun is one of the most spectacular ringfort sites in Ireland. The 9th century triple stone ringfort of perched on the edge of an inland cliff overlooking a wooded valley and the vast expanse of the Burren. The 5ft thick inner wall alone is made up of 16,500 tons of stone.
Kilnaboy is a two-minute drive from Inchiquin lake, a popular location for outdoor enthusiasts with opportunities for fishing and kayaking. Sitting at the base of surrounding hills, the 260-acre lake also a perfect birdwatching spot as it is home to White Tailed Eagles, Kingfishers, Grey Herons, white and black swans, mallard ducks, and many more species.
Located just north of the village is Leamaneh Castle, featuring a 15th-century 5-storey tower house and a 17th-century mansion. The castle is located at an important local crossroads from where you can branch off to some of the Burren's other popular attractions including Aillwee Cave and Birds of Prey Centre, Poulnabrone Dolmen, Caherconnell Stone Fort, the Michael Cusack Centre, Kilfenora Cathedral and Corcomroe Abbey. Glanquin Farmhouse, known better as 'Father Ted's Parochial House' from the hit TV comedy series, also is located nearby.