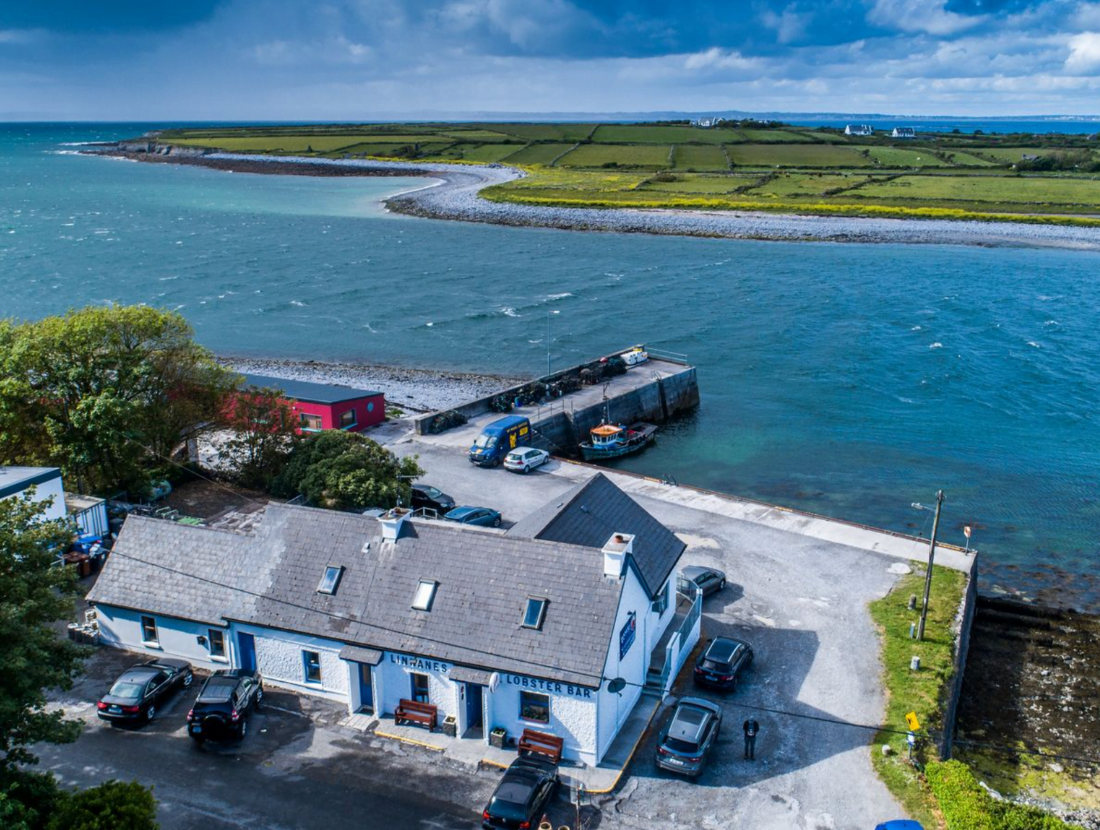 The small fishing village of New Quay overlooks neighbouring county Galway Bay and is situated at the northern tip of the Burren on the Wild Atlantic Way.
New Quay is located along the shallow and rocky stretch of beautiful scenic coast known as the Flaggy Shore, which was celebrated in a poem by Seamus Heaney and is also a popular walking and cycling trail. The village is just a few kilometres from the Green Coast beach of Bishops Quarter. A little further west along the coastline is the extensive sandy beach and dunes of Fanore beach, one of nine International Blue Flag beaches in Clare.
The 8km Flaggy Shore Heritage Trail provides a fascinating account of New Quay's rich history. The Finavarra Tower is a Martello tower on Finavarra Point. Built during the Napoleonic wars in 1812-16, the tower protected Ballyvaughan Bay and New Quay harbour from possible attack from France. Aughinish Island, directly across the channel from the quay is part of the parish of New Quay but to reach it one must travel into nearby Galway. The island was originally connected to Clare, but that connection was lost due to the tsunami effect of the massive Portuguese earthquake in 1755.
The Burren has established a proud reputation for its local food produce. Learn all about the art of chocolate making using authentic cacao products at Hazel Mountain Chocolate, a boutique chocolate factory, organic café and chocolate store. Linnane's Lobster Bar has been family run for generations and features lunch and dinner menus filled with local produce from the sea and the surrounding Burren. Café Linnalla Ice Cream is renowned for its farm-fresh ice cream and has been nominated by Fáilte Ireland as one of the 50 secrets of the Wild Atlantic Way.
Another popular stop-off point in New Quay is the Russell Gallery, offering fine arts and gifts as well as speciality goods in a gourmet shop. There is a cafe and wine bar at the gallery, which is open all year.
Overlooking Galway Bay and the cliffs of Aughinish Island, Mount Vernon was once owned by Lady Gregory and has hosted and inspired poets and luminaries such as W.B. Yeats and George Bernard Shaw. The 18th century Georgian villa is just one of a variety of accommodation options in Newquay that will encourage you to prolong your stay along the Flaggy Shore.
New Quay is close to some of the most popular attractions in the Burren National Park and the Burren and Cliffs of Moher UNESCO Global Geopark, including Ballyvaughan, the Michael Cusack Centre, Aillwee Cave and Birds of Prey Centre, Poulnabrone Dolmen and Corcomroe Abbey.