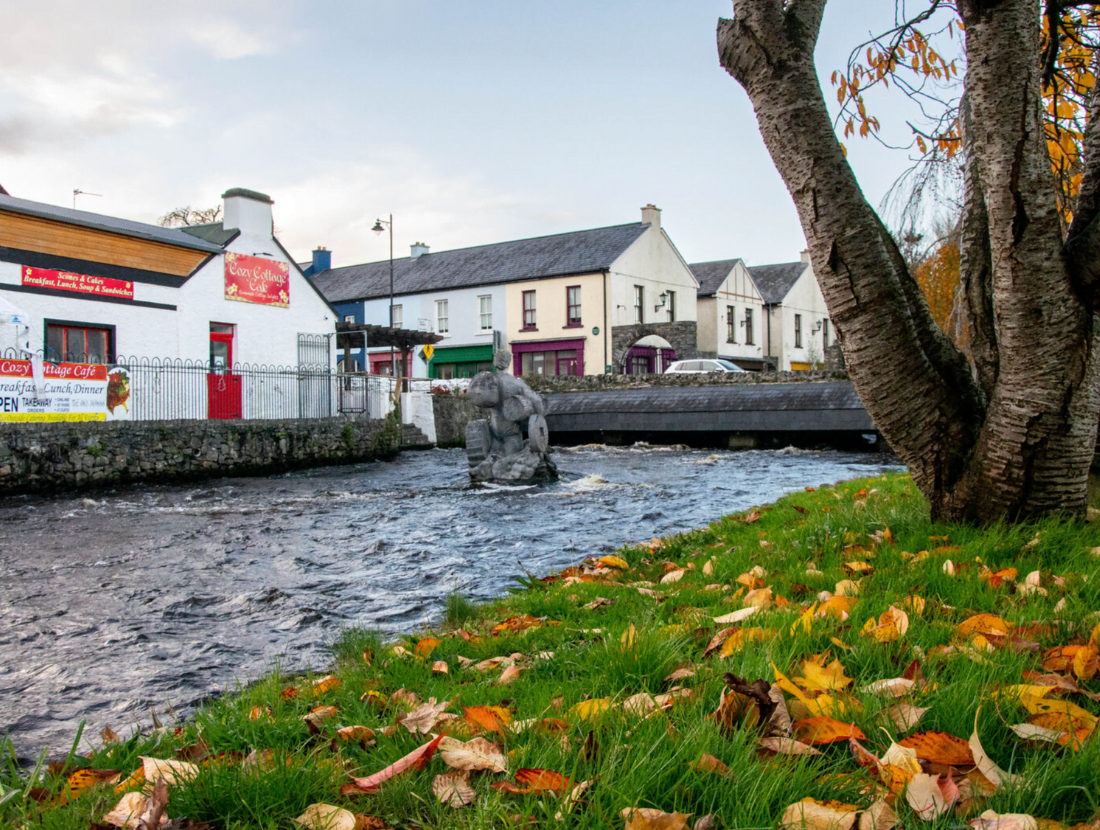 The attractive town of Sixmilebridge is known for its architectural heritage and proximity to some of Clare's best known visitor attractions.
Sixmilebridge takes its name from the early 17th century bridge over the O'Garney River (or Owengarney River), which for two centuries was the primary crossing point for those travelling between the county capital of Ennis and Limerick. 'Six mile' alludes to distance between the town and Limerick.
The town once was a strategically important river port with a brewery, market house and water-powered mills from where goods such as rape seed oil and soap were exported by boat. Today you will see remains of the quay walls, the soap factory and stone mill wheels. Many of the older buildings have been preserved, including the former Church of Ireland church which has been converted to an award-winning library. The Old House Bar, built around 1775, remains in operation today. A plaque on the wall is inscribed 'George's Street 1733.' Built in 1736, Mount Ievers Court is among the earliest and grandest of the Georgian period country houses in Ireland and is a draw for visitors to the town.
The town's wide streets, three large squares and green area were laid out in the 16th and 17th centuries by the O'Brien family. Today Sixmilebridge is a hive of commercial activity and is home to many pubs and restaurants. A novel feature in the town is the highly decorated but functional 'Duck Inn' on the O'Garney River. The floating raft on the O'Garney River houses a large population of ducks.
One of Clare's most popular sets of walking trails is located 7km to the northeast of Sixmilebridge. The 12 O'Clock Hills offer three choices of trails, which are fully waymarked with red, blue and purple arrowheads to facilitate self-guiding. Hikers can make their way around lakes and bog lands, woodland and castles such as the mid-15th century Ballycullen Castle. The trails offer stunning panoramic views of the Clare landscape.
Nested in a wonderful natural parkland setting just 5 km from Sixmilebridge is Walton Lodge, an 18-hole pitch & putt course, while the town itself is two of Clare's most successful hurling and soccer clubs.
Sixmilebridge has a railway station connecting the town with Limerick, Ennis and Galway, while it is a 15-minute drive from Shannon International Airport. It is situated close to Bunratty Castle and Folk Park, Cratloe Woods and Craggaunowen.
Experience the Flexibility of DigiClare Hubs: Empowering Remote Working in County Clare.
Sixmilebridge is home to one of the eleven DigiClare centres. DigiClare Hubs offer visitors the opportunity to work flexibly and remotely within vibrant communities across County Clare. With a range of amenities such as individual hot desks, high-speed broadband, co-working spaces, private work units, meeting rooms, and more, our hubs provide a fresh, dynamic, and secure environment to suit your diverse working needs. See www.visitclare.ie/digiclare