County Clare Visitor Survey Findings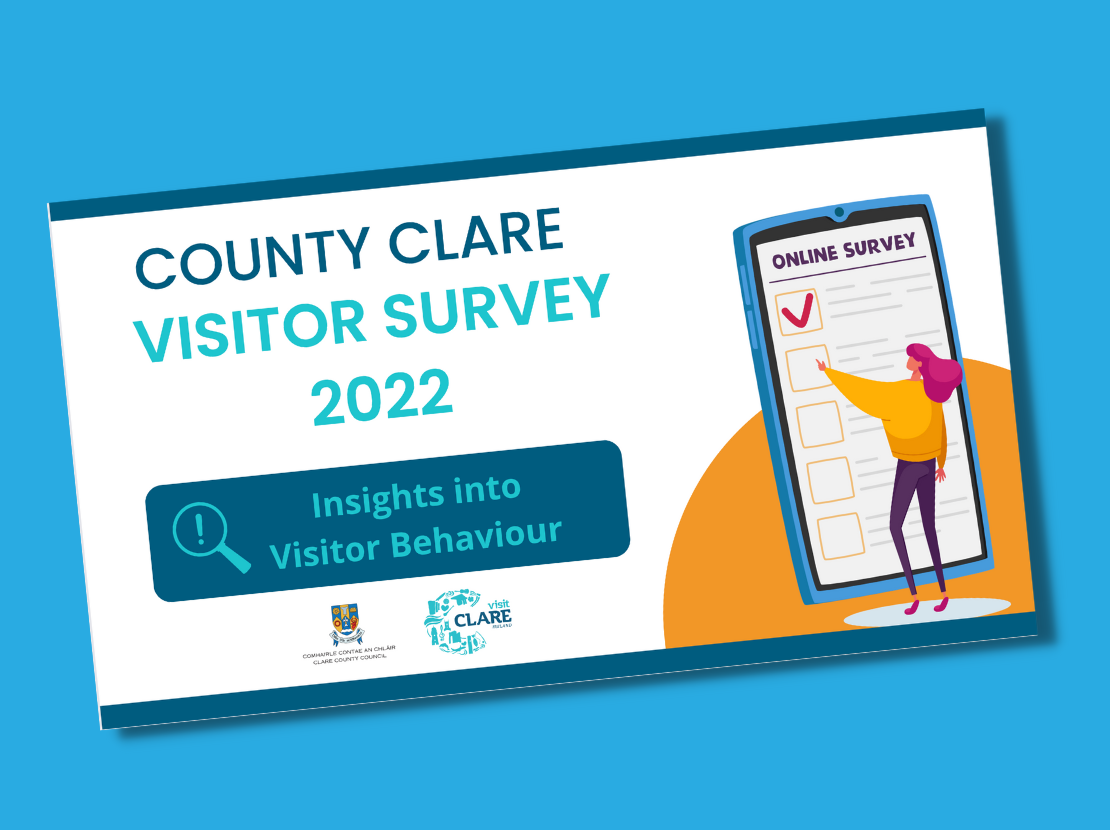 County Clare Visitor Survey Findings: Enhancing Visitor Experiences
The County Clare Visitor Survey conducted in 2022 provides valuable insights into visitor behaviour, preferences, and satisfaction levels. With an overwhelming majority expressing high satisfaction, Clare has the potential for growth through effective marketing strategies.
The survey reveals various factors that influence visitor experiences, including the friendliness of the people in Clare, the county's attractions, transportation options, and value for money. By capitalising on these findings, Clare can further enhance the visitor experience and continue to solidify itself as a premier tourist destination.
Key Findings:
#1: Exceptional Satisfaction and Growth Potential
An overwhelming majority of respondents (97%) expressed high satisfaction with County Clare. This presents opportunities for growth through effective marketing strategies.
Variances in satisfaction ratings highlight patterns such as higher satisfaction among car explorers, overseas visitors, non-group travellers, couples, and overnight guests.
Longer stays and convenient travel within Clare positively influences visitor satisfaction levels
The findings emphasise the need for strategic considerations to enhance the visitor experience.
#2: The People: One of Clare's Strengths
The friendliness of the people in Clare was the most frequently mentioned and standout factor appreciated by visitors.
Recognising the role of residents, initiatives like a "know your region" promotion and sharing Clare with the world through online resources can further engage residents in promoting the county.
Consideration of a "Tourism Golden Thought Award" can acknowledge exceptional gestures towards visitors and inspire others to follow suit.
#3: Promoting Clare's Highlights, Beaches and Lakes
The top reasons for visiting Clare include its scenery and landscapes, the Cliffs of Moher, the beaches and lakes, the Burren, and the history and heritage of the region.
Promotional efforts should highlight Clare's stunning scenery, renowned landmarks, rich historical and cultural heritage, and emphasise the significance of its beaches and water-related features.
Encouraging dispersal beyond the main attractions will create a more comprehensive and rewarding visitor experience, showcasing Clare's diverse offerings.
#4: Maximising Entry Points and Visitor Experiences
72% of visitors to Clare accessed via East Coast ports
Shannon Airport arrivals reported a more favourable Clare experience compared to Dublin Airport arrivals, with longer stays among Shannon Airport visitors.
Clare should actively pursue business through all gateways, with special emphasis on prioritising Shannon Airport to attract diverse travellers and ensure a positive experience.
#5: Trip Planning and Attracting Visitors
Overseas visitors plan their trips further in advance compared to domestic visitors.
Offering incentives for last-minute bookings can attract Ireland-based visitors and encourage spontaneous trips.
#6: Delivering exceptional experiences
Previous visits and recommendations greatly influence overseas visitors, emphasising the need to deliver exceptional experiences and enhance the county's online presence.
Familiarity with Clare and recommendations from others are significant factors for domestic visitors, underlining the importance of helping to deliver exceptional visitor experiences and promoting favourable accommodation deals.
#7: Multi-layered Marketing Approach and Local Interaction
Smartphones serve as a primary means of obtaining information for visitors during their trip. However, this can overstate the value of digital. It is often other sources such as visitor guides, brochures, maps, signage and recommendations from locals that prompt smartphone usage while they are in the County.
Printed materials, signage, and interactions with locals play a significant role in shaping visitor experiences and should be incorporated into a comprehensive information ecosystem to encourage visitor exploration during trips.
#8 Improving Transportation Options
Car travel is the dominant mode of transportation by visitors to Clare, highlighting the need to address mobility and transport-related concerns. These visitors also rate Clare much higher than visitors arriving by bus because they can have a more immersive visitor experience.
Enhancing public transportation services, exploring shuttle options, and establishing partnerships with private transportation providers can provide convenient and reliable transportation solutions that connect attractions and destinations, promoting easier exploration of Clare and catering to a wider range of visitor preferences.
#9: Collaborating for Value-driven Experiences
Value for money is a concern for visitors, particularly families.
Collaboration among tourism stakeholders can lead to the development of attractive accommodation packages and offers that emphasise affordability and benefits.
Showcasing family-friendly value options in Clare, such as affordable attractions, activities, dining options, and amenities, will help address concerns and enhance visitor satisfaction.
#10: Harnessing the Power of Testimonials and Reviews
Given that visitors rate Clare very highly, testimonials and reviews from satisfied visitors can be a powerful marketing tool for Clare.
Actively collecting and showcasing visitor feedback through various platforms can create a strong impact and build trust among potential visitors.
Encouraging visitors to share their views directly on their own networks further amplifies the reach and impact of Clare's tourism promotion.
By implementing strategic considerations based on these survey findings, Clare can enhance the overall visitor experience, capitalise on its strengths, address areas of improvement, and continue to have a positive reputation as a premier destination. The full report, available for download, provides detailed insights and recommendations to further guide Clare's tourism initiatives.