Free resources to help you 'Share Clare' with the world!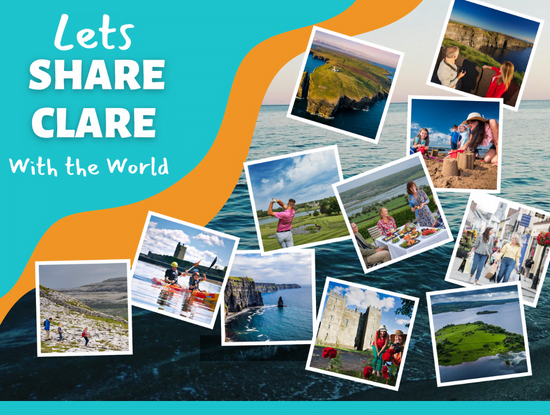 Use these FREE resources to 'Share Clare'
Clare County Council's Tourism team is encouraging everyone in the county, particularly those who benefit from tourism, to remind people around the globe that Clare is amazing.
To help you "Share Clare," we have a range of resources you can download and use for free, including:
A library of Clare photos: You can select and use images from our photo bank for free. There are over 1,000 free images in the photo bank, and we will be adding to these over time. You can use them on your website, social media, or print publications to encourage people to visit Clare.
Zoom virtual backgrounds of Clare: Use these backgrounds, sized for Zoom, on your personal or business Zoom video calls. These are mostly spectacular aerial images from our commissioned drone photo shoots. It's a great way to share Clare with YOUR world.
Facebook, Twitter, and Instagram posts: Use these Clare posts, sized to suit each of these social media platforms. They all feature wonderful images of County Clare.
Logging in to the County Clare Tourism Resource Bank
Please do the following:
Go to this precise address: https://visitclare.filecamp.com/
The Username is: Share
The Password is: Clare
Note: the Username and Password are case sensitive – so use capital 'S' for Share and capital 'C' for Clare.
READ THE USER'S GUIDE TO THE BANK
We advise you to read the user's guide to our resource bank. You can download it from the Resource Bank, or you can read it online on a Flipbook Here. You can also download it as a pdf (1.3mb) or share it via the Flipbook.