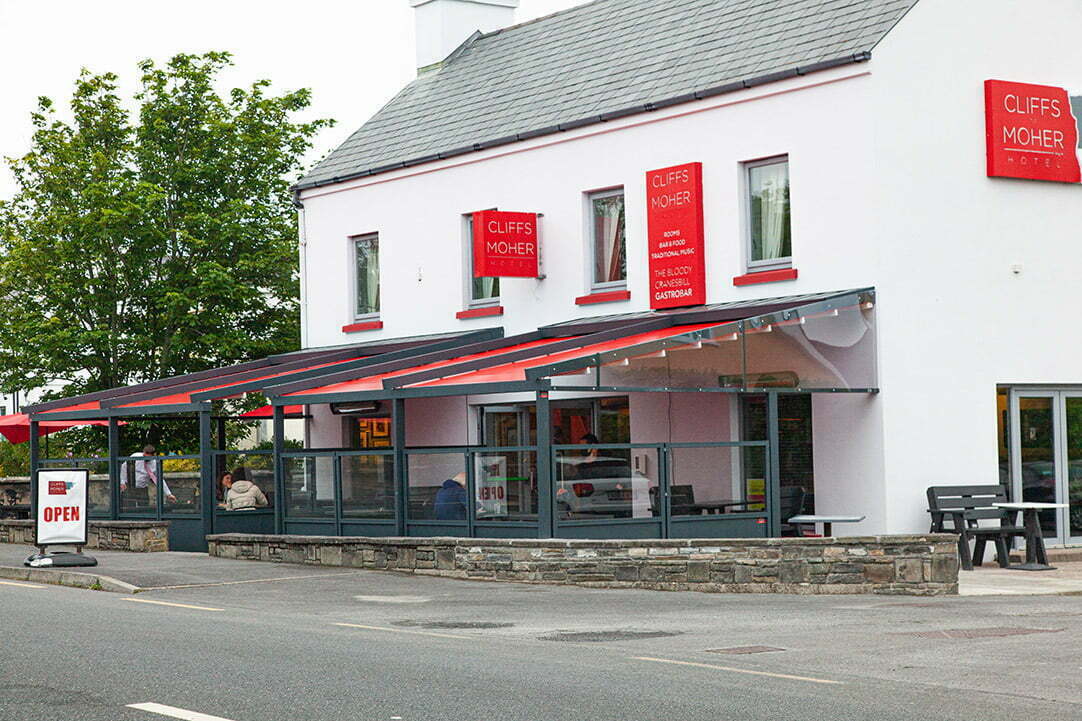 The Cliffs of Moher Hotel is a small contemporary boutique hotel situated in the fishing village Liscannor, Co. Clare, just a few kilometres from the world famous Cliffs of Moher on one side and the surfing and golfing seaside town of Lahinch on the other.
They have some of the best traditional and other genre musicians in the country playing regularly in the hotel during the summer months.
They have one of the finest hotel collections of Irish & International art, showcasing an extensive collection of 20th century Irish and contemporary Irish and international art.
Each bedroom contains unique artwork, mostly contemporary landscapes of the Burren and surrounding areas, as well as a selection of carefully curated books of Irish and other interest.
In the Bloody Cranesbill Bar, their emphasis is on portraits of Irish writers, dramatists and artists of the 20th Century. In the lobby they have contemporary landscapes of the Cliffs of Moher by artists such as Henry Morgan, Cecil Maguire and many others. In the KillStephen Restaurant they showcase large scale canvases by contemporary Irish artists such as Arthur Maderson, Colin Davidson, Catherine Creaney, and others.
The food served showcases some top quality local produce including Burren lamb and meats; local seafood for their fabulous Chowders and Fish 'n Chips, and top quality smoked salmons from their neighbours in the now world-famous Burren Smokehouse.
The restaurant and bar facilities are open to non-residents.
The Hotel offers free car parking for guests. In addition, free WiFi is available throughout the hotel.