Enjoy Sea fishing from Kilbaha pier with Fishing Adventures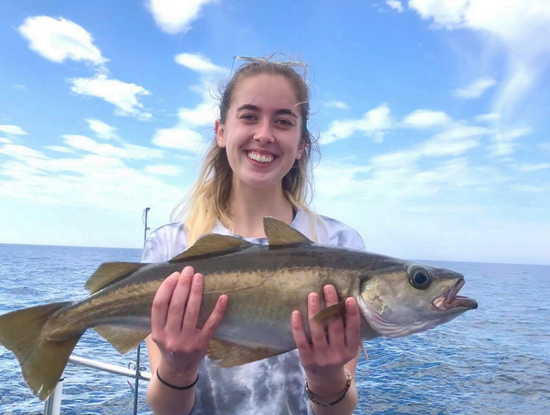 Enjoy sea fishing where the Shannon Estuary meets the mighty Atlantic Ocean. The beauty of it is that you don't have to spend hours on the boat travelling to and from the fishing grounds – they are right on the doorstep.
The Atlantic Ocean on the west coast of Clare is renowned for its abundance of fish species. Mackerel, cod, ling, pollock, whiting, haddock, wrasse, and flatfish are some of the more plentiful species. There are also shark species like sixgill, blue, porbeagle, tope, skate, spurdog, dogfish, bull huss, and ray. Fishing Adventures is involved with the Marine Sportfish Tagging Programme, so all of the sharks are documented, tagged, and released unharmed. Upon leaving the pier at Kilbaha, it takes 15 to 20 minutes to reach Loop Head Lighthouse, the furthermost tip of County Clare, and the Loop Head Peninsula, where Star Wars was filmed. The scenery from the boat is breathtaking and sea life is abundant. Sea birds, dolphins, seals, basking sharks, and whales can all be spotted. They will usually fish for mackerel here while taking in the views before moving off to find different fish species, depending on what species you prefer.
If it so happens that the weather is not suitable for fishing in the Atlantic Ocean, there is the option of heading back up the Shannon Estuary to fish with the boat at anchor. It can be a very leisurely and enjoyable experience to fish for tope, conger, bull huss, ray, and more, using mackerel squid or other bait. Some people prefer this more relaxed type of fishing, so whatever you fancy, they will cater for your needs.
Fishing Adventures also caters for families, stag and hen parties, school trips, or any other groups that might like to take a day out of their busy schedule and get away from it all to do a spot of fishing or sightseeing.
Good to Know
Participation fees: Fees apply.
Operating months: Operates April to November.
Suitability for younger children: Ideally suited.
Cool for kids: Aged 6 to 17.
Rainy days: All outdoor.
Dining/refreshments: Kilbaha has two pub/restaurants where they will be happy to cook some of your catch and where you can enjoy a beautiful meal.
Gift shop: Kilbaha Gallery is nearby, offering gifts and refreshments.
Nearby attractions: Loop Head Lighthouse is a famous tourist attraction nearby.
Parking: Free car and coach parking close to Kilbaha pier.
Details are subject to change. It is always advisable to check the opening dates, times, prices, and other information on their website or directly with the activity before visiting or booking.