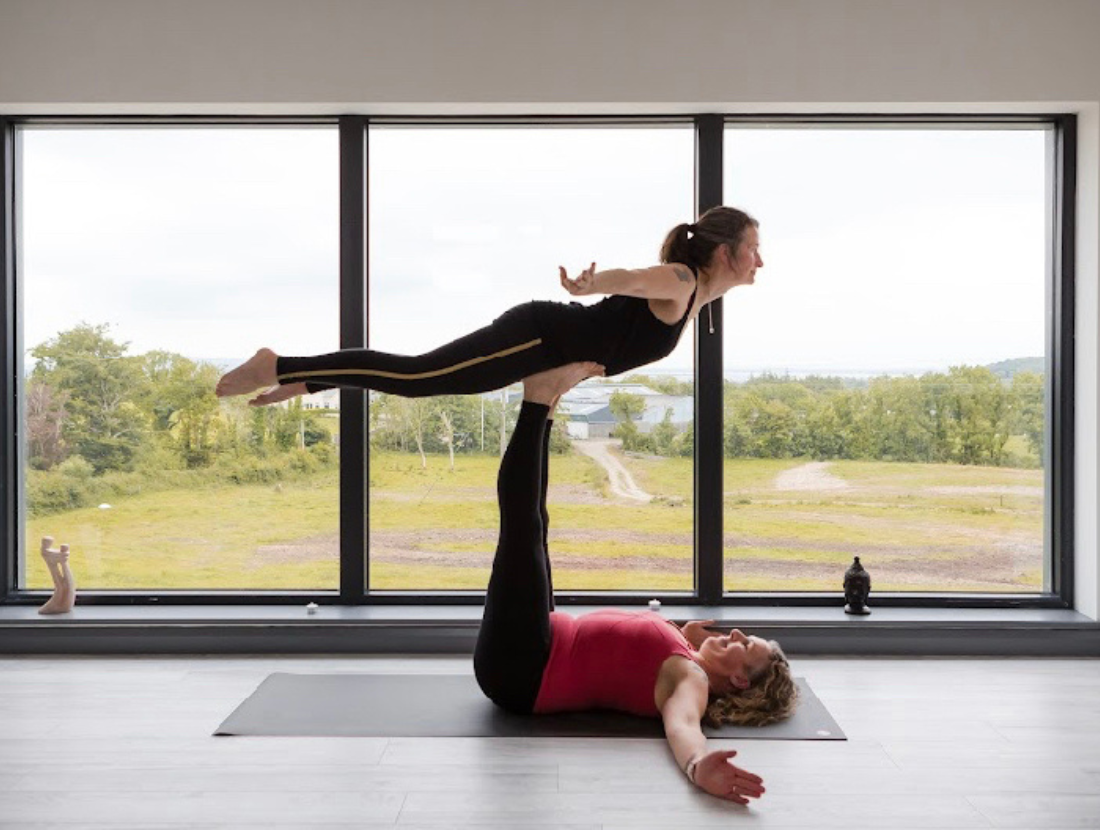 Relax, unwind, escape from it all and have fun at West Clare's unique Health and Wellness Centre, elevated looking out over the serene Shannon Estuary Waters.
Connect to Nature | Therapeutic Yoga Meditation | Expert-led Instructors | Exclusive Small Groups.
Situated in the quaint, picturesque village of Ballynacally in County Clare's West Coast along the Shannon estuary way drive. The incredible beauty of the surrounding natural environment inspires a sense of tranquillity and serenity.
After years of taking people on wellness retreats in Ireland and beyond, there was a calling to bring people to a sacred land in the Irish Countryside with ancient historical sites and heritage, a place to heal and return home to oneself.
A warm welcome awaits from Rosie and Micheál, a husband and wife team who aim to give their retreaters a unique retreat experience that will leave them floating home feeling ultimately relaxed.
The Shannon estuary way retreat is a passionate eco wellbeing centre with indoor and outdoor wellness areas that offer exclusive wellbeing day retreats that evoke a sense of peace and soul nourishment informed by the surrounding trees, islands, water, and mountains.
Key Highlights:
The Shannon Estuary Way, where the Shannon expands into the estuary and meets the Wild Atlantic Ocean.
A new health and wellness centre.
A warm welcome from Rosie and Micheál – expert-led instructors.
An outdoor wellness area, eco cedar wood barrel sauna, eco hot tub, ice bath, and lounge area.
Nature walks, reflective walks, absorbing the beauty of the lush land, water, and magical islands.
Food – an organic meal using locally in-season sourced produce and refreshments on arrival.
A purpose-built retreat centre, panoramic large glass window east facing, and underfloor heating.
Ideal location: the airport is 30 minutes away, Ennis bus/train station is 20 minutes away, and Shannon ferries are 30 minutes away.
Good to Know
Participation fees: Fees apply.
Operates: Retreats are twice a month – Friday is a quarter day, Saturday is a full day, and Sunday is a half day. In between those weekends, there are specialised workshops, mini retreat events, seminars, private day retreats.
Rainy days: Mostly indoor.
Dining/refreshments: Dining area.
Shop: Products such as massage oil, candles, merchandise, and an art wall display.
Toilet facilities: On-site, with shower and changing facilities
Other amenities: Yoga studio, massage space
Accessibility: Wheelchair accessible, with accessible parking
Parking: Free car and coach parking on-site, wheelchair accessible parking and active aging friendly.
Details are subject to change. It is always advisable to check the opening dates, times, prices, and other information on their website or directly with the activity before visiting or booking.