Travel the route of herdsmen with Burren Mountain Tours
Natural Attractions
Visitor Farms / Wildlife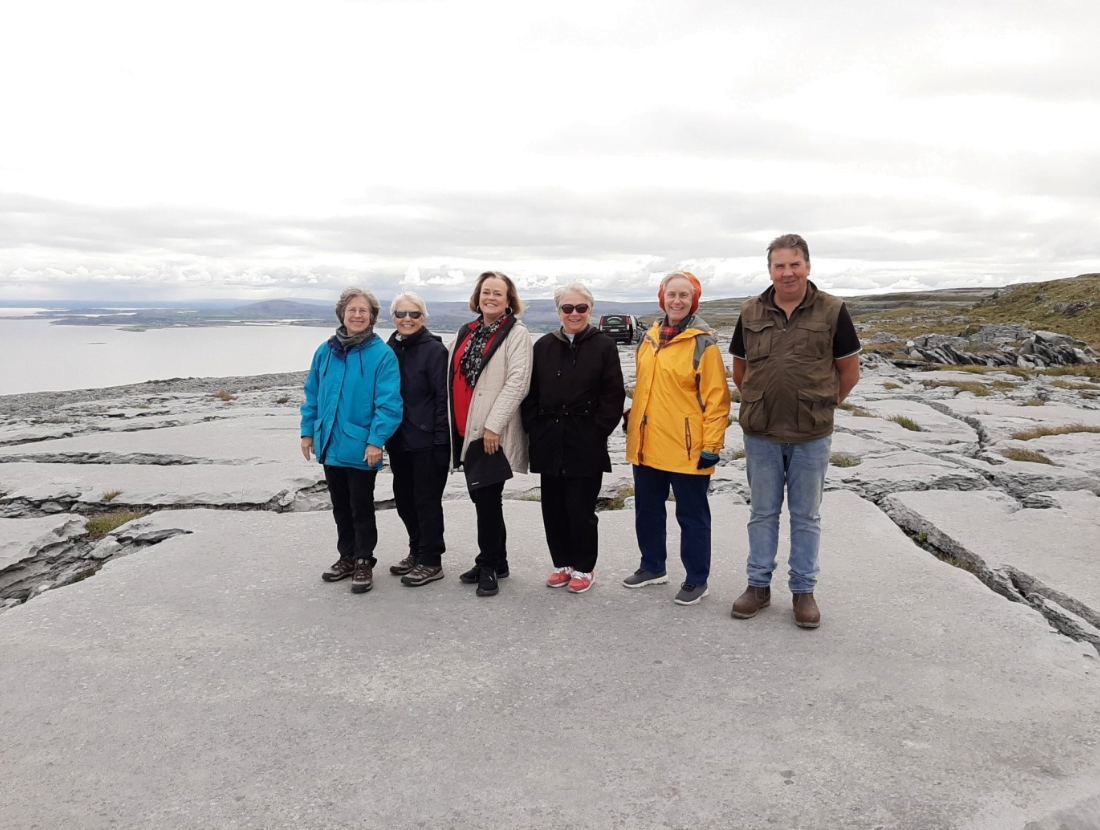 A unique experience where you learn about life in the Burren and see the magnificent views overlooking Galway Bay and the Aran Islands.
A unique and authentic driving and/or walking experience over a private mountain farm where you learn about life and farming in the Burren from a local family. Travelling the route taken by the herdsmen of long ago to bring their cattle to the mountain for the winter, you will see relics of life 5,000 years ago and encounter parts of the Burren highlands previously only seen by locals. Experience the tranquillity of the vast expanse of magnificent limestone paving far from the crowded tourist spots below. The views of Galway Bay, the Aran Islands and Connemara from the mountain top are breathtaking, as are the exotic mix of flowers that thrive here from different parts of the world. There is also an opportunity to meet and greet one of the largest herds of alpacas in Ireland.
Driving Experience: Travel in a 4WD vehicle to the top of Murrough Mountain in the Burren overlooking Galway Bay, stopping as many times as desired along the nearly 10 km mountain track.
Combined Driving and Walking Experience: Travel in 4WD vehicle to the top of Murrough Mountain and walk for over 6 km around the top of the mountain on a relatively flat surface.
Either option will allow you the time to examine the relics of life 5,000 years ago, the exotic mix of flowers lurking in the limestone paving, the erratic bounders from the ice age, and the myriad of springs fed from the underground rivers and lakes. You can also take in the magnificent views across Galway bay.
Attraction Highlights
• Experience takes place entirely on private land and led by John or Anne of the farming family.
• The only mountain in the Burren with a track for a driving experience.
• Authentic experience of life in the Burren.
• Magnificent views from the mountain top.
• Ideal for those who may not have time or physical ability to climb a limestone mountain.
Good to Know
Admission: Admission fees apply.
Open months: Open April to October.
Visit duration: 90 to 120 minutes.
Suitability for younger children: Moderately suited.
Cool for kids Aged 13 to 17.
Rainy days: All outdoor.
Picnic facilities: Picnics on the mountain top can be arranged in advance.
Accessibility: Partially accessible.
Assistance/guide dogs: Permitted.
Groups: 8
Parking: Car parking and coach parking on-site.
Details are subject to change. It is always advisable to check the opening dates, times, prices, and other information on their website or directly with the attraction before visiting or booking.