Visit a real working chocolate factory at Wilde Irish Chocolates
Food/Drink Experiences
Cool For Kids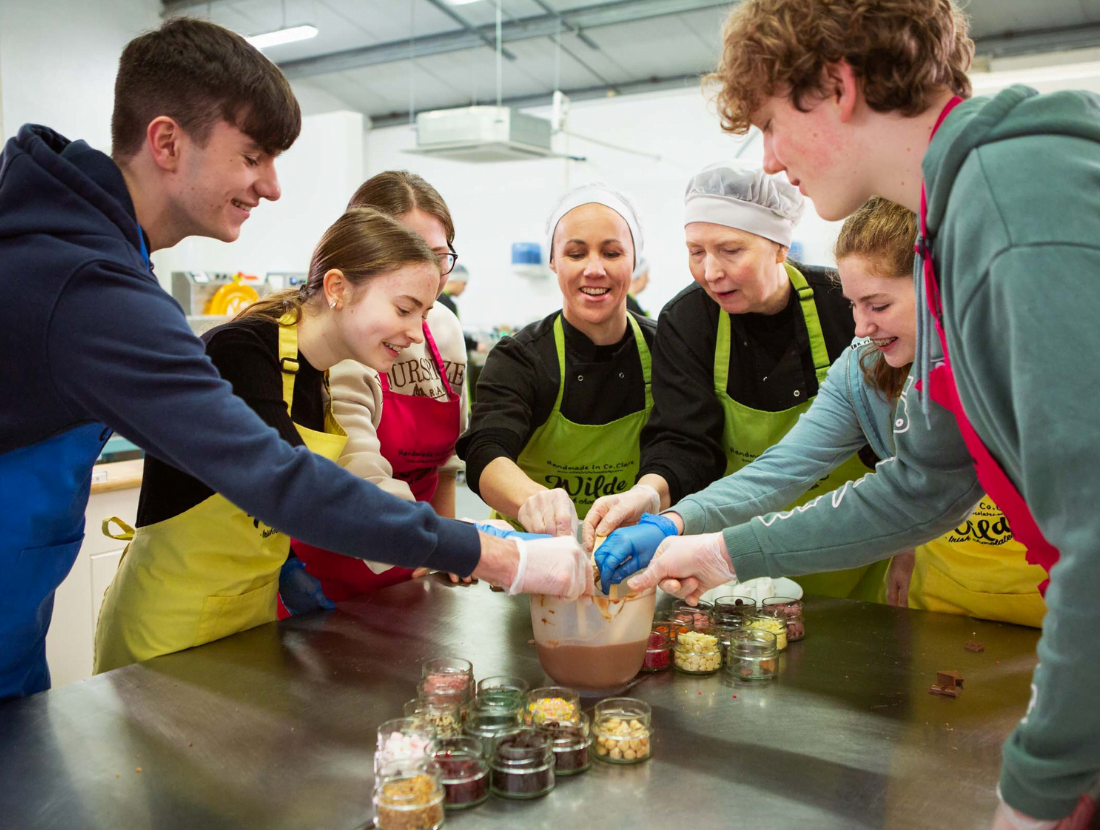 The Taste & Make chocolate experience allows visitors to see the fascinating process behind making chocolate in a working chocolate factory.
At Wilde Irish Chocolates, you can book a Taste & Make experience which will give you a nostril-tantalising and lip-smacking insight into how chocolate is made at the factory. You also get your own bespoke handmade chocolate bars to take home with you, and do an immersive chocolate tasting that focuses on eight different grades of chocolate used in production. With luck, you may even get to sample a new development product!
Through this grounded and engaging experience where all things chocolate are revered, feel free to ask questions, make suggestions, and share your chocolate dreams.
Based in scenic rural Ireland, the chocolate factory is on the banks of beautiful Lough Derg in Tuamgraney. A visit to the Chocolate Factory is a true multi-sensory delight. Smell the sweet aroma of melting chocolate as you walk in the door, watch all the action and listen to the sounds of a dynamic chocolate production setting. The factory is open to the public and is free to visit, so make sure to take some time to come along and see what's happening at the chocolate factory. You'll see the passionate chocolatiers in action and engage with the fascinating daily workings of an Irish chocolate factory.
Take a break in the Hot Chocolate Cafe with eight varieties of hot chocolate, coffee, tea, and handmade yummy choccie treats from the factory. Make sure to leave some time to browse the chocolate shop – chock full of handmade chocolate goodies.
Attraction Highlights
Chocolate factory with guided visit and tasting experience.
Learn about the craft of chocolate making and the origins of chocolate.
Watch as chocolates are made by hand.
Taste and make experience – make your own chocolate bars to take home.
Hot Chocolate Café.
On-site chocolate shop.
Good to Know
Admission: Free to visit, with pay attractions inside.
Open months: Open year-round.
Visit duration: 30 to 60 minutes.
Suitability for younger children: Ideally suited.
Cool for kids: Aged 6-17.
Rainy days: All indoor.
Dining/refreshments: Hot Chocolate Café and Coffee Dock – serving eight varieties of hot chocolate, coffee, tea, and chocolate treats made on-site.
Gift shop: Chocolate shop selling chocolates made in the factory.
Toilet facilities: On-site.
Accessibility: Fully wheelchair accessible with accessible toilets.
Assistance/guide dogs: Permitted.
Groups: Groups of up to 20. Group rates apply for groups in excess of 8.
Parking: Free car and coach parking on-site.
Details are subject to change. It is always advisable to check the opening dates, times, prices, and other information on their website or directly with the attraction before visiting or booking.