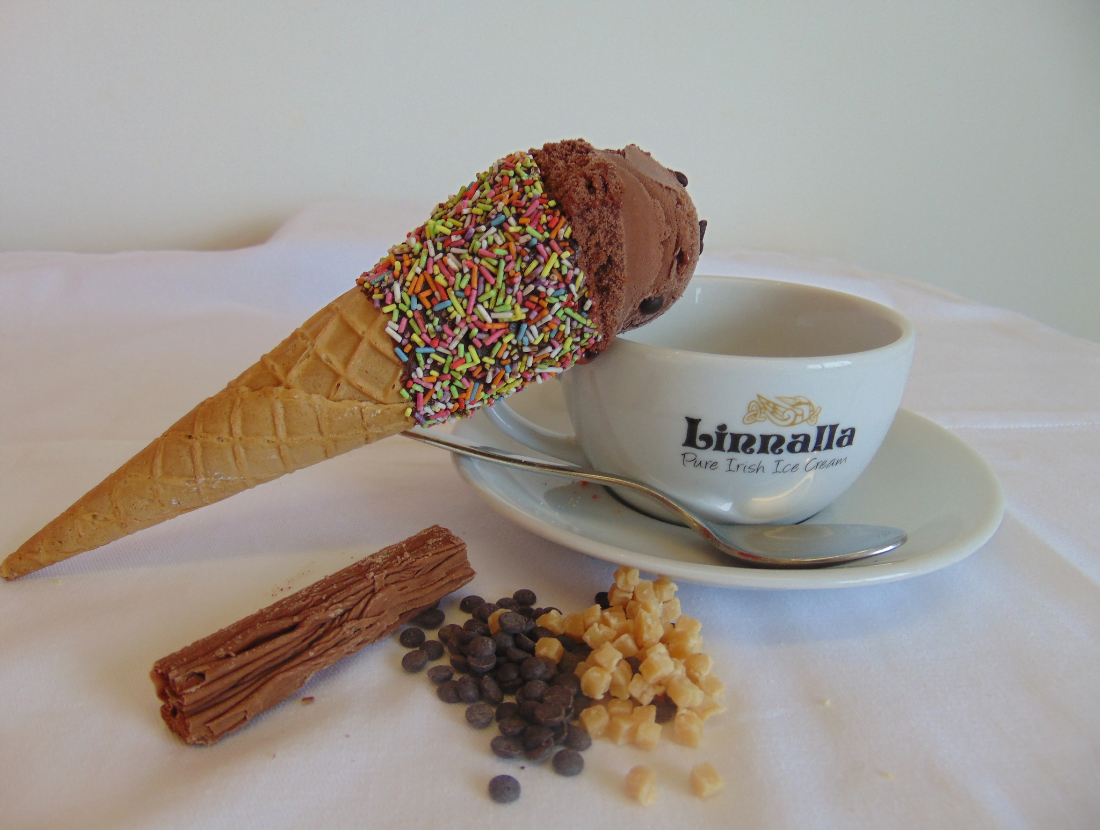 Located on the Flaggy shore, Café Linnalla serves ice cream made fresh on the farm in many flavours, and is an ideal stop-off point on the Wild Atlantic Way.
Café Linnalla is an ice cream parlour serving farm-fresh ice cream made on the farm of Brid and Roger Fahy. They make their ice cream from the milk of the Shorthorn cow, which is the native cow of the Burren region. Brid takes the fresh milk and cream from the farm and, using other basic ingredients such as sugar, makes the ice cream in a specially built production unit next to the café. The ice cream is free from any artificial additives, colourings or flavours.
Brid likes using as many local ingredients as possible to create flavours that follow the seasons – they offer rhubarb and custard ice cream in the spring, strawberry and raspberry in the summer, and blackberry, sloes and hazelnuts in the autumn. A wide selection of firm favourites such as vanilla, mint, chocolate and pistachio nut are also on display. The café displays nine flavours at a time and also a dairy-free sorbet. You can enjoy an ice cream cone, tub, or a sumptuous sundae.
The café also serves teas, coffee, cakes, and muffins. Enjoy your treat while admiring breath-taking views of Galway and Ballyvaughan bays. The Burren hills are the perfect backdrop to sit and have a coffee.The café has a pathway leading to the Flaggy shore with informational signs of the area along the way. You can enjoy panoramic views of The Burren and Galway city from the path and see the cows from the farm grazing in the fields around the café. The Flaggy shore has many literary associations from WB Yates to Heaney and is a beautiful place to walk and unwind. It is a viewing point on the Wild Atlantic Way, and Café Linnalla was nominated as one of the 50 secrets of the Wild Atlantic Way.
You can access the café via the Flaggy shore pathway or the road to the Martello tower. The café has a small car park and has room for a coach to turn.
Good to Know
Open daily, April to October.
Free on-site parking and WiFi are available.
Important Note: Details are subject to change. It is always advisable to check the opening dates, times and prices on their website or directly with them before visiting or booking.