10 things children will love about Clare
Clare is the home of fun times
Children are welcomed and are well-catered for in County Clare. They particularly like the beaches, forests, castles, show caves, parks, playgrounds, visitor farms, wildlife watching, boat trips and fun activities.
Experience Clare's Blue Flag beaches
From making sand castles to spashing times and water activities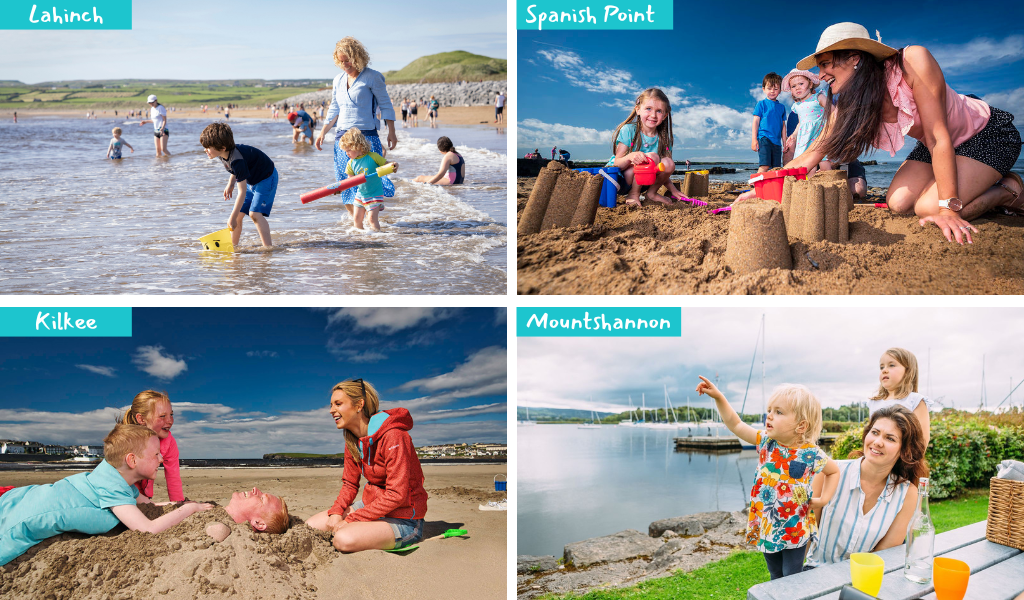 Everyone loves Clare's beaches, but families with younger children in particular. Clare has eight Blue Flag beaches, each is unique in character. They all present the possibility fun, but some are better suited than others depending on your interests and those of your children. Some of the beaches have golden sand – perfect for sand castles. Some are better suited than others for different activities like swimming, surfing, kayaking and other water activities. Here is a link to all Blue Flag beaches (on a single page) to help you choose where best to go.
Meet the Animals
Get to see farm animals, birds of prey, and the Shannon dolphins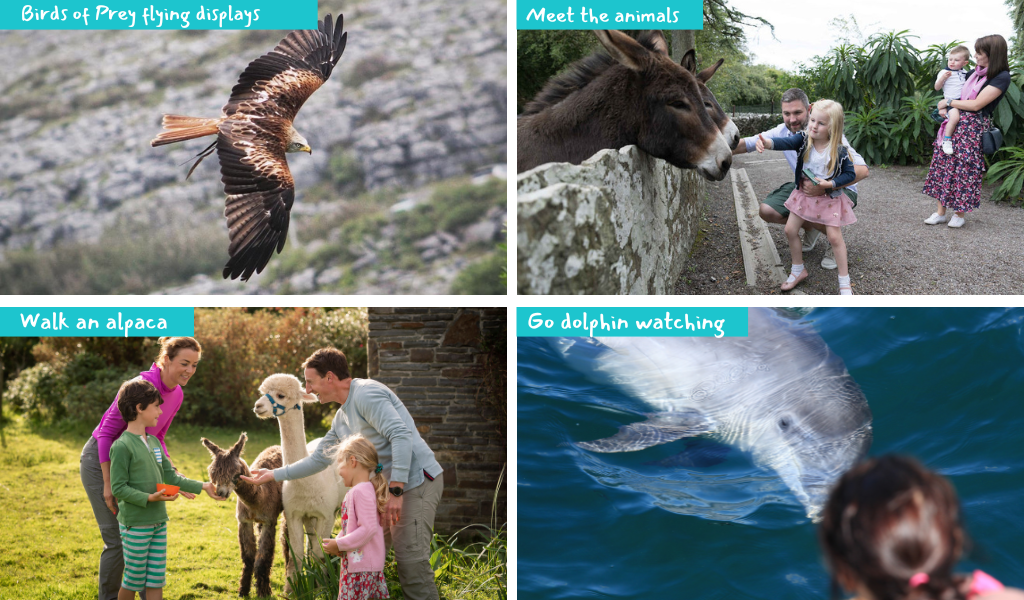 Enjoy family time out to meet with the animals at some of Clare's Visitor Attractions. You have plenty of choices. Take a fluffy and friendly Alpaca for a walk. Meet birds of prey close up and watch their flying displays. Take a boat trip out to see the Shannon Estuary Dolphins. Say hello to farm animals. You can see an overview of your options here.
Have fun at Clare's two Aqua Parks
Jump, slide, climb, and bounce around the water obstacle course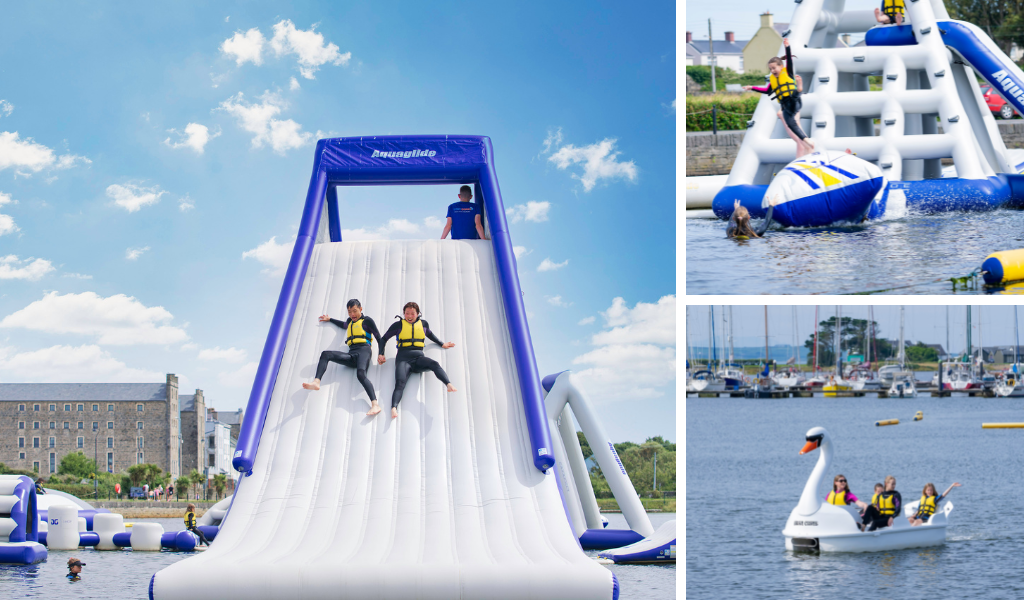 There are two aqua parks in County Clare that operate in high season – West Coast Aqua Park in Kilrush and West Lake Aqua Park in Ballycuggeran on Lough Derg. Both are operated by the operator and both offer an epic adventure for all the family to enjoy. You can jump, slide, climb and bounce your way around their inflatable obstacle course on the water. You can try to beat the obstacles, race your friends and family – and watch them get totally wiped out!
The thrill of the Burren show caves
Take an underground tour of the Burren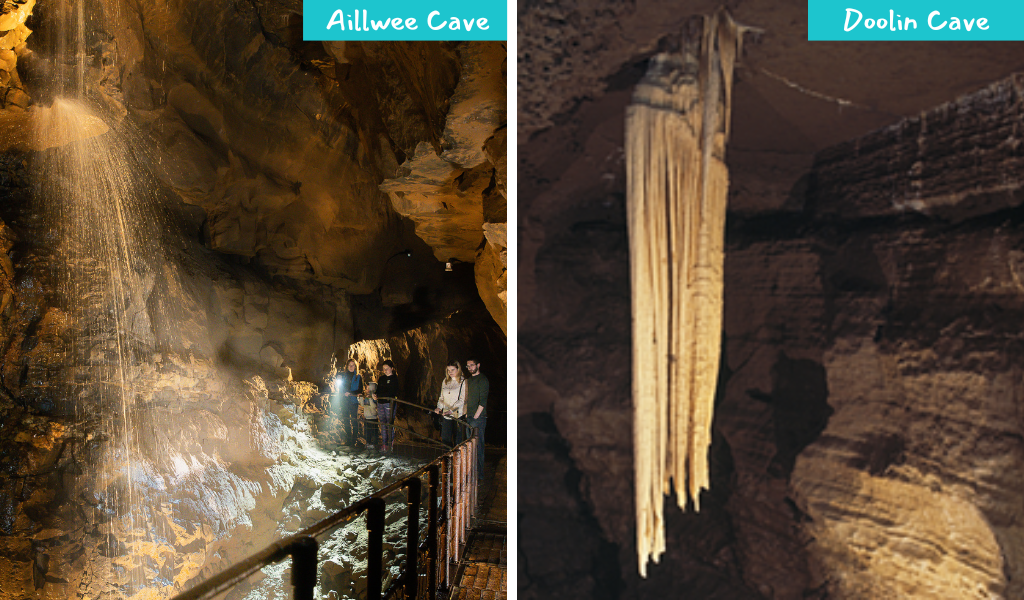 Families with older children will enjoy two wonderful show caves that are open to the public and take you into the Burren's underworld. Aillwee Cave, at the Aillwee Burren Experience, have expert guides to take you on a leisurely cave tour. The tour consists of a 45-minute stroll through the beautiful caverns – over bridged chasms, under weird formations and alongside a waterfall which sometimes gently sprays the unsuspecting visitor!
The award-winning Doolin Cave and visitor centre is home to the Great Stalactite. At 7.3 metres (23 feet), it is the longest free-hanging stalactite in Europe and suspends from the Cave's ceiling like a gigantic chandelier. Visitors can experience a fully-guided tour of the Cave.
Children love the water activities
They can take lessons too!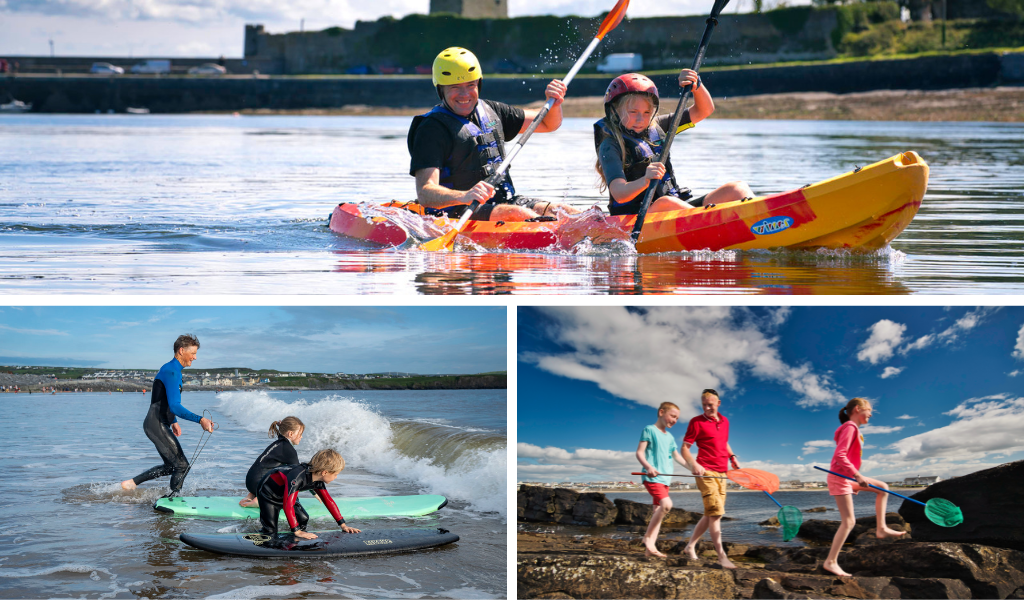 Clare's gleaming lakes, rivers and Atlantic ocean coastline were was made for water activities. Children, including young children, can enjoy swimming, kayaking, surfing, and stand up paddle boarding (SUP). There are many providers offering lessons and guided trips. These can be great family experiences to last a lifetime – from working together to steer your canoe (accompanied by expert guides) to cheering each other at surfing or paddle boarding.
Rockpooling on or next to our beaches is another fun activity for children. Leaning over the small pools of water that form on the rocky shoreline, they will find a huge range of sea creatures that they never knew were there.
You can check out a list of water activity providers here – just filter by the activity of interest.
Explore Clare's Forests with your children
If you go down to the woods today…
Clare has many forests and woodland trails that can be magical places for children with all kinds of possibilities for creative play and exploration. Some woodlands have walking trails by streams, rivers and lakes; others have fairy trails and ancient ruins of castles and towers. Games and a picnic can enhance a visit to the woods with children. Bring some ribbons and have them go on a treasure hunt to select a fallen twig to create a magic wand; then tie the ribbons to the twigs to look the part. Have them look out for squirrels and other wildlife or evidence of where they have been. Children have great imagination, have them look for shapes in the barks of a tree – perhaps they see faces, or animals. Bring a picnic too; lots of the forests have picnic benches. (Note: This is a new website; look back in a few weeks and we will have profiled all Clare's forests, including Kilrush Woods, Dromore Woods, Cratloe Woods, Gragans Wood, Doon, Cahermurphy, Woodpark, and Ballycuggaran). We'll also profile the Fairy Trails at Bunratty Folk Park, Woodpark Forest Park, 12 O'Clock Hills, and Michael Cusack Park.
Who doesn't like a chocolate treat?
Visit two chocolate makers in Clare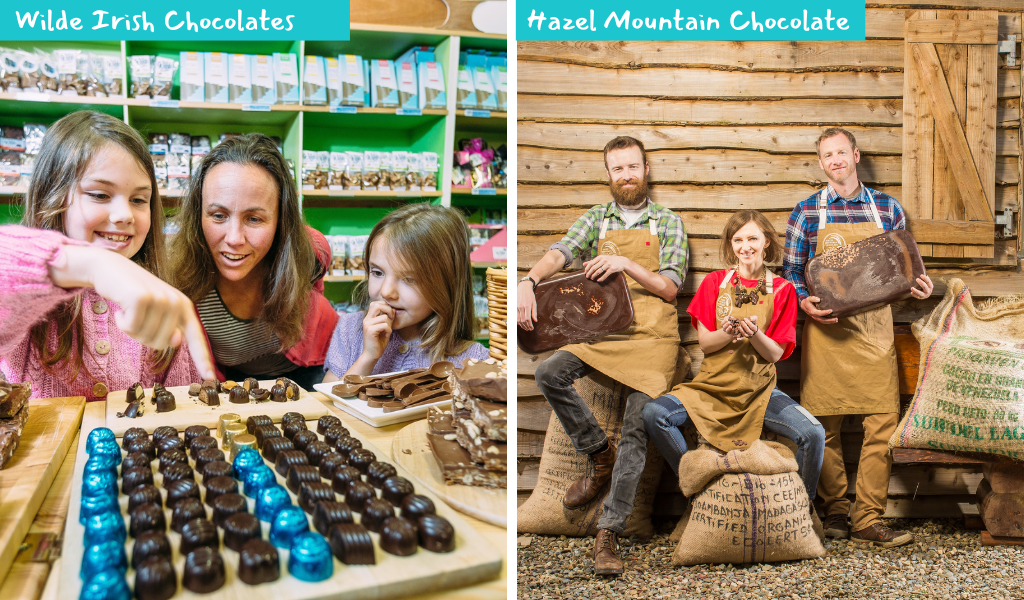 Clare has two chocolate makers. Hazel Mountain Chocolate is a bean-to-bar chocolate factory located on a 300-year-old family farm in the Bellharbour in the Burren. Starting with Cacao beans from around the world, they roast, crack, winnow, stone-grind and finish and pack their chocolate, all under one roof in the Burren. They provide tours, have a chocolate shop, and an award-winning café on-site. Wilde Irish Chocolates is located in Ireland's Hidden Heartlands in Tuamgraney. They have been making chocolate for over two decades and are famous for their delicate yet intense chocolate flavours and unexpected filling combinations. They offer tours and have a chocolate shop and a Hot Chocolate Café & Coffee Dock. They also provide various chocolate experiences such as "Build your own Chocolate Bar" and a "Chocolate Factory Make & Taste" experience.
Go history hunting in Clare with the family
Discover our ancient past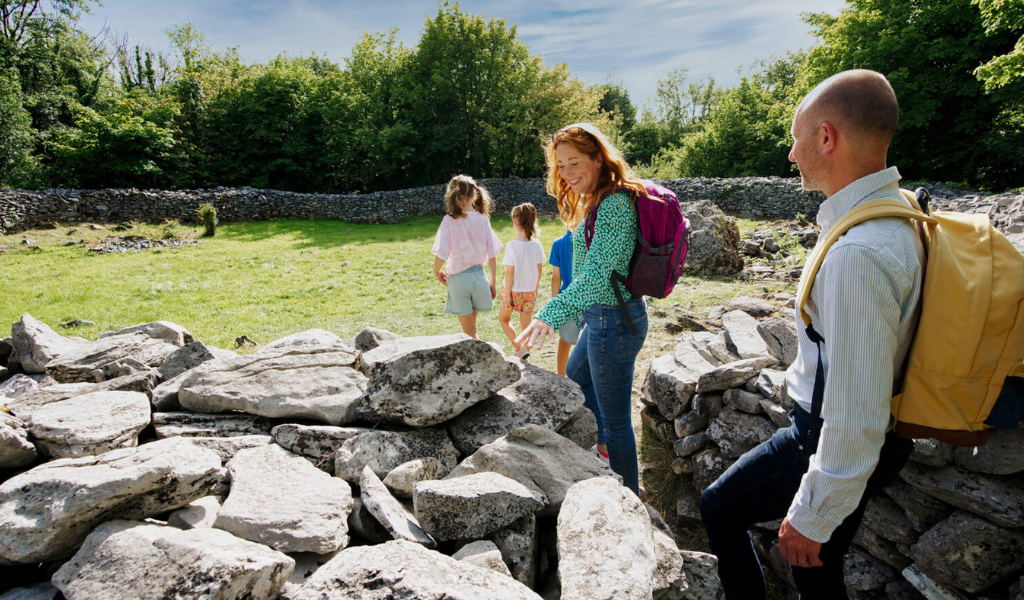 Children love adventure and stories of the past. Exploring our ancient history (and more recent history) can really fire their imagination. There are over 7,500 known archaeological sites in Clare. These connect you through thousands of years back to the beginning of human history in Ireland. Throughout Clare, there are hundreds of castles, megalithic tombs, round towers, cathedrals and abbeys – all prized gifts of an epic past. These are the sites of powerful leaders, battles, ancient communities and burial sites. Our tip would be to plan your visit and learn about where you are visiting in advance – so you can share the information with your children. Here are some places to consider. 
Top Attractions that children love
Check these out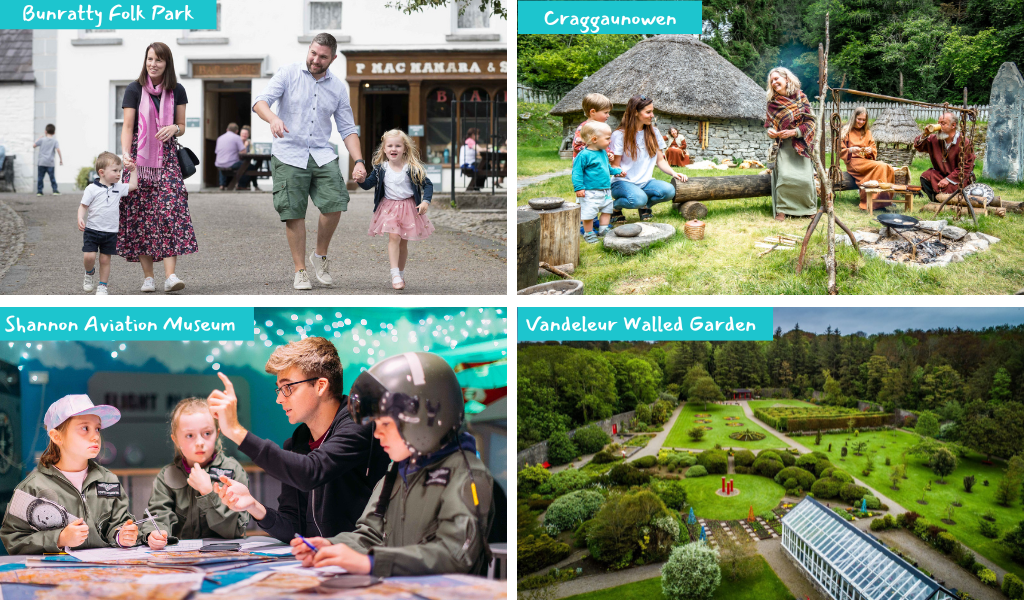 Clare has a diverse range of visitor attractions that children will love including castles, folk parks, show caves, museums, gardens, heritage centres, pet-farms, boat-trips, chocolate makers, cliff experiences, and much more. They make for wonderful days out. You can see Clare's visitor attractions here. Tip: filter by the area or category of interest.
County Clare children's playgrounds
These are all free to visit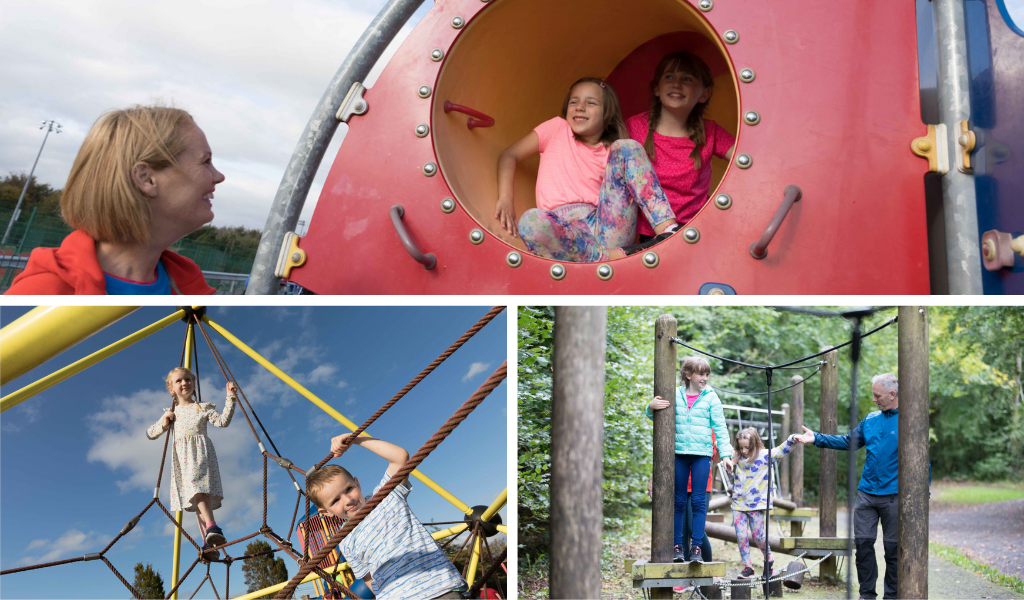 County Clare has more than 30 playgrounds in our towns and villages that are all free to visit. They are typically best suited to ages three to twelve. These present a great way to spend an hour or as a stop off along your travel route through Clare. Here is a link to all locations (on an external Clare County Council website).